The video cannot be displayed.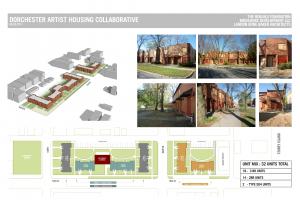 The Chicago Housing Authority's "Plan for Transformation" is now in its 11th year. But with a new CEO at the helm, what's next for the CHA? Natalie Moore of WBEZ is here with the details.
Part of the CHA's plan involves a unique partnership between Brinshore Development and the Rebuild Foundation, a nonprofit community art organization. Rebuild was founded and is led by Chicago artist and urban planner Theaster Gates.
The collaboration is to redevelop one of CHA's Scattered Site properties into a new 32-unit mixed-income rental development.
The renovation will take place on 70th Street, between Dante and Harper streets in the Grand Crossing Comunity on Chicago's South Side. An on-site art center will provide a place for arts creation, performance, education and display.
View the image gallery below to see plans for the Dorchester Artist Housing Collaborative.