The video cannot be displayed.
Mayor Rahm Emanuel outlined the City of Chicago's 2012 budget proposal on Wednesday, which will fill a $635.7 million budget deficit without any increase to property or sales taxes, or a new income tax. The City was able to avoid new taxes by identifying innovative reforms and efficiencies, revenue enhancements and investments that will allow the City to invest in infrastructure while creating a $20 million safety net in the City's Rainy Day fund.
"A budget is about priorities. And this deficit is an opportunity to get it right. We can either start shaping our city's future, or let it shape us," said Mayor Emanuel. "We're facing a deficit of $635.7 million. Smoke and mirrors and one-time fixes simply won't get the job done. It's time to provide Chicagoans with an honest city budget – one that focuses on current needs while still investing in our future."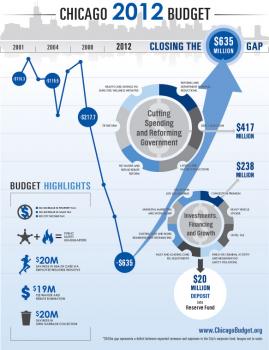 This summer, the City of Chicago released the first ever annual financial analysis – a three-year projection of city finances, as well as a financial review of the last decade. At that time, the City issued a projected 2012 budget gap – the difference between expected income and expenditures in 2012 – of $635.7 million. 
Mayor Emanuel's budget proposal includes savings that add up to $417 million. The savings include vacancy reductions, layoffs, increases in debt collection, health care savings from an employee wellness program, fee waiver reforms and departmental spending reductions, among other efforts.
The budget proposal includes 517 total layoffs that will be effective January 1st, and the elimination of more than 2,000 vacant positions.
Emanuel's budget proposal also includes $238 million in investments, financing and growth, which allow the City to make key investments in infrastructure and neighborhoods. Only 11 percent – or $78 million – of the budget proposal comes from new revenue sources.
The budget proposal also calls for the creation of a $20 million innovation fund that will allow the City to invest in key, innovative projects for departments and agencies by providing loans that will be paid back after savings have been realized. Mayor Emanuel also announced that the 2012 budget plan includes returning $20 million to the city's rainy day fund. 
"We're going to start saving for Chicago's future again instead of selling it short," said Mayor Emanuel.
For the first time in the City's history, a website was used to continue the conversation about the budget. ChicagoBudget.org, since its launch this summer, has received over 2,500 ideas on the budget, and nearly 70,000 votes or comments on those ideas. Additionally, Mayor Emanuel held two budget town halls this summer with over 1,000 people to discuss the budget directly with Chicagoans.
Emanuel's budget was presented to City Council today, and according to statute it must be approved by December 31.
For specific information on the 2012 budget proposal, including graphs and charts of savings, please visit the photo gallery, PDF files and links below.