The video cannot be displayed.
On September 11, the National 9/11 Memorial will open in a special ceremony for the victims' families after six years of construction. On September 12, the Memorial will officially open to the public. The project began in 2005 as an effort to preserve the memory of the 2,982 people who were killed in the terrorist attacks on September 11, 2001 at the World Trade Center site, near Shanksville, PA, and at the Pentagon. The Memorial & Museum also seeks to commemorate the lives of the six people who were killed in the February 26, 1993 World Trade Center bombing.
To view a projected animation of the 9/11 Memorial, watch one of the videos below.
Five thousand, two hundred and one designs from 63 nations were submitted in the 2003 competition before architects Michael Arad and Peter Walker were pronounced the winners. Their design—"Reflecting Absence"—is a minimalist structure that contrasts the physical presence of over 400 newly planted swamp white oak trees with structural absence through the creation of a two-tiered, sunken waterfall where each of the towers once were. These 30-foot waterfalls start at ground level and descend into subterranean reflecting pools, establishing a void that serves as a reminder of what once stood.
The Memorial plaza will be a green structure, and is pursuing Gold certification in the U.S. Green Building Council's LEED for New Construction program. Storage tanks located below the plaza surface will collect rainwater, while meeting most of the site's daily irrigation needs. In addition, the trees will provide the plaza with a green roof, as well as an urban forest.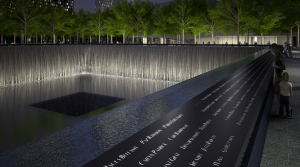 The Memorial, accessible at street level, will be free to the public upon opening. Depending on funding, the Museum will either ask for a voluntary donation or establish an admission fee, although victims' family members will always be able to enter for free.
The Museum will open in September 2012. It will display artifacts, photographic, audio and video tapes, personal effects, memorabilia and more. A "Wall of Faces" will create a unified monument made up of individual photos and attempt to give physicality to the loss. Interactive tables will provide additional information.
To learn more, click on the links and view the slideshow below.