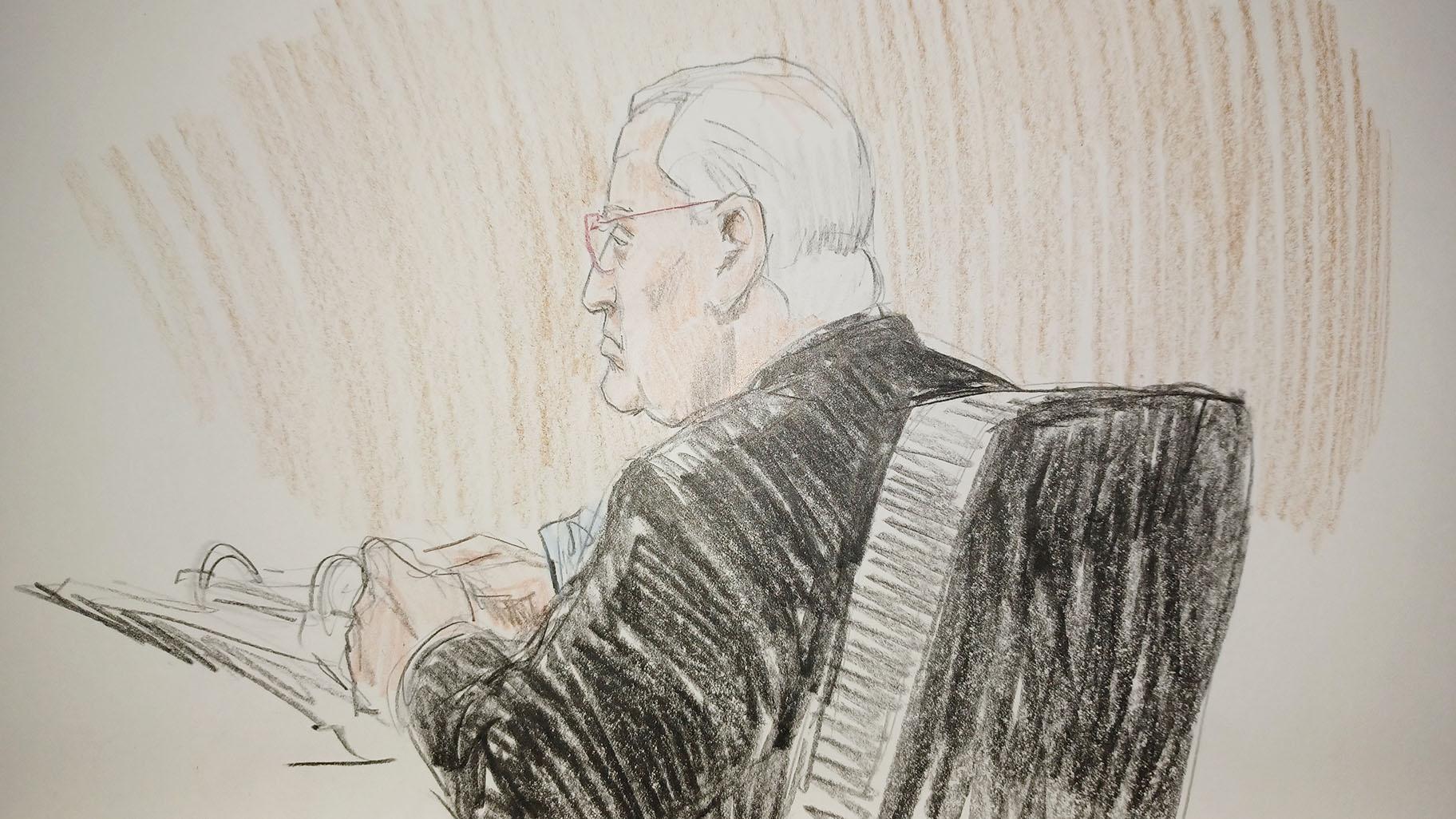 Former Ald. Ed Burke in federal court before U.S. District Court Judge Virginia Kendall on Nov. 16, 2023. (WTTW News)
Former Ald. Ed Burke was not just the most powerful elected official in Chicago, ruling City Hall with an iron fist for decades, Assistant U.S. Attorney Timothy Chapman told a federal jury Thursday.
"He was a bribe-taker, and he was an extortionist," Chapman said, pointing at Burke and striding toward him as he sat at the end of the defense table while delivering the opening statement for the U.S. Attorney's Office for the Northern District of Illinois.
Five years ago this month, FBI agents raided Burke's office and revealed a massive corruption probe, triggering a political earthquake at City Hall, where the aftershocks can still be felt. Delayed by COVID-19 and the massive amount of evidence in the case, federal prosecutors finally got to make their case against Burke on Thursday, while Burke's attorneys got their chance to clear his name.
Chapman told the jury Burke sold the power he earned as the elected representative of Chicago's 14th Ward to "line his own pockets," using his elected office to force those doing business with the city to hire his private law firm.
But when it was his turn, Chris Gair, Burke's attorney, painted a far different version of the 79-year-old Burke, casting him as an "old school, hardworking public servant" devoted to Chicago and its residents.
"Mr. Burke never asked for anything from anyone in this case," Gair said. "Not for money. Not for legal business. Not for anything. Never. There will not be one witness who tells you that."
Instead, Gair said, Burke was the victim of overzealous FBI agents and prosecutors as well as former Ald. Danny Solis, whom Gair called "Exhibit A" of people who are "corrupt and untruthful," determined to save his own skin by any means necessary.
By contrast, Gair depicted Burke — who sat at the end of the defense table, clicking a pen open and closed — as a family man, devoted to his Catholic faith.
Gair, a longtime white-collar criminal defense attorney, called it the "greatest honor of my career to represent this good man" while gripping Burke's shoulders, his voice full of emotion.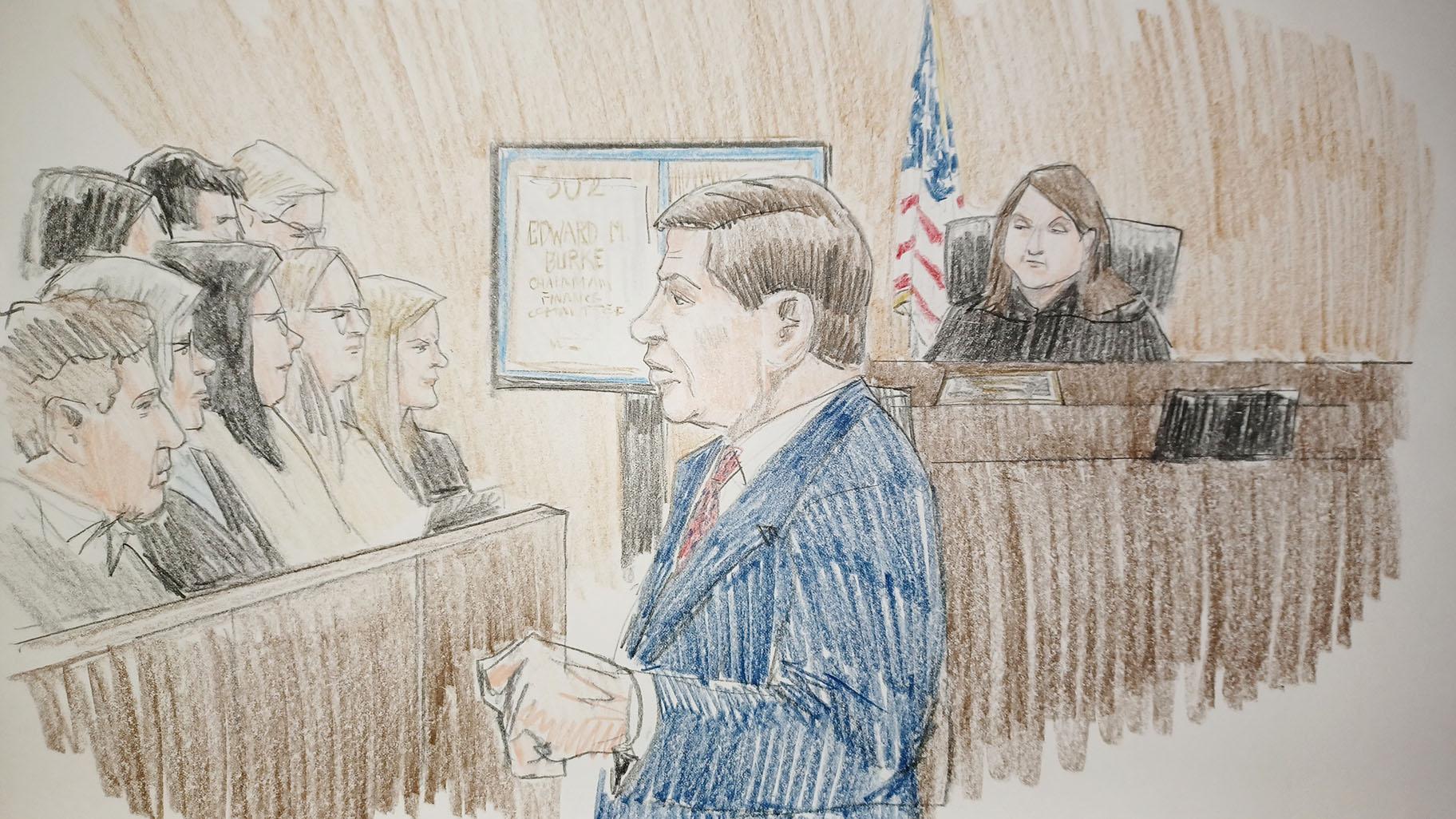 Assistant U.S. Attorney Timothy Chapman delivers his opening statement before U.S. District Court Judge Virgina Kendall on Nov. 16, 2023. (WTTW News)
Read More: End of the Burke Era: A 54-year Political Reign at City Hall Comes to a Close
Former Illinois Supreme Court Justice Ann Burke sat behind her husband of 55 years, bracketed by her four living children, all of whom Gair introduced by name. Gair made a point of drawing the jury's attention to the presence of Travis Burke, a Black man, who was adopted by the Burkes after they waged a very public custody battle against Travis Burke's mother.
Burke faces 14 criminal charges, including racketeering, bribery and extortion. He is being tried alongside his former aide Peter Andrews and Portage Park businessman Charles Cui. The trial is likely to take six weeks.
It will be up to the jury of nine women and three men picked Thursday to decide which portrayal of Burke is closest to the truth. Four alternates were also selected for the panel on Thursday, after a weeklong delay caused by a case of COVID-19 contracted by one of the many attorneys in the case.
None of the jury members are Black. During the 1980s, Burke helped lead a group of 29 White City Council members who worked to stymie Chicago's first Black mayor, Harold Washington, and his agenda, touching off what came to be known as the Council Wars.
Most of the jurors identified themselves as residents of the Chicago suburbs, with some hailing from as far away as Antioch, Plainfield and Geneva. All said they had little to no knowledge of Burke, who is the longest serving member in the history of the Chicago City Council.
Gair signaled his defense of Burke will be aggressive, objecting three times during Chapman's opening statement that methodically laid out the four criminal schemes as part of the prosecution's bid to depict the former alderperson as "thoroughly corrupt," three involving his side hustle as a property tax attorney.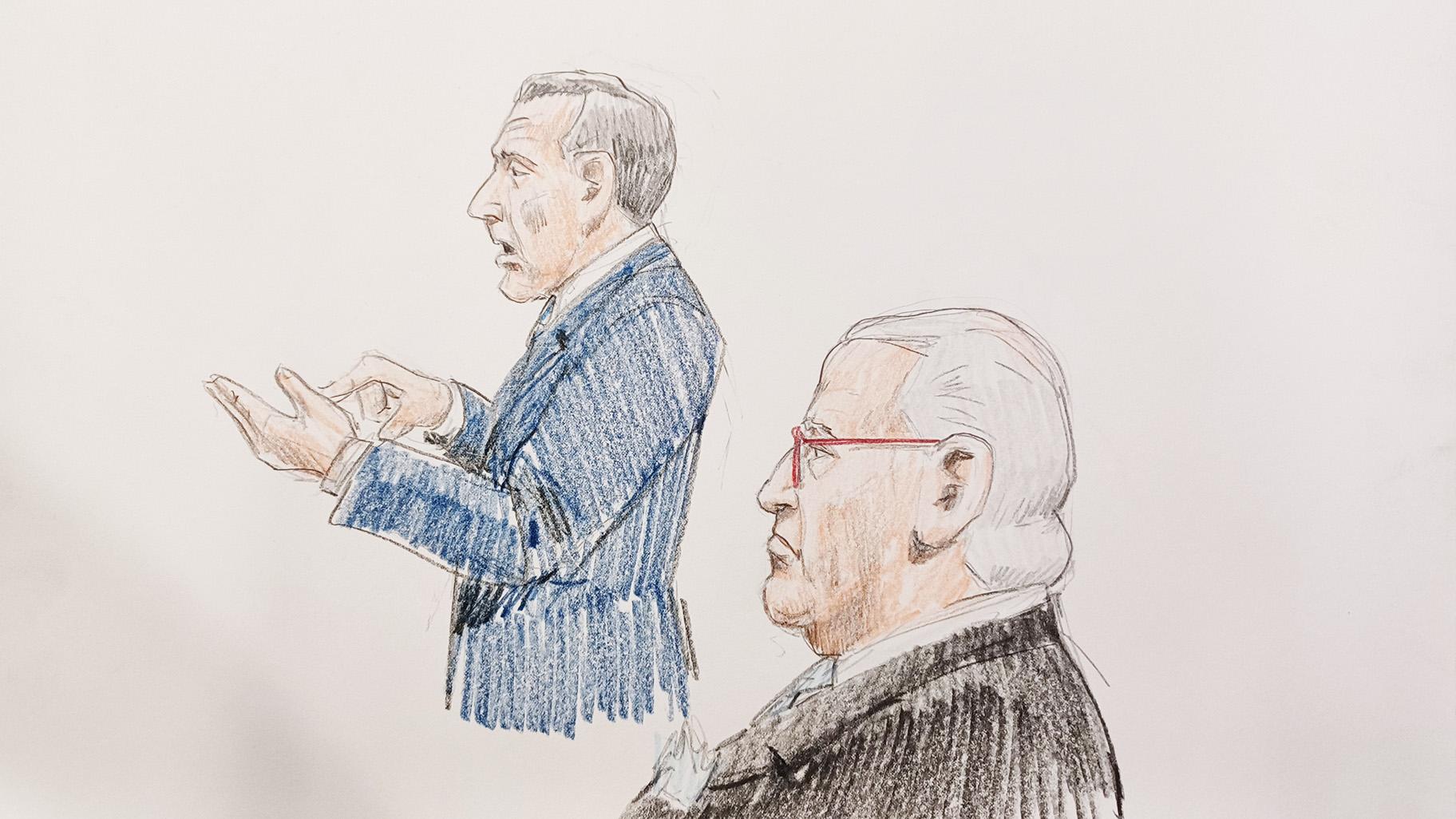 Former Ald. Ed Burke, left, looks on as his attorney Chris Gair delivers the opening statement before U.S. District Court Judge Virgina Kendall on Nov. 16, 2023. (WTTW News)
"This is not a case of envelopes stuffed with cash," Chapman said, drawing one of those objections from Gair. "Ed Burke's game is more sophisticated than that."
Displaying a picture of the ornate doors of Burke's former City Hall office — room 302 — Chapman promised to open those doors for jurors and take them behind the scenes and show how Burke went on the "hunt" to drum up business for his law firm by extorting those who needed help from City Hall by using his "clout."
"This is not about politics," Chapman said. "It is about public corruption."
Chapman said the jury will hear the "unvarnished version of Ed Burke" in recordings made by Solis and captured by wiretaps. In all, investigators intercepted 9,101 calls made by Burke or answered by him during the investigation, according to court records.
Some of Burke's turns of phrase recorded on those tapes immediately became an indelible part of Chicago's long history of political corruption, and the jury is likely to hear Burke ask Solis, "So, did we, uh, land the tuna?"
Burke was also recorded cautioning Solis not to act because "the cash register has not rung yet."
By contrast, Gair's opening statement was filled with emotion as he scoffed at the government's case that he said involved nothing more than Burke making telephone calls "to try to help people." Burke's work as a lawyer who specialized in property tax appeals was entirely lawful, Gair said.
"This is a bribery case without bribes," Gair said, his voice rising with indignation. "This is an extortion case with extortion."
As for Burke's memorable turns of recorded phrase, Gair dismissed them as hyperbole.
"He's a character," Gair said of his client. "He uses colorful language. It is just hot air."
Gair's opening statement gave the public the first glimpse of the videos made by Solis in Burke's City Hall office, capturing the former alderperson with startling clarity behind his imposing desk.
One of the biggest questions of the trial revolves around whether Solis will testify.
Prosecutors told the jury that they do not plan to call Solis, who admitted to taking bribes as the powerful chair of Chicago's Zoning Committee. 
But Burke's lawyers told the judge they plan to call their client's former colleague as part of their defense, setting up a potential high-profile showdown between two men who were once among the most powerful politicians in Chicago and who now stand accused of engaging in wide-ranging corruption.
After Solis was confronted by federal agents probing him, he agreed to work as a government informant and recorded hundreds of hours of conversations as part of investigations against Burke and former House Speaker Michael Madigan, officials said.
As part of the agreement that will likely keep him out of prison, Solis admitted taking a total of $15,000 from three executives of an unidentified firm in August and September 2015, shortly before and after he supported the zoning change they requested and shepherded it through the City Council. He also demanded that the executives attend fundraisers for his campaign and solicit contributions from other people.
Solis was directly involved with the most elaborate scheme Burke is charged with orchestrating, which involves the Old Post Office, the massive building that straddles the Eisenhower Expressway at the edge of the Loop.
Vacant for nearly 25 years after the departure of the U.S. Postal Service, the building sank into disrepair making it a perfect setting for director Christopher Nolan's bleak depiction of Gotham in 2004's "Batman Begins" and its sequel, 2007's "The Dark Knight." 
Burke quickly identified the $800 million renovation of the Old Post Office, which needed an $18 million subsidy and a tax break worth $100 million from the city to move forward, as an opportunity to force the developer to hire his law firm, Chapman said. The building is in the 25th Ward, which Solis represented on the City Council for 25 years.
Gair said that was nonsense, and said it was former Mayor Rahm Emanuel that pushed the project through City Hall.
"Rahm Emanuel played the leading role, and Danny Solis played a supporting role," Gair said. "When Rahm Emanuel wants something, Rahm Emanuel gets something."
Burke absolutely wanted to represent the developer of the Old Post Office — but there was "no quid pro quo," Gair said.
Emanuel, who is now the U.S. ambassador to Japan, is not set to be called as a witness in the case.
The very first charge levied against Burke in January 2019 — attempted extortion — involved a similar scheme, this one involving the owners of a Burger King in Burke's 14th Ward.
Gair acknowledged that Burke asked the owners of that firm if they were interested in hiring his law firm when they sought his help with a planned renovation of their eatery, but said he never held up the permits the owners needed because they declined to hire Klafter & Burke.
Instead, Burke stopped work on the renovation because the Texas-based firm failed to get a driveway permit from the Chicago Department of Transportation, Gair said.
"Mr. Burke is a stickler for the rules to protect the taxpayers of Chicago," Gair said.
However, prosecutors argued Burke used his power at City Hall to hold up that permit as part of an extortion scheme.
Andrews is charged with helping Burke extort the owners of the Burger King and with lying to the FBI.
During his opening statement, Andrews' attorney Tom Pugh said the longtime Burke aide was a part-time employee in the 14th Ward office who played only a supporting role in how the office operated.
So unimportant that Andrews' name was repeatedly misspelled in emails about the Burger King permits, Andrews was not even copied on all of the emails, nor was he invited to crucial meetings about the renovation, Pugh said.
"Part-time Pete, he was back in Mt. Greenwood," Pugh said, referring to Andrews' Far South Side home, before referring to his client as "lunch pail guy."
The third scheme Burke is charged with involves Cui, an immigration lawyer who had a side hustle as a real estate developer. Cui's plan to renovate a vacant bank near Six Corners in Portage Park into a Binny's Beverage Depot was threatened by the city's refusal to allow him to erect a large pole sign, Chapman told the jury.
Cui reached out to Burke for help, and prosecutors alleged Burke agreed — as long as Cui hired Klafter & Burke. Cui did, and now he is standing trial alongside his former attorney. The project also was in line for a city subsidy.
Burke's only "supposed crime" was to make a phone call to help Cui and ask the head of the Department of Buildings to look into the matter, without telling her what to do, Gair said.
"Making calls is what Ed Burke does," Gair said.
Tinos Diamantatos, Cui's lawyer, said his client did not intend to bribe Burke by hiring his law firm, and dismissed Chapman's argument that the lack of a 30-foot tall pole sign cost him "millions."
"This was not a mega-colossal issue," Diamantatos said. "This was a big nothingburger."
The final changes Burke faces accuse him of threatening to block a fee increase at a museum in 2017 because officials didn't agree to hire a friend's daughter as an intern.
Burke intervened to help the daughter of former Ald. Terry Gabinski (32nd Ward) get a job at the Field Museum, Chapman said.
During a recorded coversation with a mid-level Field Museum employee, an angry Burke made a "clear and direct threat" to hold up the price hike because of their treatment of his friend's daughter, Chapman said.
That employee was so rattled by the call that her boss called Burke the same day, and asked how he could fix the issue, Chapman said. Museum officials invited Gabinski's daughter, Molly, to apply for another position, and eventually the fee hike was approved.
Even though Molly Gabinski never took a job at the museum, "the attempted extortion was complete," Chapman said.
Gair acknowledged that Burke "was pretty ticked off" by the museum's treatment of his goddaughter and read the "riot act" to the museum official he held responsible.
"It is not a crime to be in a bad mood," Gair said. "He never asked for anything. He was venting."
Contact Heather Cherone: @HeatherCherone | (773) 569-1863 | [email protected]
---