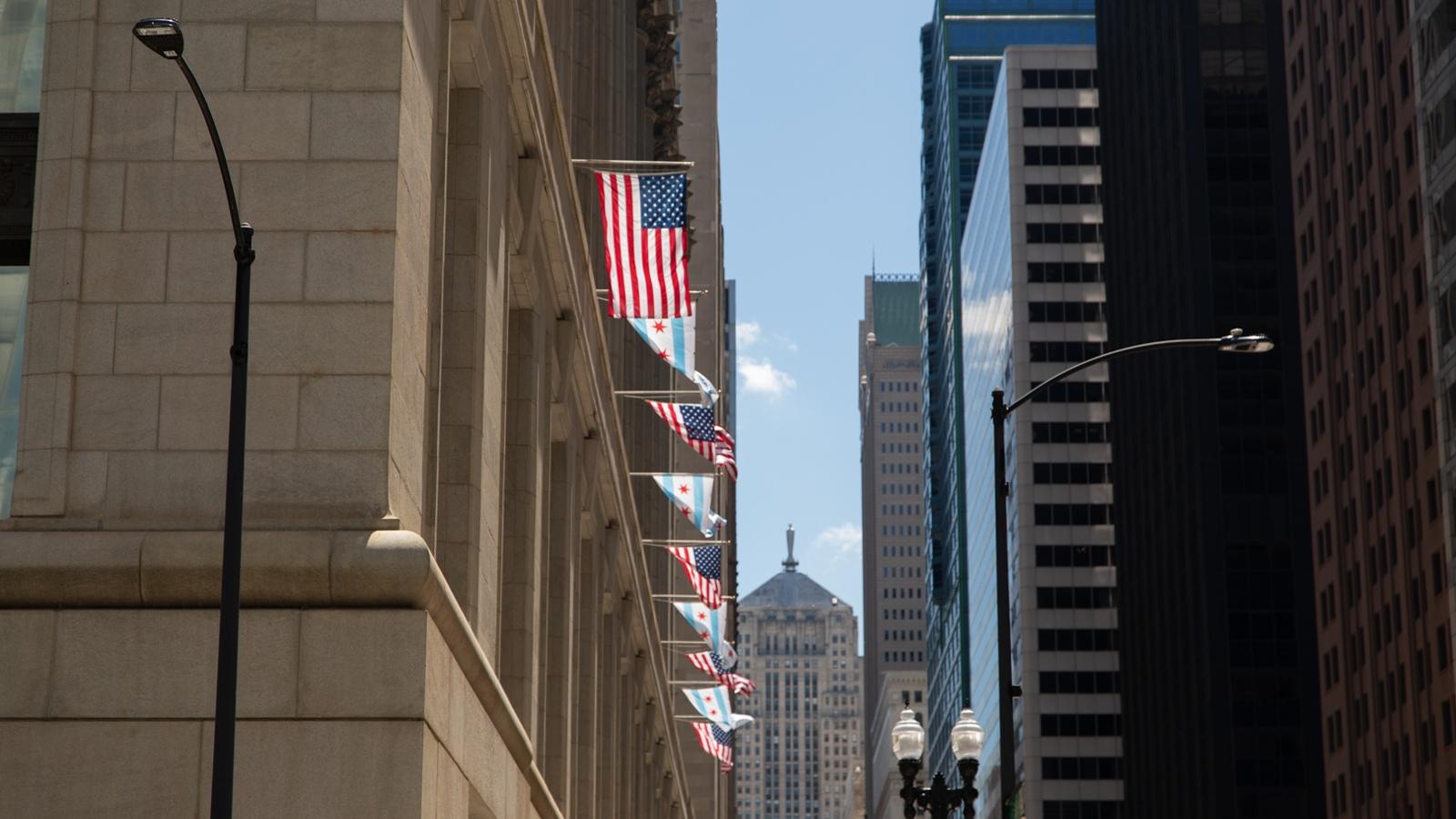 Chicago City Hall. (Michael Izquierdo / WTTW News)
The Chicago City Council voted 36-12 late Thursday to ensure Chicago workers get at least 10 days of paid time off every year as part of an ordinance fiercely opposed by a coalition of business groups.
The measure's approval was a major victory for Mayor Brandon Johnson, who championed the proposal to require Chicago employers to give their workers five sick days and five days of paid time off for any reason.
The proposal is at the core of the labor agenda for Johnson, a former organizer for the Chicago Teachers Union, who was elected with the unanimous support of Chicago's progressive labor organizations.
After the vote, Johnson said the measure was a reflection of Chicago's values, and evidence of his commitment to helping the city's working people. The ordinance will have the biggest impact in Chicago's Black and Latino communities, and ensure they have protections long enjoyed by wealthier Chicagoans, Johnson said.
"It is going to help us grow into a more prosperous and thriving city," Johnson said. 
The alderpeople who voted against the proposal were: Alds. Brian Hopkins (2nd Ward); Greg Mitchell (7th Ward); Anthony Beale (9th Ward); Raymond Lopez (15th Ward); David Moore (17th Ward); Matt O'Shea (19th Ward); Silvana Tabares (23rd Ward); Bill Conway (34th Ward); Nicholas Sposato (38th Ward); Anthony Napolitano (41st Ward); Brendan Reilly (42nd Ward); and Bennett Lawson (44th Ward).
Thursday's vote capped a week of intense turmoil caused by the debate over how best to handle the arrival of more than 20,600 migrants from the southern border that threatened to derail Johnson's legislative agenda and cost his top City Council ally his leadership positions.
Once the proposal takes effect Dec. 31, Chicago workers will be able to take more sick leave than workers in New York City and Los Angeles. They will also be able to take time off for any reason, not just if they or a family member falls ill, unlike workers in any other U.S. city.
While opponents of the proposal said it would make it impossible for Chicago businesses to stay afloat, supporters said it would allow Chicago's lowest paid workers, who are mostly Black and Latino, to care for their families and improve their quality of life.
"We're really piling on the business community right now," Reilly said, adding that he expected to see businesses leave Chicago to escape the regulations, especially those in wards that border suburbs. "Well-intended ordinances can have unanticipated consequences."
A coalition of business groups led by the Chicagoland Chamber of Commerce blasted the ordinance as "poorly drafted" and said it "will devastate Chicago businesses, especially small businesses, and make it even more difficult to attract and retain businesses like restaurants, grocery stores and pharmacies in underserved neighborhoods."
"In passing this ordinance, (the) City Council sent a very clear message that they do not support Chicago's business community, which drives our city's economy, employs our residents and creates revenue to invest in critical city services," according to the statement.
Johnson said he was confident that businesses would thrive, along with their employees, under the new rules that he noted were similar to the benefits enjoyed by city employees.
"When you have a solid workforce that is valued and protected, productivity actually goes up," Johnson said.
The measure was authored by Ald. Mike Rodriguez (22nd Ward), the chair of the City Council's Workforce Development Committee. Before the vote, Rodriguez delivered a passionate speech about how his mother's paid time off — won by her union — allowed his family to head downtown every summer and marvel at the Sears Tower and have ice cream along the lake.
All Chicago families deserve the chance to make those kinds of memories, especially in the aftermath of the COVID-19 pandemic.
"If COVID-19 taught us anything, it's that workers need days off," Rodriguez said. "This can be a life-or-death issue."
The original proposal called for 15 days of time off, for any reason. Johnson and his allies in Chicago's progressive labor community agreed to scale that back as part of a deal that was designed to win the support of a coalition of business groups. But that effort was unsuccessful, and Johnson called for a final vote on Tuesday. That was delayed until Thursday by opponents using a parliamentary procedure.
The proposal approved Thursday was also revised to win the backing of the Chicago City Council's Black Caucus, led by Ald. Stephanie Coleman (16th Ward).
Businesses with fewer than 50 employees will not have to compensate employees for unused paid leave if they exit that position, while businesses that employ 50 or more people but fewer than 100 people will be required to compensate employees for as many as two days of paid leave if they leave the position starting in January 2025.
It would take effect on Dec. 31, and violations could trigger fines of at least $1,000 and no more than $3,000.
Starting in 2025, Chicagoans could sue businesses for violations as well, a delay of more than six months as compared with the proposal before the final round of negotiations, according to the proposal approved Thursday.
An effort by Reilly to change the measure to give businesses more time to correct problems before being subjected to fines and to extend the delay before employees could sue their employers if they are denied paid time off failed.
Rodriguez said he would consider those changes in an amendment set to be considered by the Workforce Development Committee.
Deputy Mayor for Labor Relations Bridget Early said the measure would especially benefit Black and Latina women, who often serve as their family's primary breadwinner, while increasing gender equity in Chicago's workforce and increasing productivity.
Starting in 2024, a measure signed into law by Gov. J.B. Pritzker will require employers statewide to give their workers at least one hour of paid leave for every 40 hours worked. That will entitle employees to five days of paid time off every year, for any reason, according to the law.
Because Chicago has a separate law, approved in 2016, requiring employers to give their employees paid sick leave, the state law exempts Chicago. Until the new ordinance takes effect, Chicago employees will earn one hour of paid sick leave for every 40 hours they work, or at least five days every year.
Contact Heather Cherone: @HeatherCherone | (773) 569-1863 | [email protected]
---