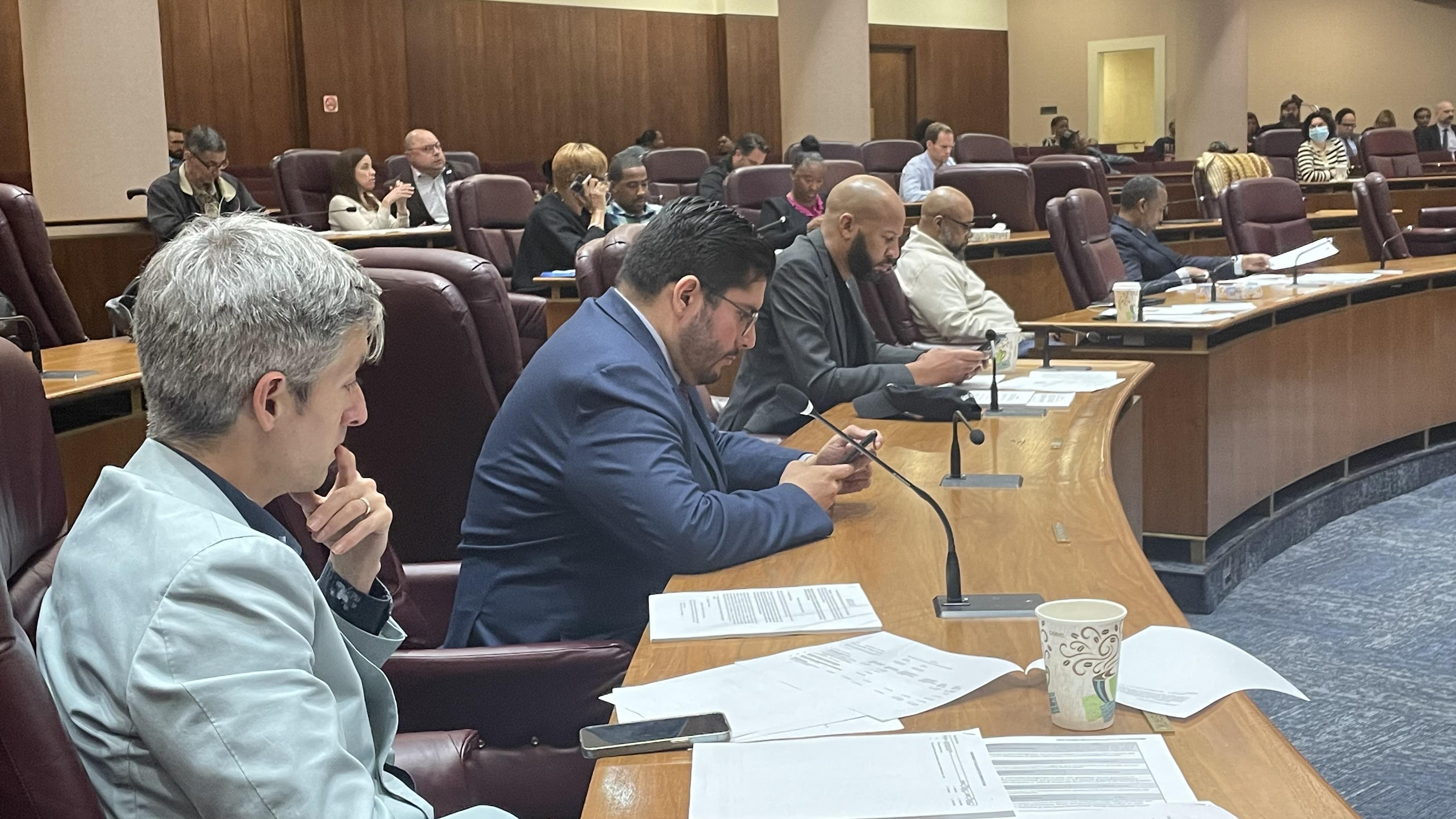 Ald. Carlos Ramirez-Rosa (35th Ward), center, attends a meeting of the City Council's Budget Committee hours after resigning as Mayor Brandon Johnson's top City Council ally. (Heather Cherone/WTTW News)
Ald. Carlos Ramirez-Rosa (35th Ward) resigned as Mayor Brandon Johnson's City Council floor leader under fire early Monday, apologizing to Ald. Emma Mitts (37th Ward) for a "disrespectful interaction" during Thursday's special City Council meeting, which centered on the city's efforts to care for the more than 20,000 migrants who have made their way to Chicago.
Ramirez-Rosa said in a statement that he allowed tensions at the meeting, called by opponents of Johnson's commitment to care for the migrants, "to get the better of me and act in a way unbecoming of a leader."
As floor leader, Ramirez-Rosa was responsible for shepherding the mayor's policies and initiatives through the City Council. As Zoning Committee chair, a position from which he also resigned, Ramirez-Rosa wielded significant influence over what would get built throughout the city, and not just his Northwest Side ward that includes Logan Square.
That made Ramirez-Rosa the most powerful member of the Chicago City Council. It would last just six months.
The resignation comes less than 10 days before the City Council was set to approve Johnson's 2024 spending plan and threatens the ability of Johnson to get his legislative agenda through the City Council in the final months of the year. 
The chaos immediately threatens votes scheduled for Tuesday on a plan to hike the city's real estate transfer tax on properties worth more than $1 million to fight homelessness, as well as an effort to require all Chicago employers to offer their workers at least 10 days of paid leave.
Ramirez-Rosa, who is also the dean of the City Council's Democratic Socialist Caucus and a member of the Latino Caucus, apologized to Mitts, the most senior Black woman serving on the City Council "for the disrespectful interaction outside of Council Chambers."
Mitts has not spoken publicly about what happened at the entrance of the City Council chambers as Ramirez-Rosa scrambled to prevent 26 alderpeople from attending the special meeting in an attempt to prevent a vote to put a nonbinding question to voters about whether Chicago should remain a sanctuary city.
Read more: What Does It Mean That Chicago Is a Sanctuary City? Here's What to Know
"I also apologize to other colleagues who I have heard also felt disrespected and harmed by my actions," Ramirez-Rosa said, singling out Ald. Nicole Lee (11th Ward), Ald. Felix Cardona (31st Ward) and Ald. Chris Taliaferro (29th Ward).
Ramirez-Rosa did not speak to reporters at City Hall Monday afternoon, where he attended a meeting of the City Council's Budget Committee.
Lee and Cardona told WTTW News Monday afternoon that Ramirez-Rosa threatened to prevent votes on developments they favor in their wards if they attended Thursday's special meeting. Taliaferro and Mitts were not at City Hall Monday.
Cardona said Ramirez-Rosa grabbed his shoulder and used a threatening tone while whispering in his ear that he should not attend the special meeting.
"I was angry but also concerned," Cardona said. "A leader should not be doing that. It is very disheartening that he is not allowing me to do my job and what's best for my residents."
Lee said her interaction with Ramirez-Rosa left her "shaken."
Ramirez-Rosa threatened to prevent measures Lee favors from being called for a vote in the Zoning Committee "if I didn't take a walk," Lee said.
"I was very shaken by the interaction," Lee said. "I'm not accustomed to getting threatened like that."
What Ramirez-Rosa demanded went far beyond horse trading, Lee said.
"It was wholly inappropriate," Lee said, adding that she wanted the public to be heard by the City Council on the migrant crisis.
Ramirez-Rosa acknowledged he had lost the support of the City Council.
"I feel awful about everything that happened," Ramirez-Rosa said. "I have reached out to my colleagues to apologize directly and seek to make amends. I made mistakes, and I learned valuable lessons. I take full responsibility for what I've done. I cannot take away the mistakes I made last week. But I hope to be able to rebuild the trust we have in each other as we move forward as a Council that addresses the important issues impacting Chicago."
Johnson said in a statement he accepted the resignation, and said it came at a time of "heightened tension" at City Hall.
"In recent months, the forces of division have preyed on our city, pitting us against each other in the most destructive ways," Johnson said. "I am confident we will find a way to move forward and regain the trust and respect necessary to have a functioning legislative body. Let us all recommit ourselves to the principles of respect and civility upon which our work and our democracy depend. Together, we can and will build a better, stronger, safer Chicago for all."
Efforts to care for the migrants have exacerbated tensions between Chicago's Black and Latino communities, with many Black leaders feeling deep frustration that the city is spending millions of dollars to house mostly Latino immigrants in Black communities that have suffered from decades of disinvestment, grinding poverty and rampant crime and violence.
More than 3,300 men, women and children are sleeping on the floors of police stations across the city and at O'Hare Airport, according to city data from Wednesday.
Ramirez-Rosa's resignation capped a weekend of fraught discussions after Ald. Raymond Lopez (15th Ward) accused him of attacking Mitts, who has represented the West Side's 37th Ward since 2000.
Lopez and Ramirez-Rosa have long been at odds, with Ramirez-Rosa championing Lopez's challengers and mocking his current run for Congress against U.S. Rep. Jesús "Chuy" García, D-Chicago.
Lopez's broadsides gained steam Saturday when the City Council's Black Caucus echoed them, and called for Ramirez-Rosa's resignation as floor leader and zoning committee chair.
Contact Heather Cherone: @HeatherCherone | (773) 569-1863 | [email protected]
---