Video: The WTTW News Spotlight Politics team on the biggest city and state political news of the day. (Produced by Emily Soto)
---
Ald. Emma Mitts (37th Ward) on Tuesday emotionally recounted her confrontation with Ald. Carlos Ramirez-Rosa during last week's special City Council meeting, telling her colleagues that she felt shaken when he blocked her from entering the City Council chambers.
"I felt like I was back in the South," said Mitts, who grew up in Arkansas, during the era of Jim Crow. "I felt like everything in me was shaking."
Mitts, 68, said she was determined to represent the residents of the 37th Ward at the meeting, which centered on the city's efforts to care for the more than 24,000 migrants who have made their way to Chicago. Mitts has been an alderperson since 2000.
"To deprive me of representing my constituents was the straw on the camel's back," Mitts said.
As Mitts spoke, members of the City Council's Black Caucus stood in solidarity, many wearing black and gold stoles signifying their membership in the group that demanded Ramirez-Rosa resign as Mayor's Brandon Johnson's floor leader and as chair of the City Council's Zoning Committee because of his interaction with Mitts.
Ramirez-Rosa resigned as floor leader and Zoning Committee Chair early Monday, less than 10 days before the City Council is set to approve Johnson's 2024 spending plan. The situation threatens the ability of Johnson to get his legislative agenda through the City Council in the final months of the year.
After Mitts spoke, Ramirez-Rosa apologized directly to Mitts.
"I dramatically overreacted," Ramirez-Rosa said.
Ramirez-Rosa also apologized to four other City Council members who said he threatened to prevent measures they favor from being called for a vote in the Zoning Committee if they didn't leave the special City Council meeting: Alds. Desmon Yancy (5th Ward); Nicole Lee (11th Ward); Felix Cardona (31st Ward) and Ald. Chris Taliaferro (29th Ward).
After the meeting, Ramirez-Rosa said he did not intend to threaten his colleagues' projects but understood why they felt threatened.
Ramirez-Rosa also apologized to the mayor. As Johnson's floor leader, Ramirez-Rosa was responsible for shepherding the mayor's policies and initiatives through the City Council. As Zoning Committee chair, a position from which he also resigned, Ramirez-Rosa wielded significant influence over what would get built throughout the city, and not just his Northwest Side ward that includes Logan Square.
"I'm sorry for letting you down," Ramirez-Rosa said. "I'm sorry, Mr. Mayor."
Ramirez-Rosa's resignation capped a weekend of fraught discussions after Ald. Raymond Lopez (15th Ward) who accused him of attacking Mitts. Video of the incident captured by CBS2-TV showed that while Ramirez-Rosa blocked Mitts from entering the council chambers, he did not assault her.
Lopez and Ramirez-Rosa have long been at odds, with Ramirez-Rosa championing Lopez's challengers and mocking his current run for Congress against U.S. Rep. Jesús "Chuy" García, D-Chicago.
Ramirez-Rosa said Lopez lied about what happened to serve his own political goals.
After the unusual speeches, Ramirez-Rosa and Mitts hugged.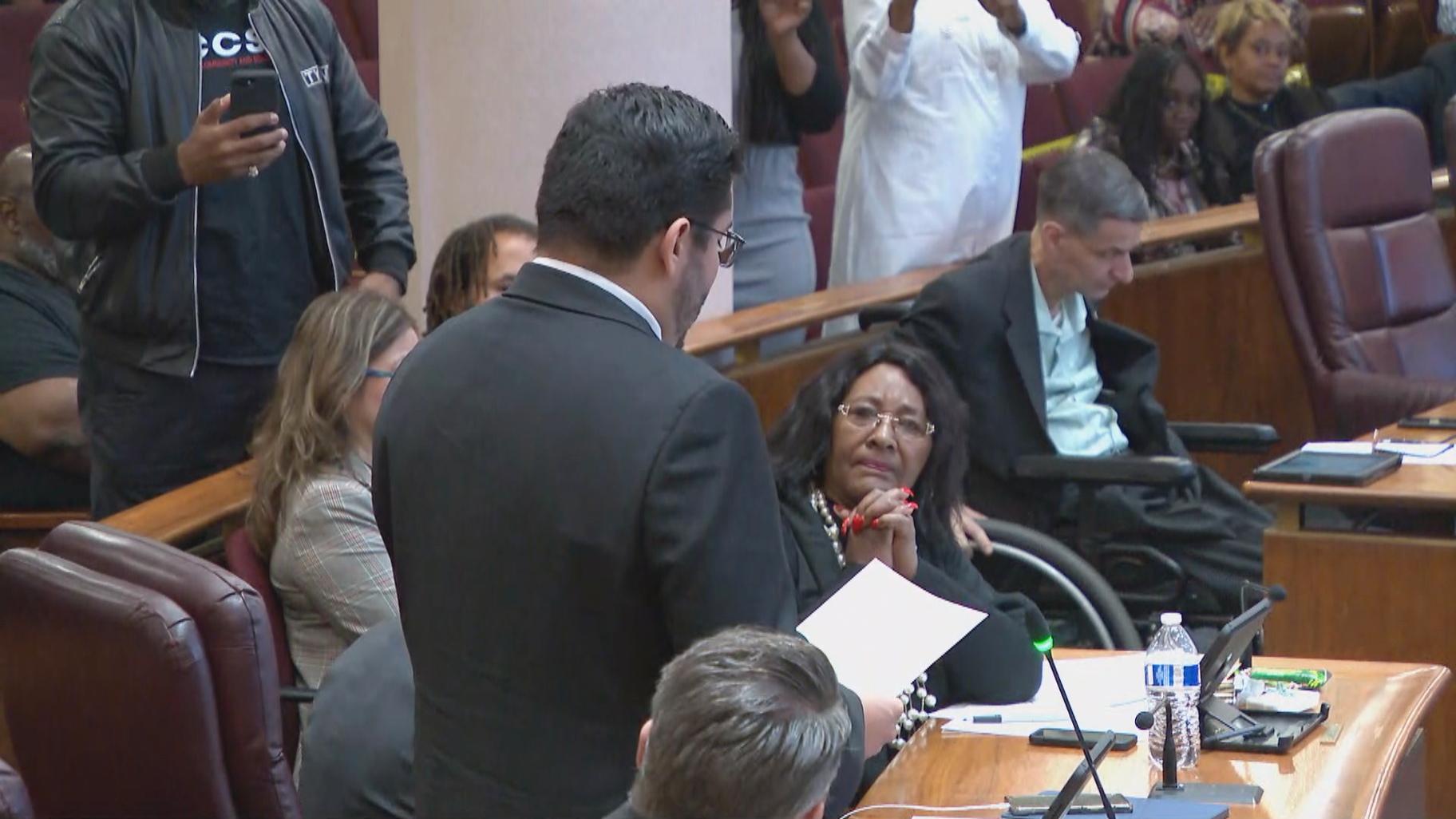 Ald. Emma Mitts looks on as Ald. Carlos Ramirez-Rosa apologizes during the Chicago City Council meeting on Nov. 7, 2023, in which he narrowly avoided censure. (WTTW News)
But that moment of reconciliation between the most senior Black woman on the City Council and the Latino alderperson who was just a week ago the most powerful member of the City Council, did not satisfy Ald. Scott Waguespack (32nd Ward).
Former Mayor Lori Lightfoot's closest City Council ally, Waguespack once led the City Council's Progressive Caucus but is now one of Johnson's most implacable opponents.
Waguespack demanded that Ramirez-Rosa be censured for his conduct, citing a City Council rule last invoked in 1904, when Ald. Hubert Butler was censured for attacking the integrity of members of the City Council, according to research by Ellen Keith, the director of research and access for the Chicago History Museum.
Johnson ruled that motion out of order, citing the rule's language that allowed alderpeople to be censured only for conduct that occurred during an ongoing City Council meeting. By one vote, Johnson's ruling was overturned by the City Council.
That set up a vote on the censure itself, with Mitts voting not to censure Ramirez-Rosa.
"If I were to sanction him right now, I would be putting fire on top of what we already did," Mitts said. "It doesn't help this Council, and it won't help the city of Chicago. It would only keep things more divided."
The push appeared to fail by one vote, when Lopez and Ald. Brendan Reilly (42nd Ward) objected to Ramirez-Rosa's casting a vote on the matter. 
After consulting with the city's attorneys, Johnson agreed to disqualify Ramirez-Rosa's vote, creating a 24-24 tie. Overcome with emotion, Ald. Jeanette Taylor (20th Ward) left the chambers before the vote and did not return.
That left Johnson to break the tie, the first time in recent Chicago political history that a mayor has exercised that power.
Johnson voted not to censure Ramirez-Rosa, saying that while his actions "created a stain" he did not believe the City Council's rules allowed him to be censured and wanted to "extend grace" to someone who had already apologized for his behavior.
Ramirez-Rosa said he was "distraught" that his actions had exacerbated tensions between Chicago's Black and Latino communities, which have been significantly frayed in recent weeks.
"I'm committed to rebuilding those bridges," Ramirez-Rosa said.
Many Black leaders feeling deep frustration that the city is spending millions of dollars to house mostly Latino immigrants in Black communities that have suffered from decades of disinvestment, grinding poverty and rampant crime and violence. 
Nearly 3,200 men, women and children, most from Venezuela, are sleeping on the floors of police stations across the city and at O'Hare Airport, according to city data from Wednesday.
Johnson has offered no timetable to replace Ramirez-Rosa either as Zoning Committee chair or floor leader.
The failed effort to censure Ramirez-Rosa capped a nearly five-hour day at City Hall that began with a meeting of the Rules Committee to decide whether to ask voters to weigh in on efforts to care for more migrants, who are all in the country legally after requesting asylum. 
Lopez and other alderpeople have demanded the March ballot include a nonbinding question about whether Chicago should remain a sanctuary city.
Read more: What Does It Mean That Chicago Is a Sanctuary City? Here's What to Know
However, since the city's sanctuary city status applies only to undocumented immigrants at risk of deportation, Johnson and his allies have resisted that effort. 
On Tuesday, allies of the mayor proposed asking voters: "Should the city of Chicago impose reasonable limits on the city's providing resources for migrant sheltering, such as funding caps and shelter occupancy time limits, if necessary to prevent a substantial negative impact on Chicago's current residents?"
However, that proposed compromise did not satisfy Lopez and his allies, nor the dozens of people in the gallery in the Council Chambers, many of whom hurled anti-Latino racist abuse at the City Council and made it impossible for the meeting to continue. The gallery was cleared, and most members of the public required to sit in the third-floor gallery, which is encased in glass.
Alderpeople will consider the matter at noon Nov. 16.
Contact Heather Cherone: @HeatherCherone | (773) 569-1863 | [email protected]
---