Moments before his bench trial was set to begin, the father of the alleged Highland Park parade gunman pleaded guilty to seven misdemeanor counts after he was accused of recklessly aiding his son in obtaining firearms prior to last year's mass shooting.
Just as proceedings were set to begin, Lake County State's Attorney Eric Rinehart announced that Robert Crimo Jr. had agreed to plead guilty to seven Class A misdemeanor counts of reckless conduct, rather than the seven felony charges he had faced. Crimo Jr. was then sentenced to 2 years probation and 60 days in jail, which was agreed upon as part of his plea. He will be taken into custody to begin serving that sentence Nov. 15.
Lake County prosecutors had alleged Crimo Jr. took a "reckless and unjustified risk" in December 2019 when he signed an affadavit supporting his son, Robert Crimo III, in his application for a FOID card. At the time, Crimo III was only 19 years old and could not legally obtain a FOID card or purchase a firearm without his father's assistance.
"This wasn't a fishing license, this wasn't a permission slip to go to the museum," Rinehart said following the hearing. "This was a permission slip for his son to buy an assault rifle. And when he signed this permission slip, he knew exactly how dangerous it was for this 19-year-old to have a weapon."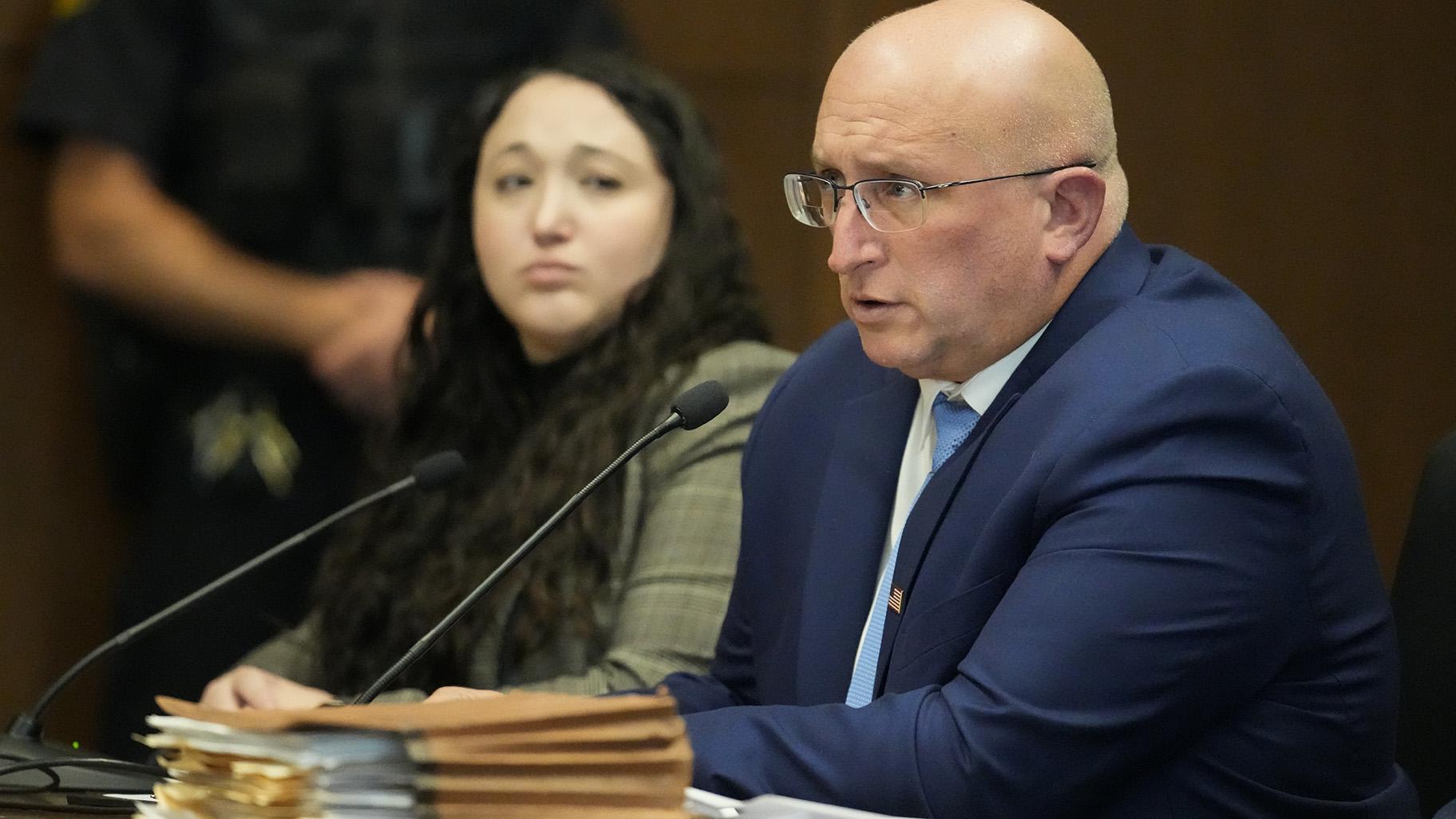 Robert E. Crimo Jr. appears before Judge George D. Strickland at the Lake County Courthouse, Monday, Nov. 6, 2023, in Waukegan, Ill. (AP Photo /Nam Y. Huh, Pool)
Highland Park police had two previous interactions with Crimo III in 2019. One occurred that April after he allegedly attempted suicide. Months later, in September, Crimo III allegedly threatened family members, saying he was "going to kill everyone," according to prosecutors.
In pleading guilty, Crimo Jr. admitted that he was aware that his son had expressed both suicidal and homicidal ideations before he aided him in obtaining a FOID card. Rinehart told the court Crimo Jr. had know his son had made threats to his own family and had expressed an interest in committing a mass shooting in 2014 or 2015.
"His decision in 2019 to cavalierly cast aside his concerns about his son and to ignore his specific knowledge before sponsoring his son's FOID application endangered lives," Rinehart said. "That reckless decision enabled the Highland Park July 4th parade shooting where seven people were murdered, dozens were wounded and hundreds were traumatized."
Rinehart would not comment on whether Crimo Jr. could be called as a witness at his son's trial, but he indicated that there was no part of this plea deal that will require him to do so.
Prior to announcing the plea deal, Rinehart spoke with victims of the shooting, many of whom he said were supportive of the agreement, while still devastated over the shooting itself.
Crimo Jr.'s defense team considered calling their client's son to testify at trial, but Crimo III's own attorneys said he would invoke his 5th Amendment rights against self-incrimination on the witness stand.
Video: Robert E. Crimo Jr. enters a guilty plea to seven misdemeanors before Judge George D. Strickland at the Lake County Courthouse, Monday, Nov. 6, 2023.
---
Parents being charged in connection with a mass shooting allegedly committed by their child is exceedingly uncommon in the U.S.
The most notable case is that of James and Jennifer Crumbley — whose son Ethan pleaded guilty to killing four and wounding seven inside an Oxford, Michigan high school in 2021 — who currently face charges of involuntary manslaughter in connection with the shooting.
Illinois State Police Director Brendan Kelly said the plea deal in this case not only sends a "very strong message," but is also "unprecedented" in Illinois.
"You might not be the person pulling the trigger, you may not be the person with the firearm, but you could be held accountable for that conduct if you have knowledge that someone is a threat and you don't act on that — particularly if you're a family member," he said. "If you fail to do that, you could be held accountable, you could be looking at jail time yourself. That is not something we've had in this state until this moment."
Evidence of Crimo III's interview with Highland Park police after his arrest was set to be admitted in this trial and made public.
Crimo Jr. did not address the media following Monday's hearing, but in a brief statement, his defense attorney George Gomez said his client agreed to a plea in part to ensure his son could receive a fair trial.
Prosecutors also planned to call Crimo III's younger brother to testify. Gomez claimed that by going to trial and allowing this, the Crimo family would have been "more torn apart on a public stage than it already is."
Gomez also said that his client did not want to force the Highland Park community to "re-live these tragic events."
Crimo III was indicted last year on 117 charges, including 21 counts of first-degree murder stemming from the mass shooting.
He allegedly fired more than 80 rounds from a Smith & Wesson M&P 15 semi-automatic rifle during the attack and disguised himself in women's clothing in order to conceal distinctive face and neck tattoos and blend into the crowd as he made his escape.
More than 50 people were shot, including seven people who were killed: 64-year-old Katherine Goldstein, 35-year-old Irina McCarthy and her 37-year-old husband Kevin McCarthy, 63-year-old Jacquelyn Sundheim, 88-year-old Stephen Straus, 78-year-old Nicolas Toledo-Zaragoza and 69-year-old Eduardo Uvaldo.
A trial date for Crimo III has not yet been set.
Contact Matt Masterson: @ByMattMasterson | [email protected] | (773) 509-5431
---