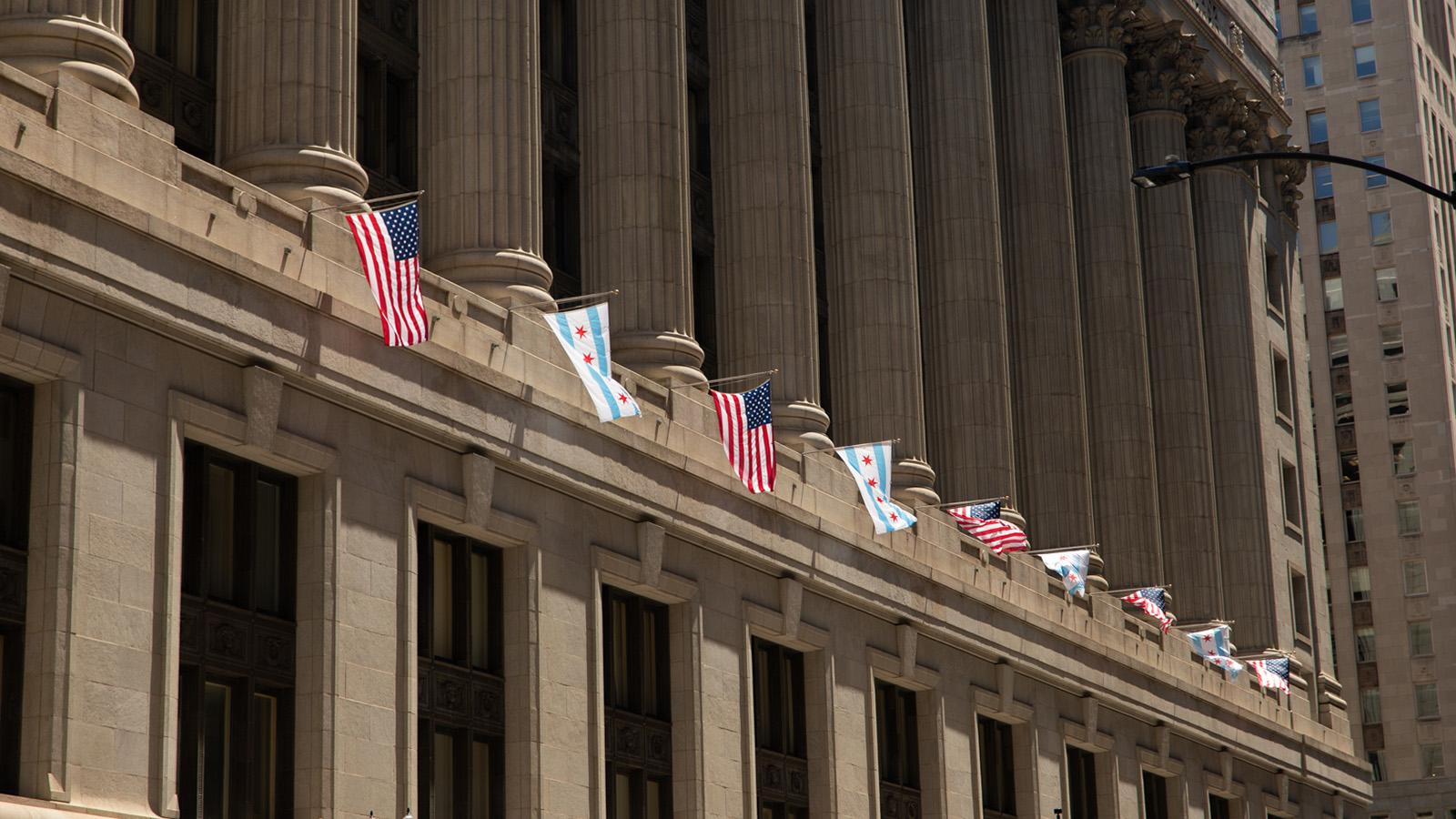 Chicago City Hall. (Michael Izquierdo / WTTW News)
Mayor Brandon Johnson's proposal to spend $16.6 billion in 2024 is set for a final vote after clearing two City Council committees with little opposition and no controversy.
Both the City Council's Budget and Finance committees voted to advance the spending plan to the full City Council, teeing up the two-step process that is scheduled to start Tuesday and culminate Nov. 15.
Johnson's first spending plan eliminates a $538 million shortfall and prioritizes new investments in affordable housing, mental health services and environmental justice. It includes no new taxes or fees, making it much easier for alderpeople to back the plan touted by Johnson as a down payment on promises to invest in working-class Chicagoans.
The only substantive change to Johnson's original spending plan approved by the Budget Committee would allow each of the 50 members of the City Council to hire a fourth employee for their ward office – a perennial demand long ignored by Johnson's predecessor that will help speed the plan's passage before Thanksgiving.
But the package includes no new money for City Clerk Anna Valencia's office, even after she told City Council members her office was being crushed by demand for municipal identification cards from the migrants sent to Chicago on buses from Texas.
Valencia said she would like to create an online portal to make it possible for people to apply for the ID card without having to wait in long lines — but that was not included in the package advanced Monday.
A spokesperson for Valencia did not immediately respond to a request for comment from WTTW News.
In addition, the City Council's Finance Committee greenlighted an approximately $1.8 billion property tax levy, with Alds. Marty Quinn, (13th Ward); Raymond Lopez (15th Ward); Felix Cardona (31st Ward) Scott Waguespack (32nd Ward) and Brendan Reilly (42nd Ward) voting no. Quinn also voted against the spending plan as a member of the Budget Committee.
None of those alderpeople are allies of Johnson.
The spending plan sets aside $150 million to house, feed and care for the men, women and children sent to Chicago from the southern border. More than 20,400 people have made their way to Chicago since August 2022, with nearly 12,000 in city shelters and another 3,200 migrants living in police stations across the city and at O'Hare International Airport waiting for a bed to open up.
Johnson has acknowledged that figure would not be enough to last through the entire year. The migrant crisis is likely to cost taxpayers $361 million between January and December 2023, according to financial projections released by the mayor's office.
Johnson told reporters that he asked the City Council to earmark less than the full projected cost to care for the migrants to acknowledge that the burden should not fall entirely on Chicago taxpayers.
However, state and federal officials have been slow to respond to the city's increasingly strident calls for help. No additional federal funds are on the horizon because of the gridlock caused by infighting among Republican members of the U.S. House of Representatives, and state officials won't start crafting the budget for the next fiscal year until January.
The Civic Federation, a nonpartisan fiscal watchdog group, urged the City Council to come up with a backup plan if federal or state help does not arrive.
Johnson's spending plan calls for the city to double the number of social workers, addiction specialists and counselors working to respond to 911 calls for help from people experiencing mental health crises and to open two new mental health clinics in facilities already operated by the Chicago Department of Public Health.
That alternate-response program, launched by former Mayor Lori Lightfoot as a pilot program, would become a permanent part of the city's approach to those in crisis as part of the 2024 budget.
Those proposals are the core of the plan known as "Treatment Not Trauma," which Johnson pledged to implement if elected mayor. In all, Johnson proposed spending $4.8 million more next year on mental health services in his budget.
Johnson's spending plan will also expand the city's youth jobs program by 4,000 positions to 28,000 jobs, according to the proposal. More than 46,000 teens and young adults applied for the city's summer jobs program in 2023, according to city records.
The budget includes an additional $10 million that expands the city's program that offers grants to low-income homeowners to make needed repairs.
The spending plan calls for an additional $6.8 million for the city's shelter system, which has been strained to the breaking point with the arrival of the migrants from the country's southern border.
The mayor's spending plan also sets aside an additional $900,000 to reestablish the Department of the Environment as part of a renewed emphasis on environmental justice that would fulfill a key campaign promise made by Johnson.
Former Mayor Rahm Emanuel disbanded the department in 2012, and Lightfoot did not make good on promises to bring it back.
Johnson's spending plan will also reverse Lightfoot's 2019 decision to combine the departments of Innovation and Technology and Fleet and Facility Management. The spending plan will reinstitute the department known as 2FM and create a separate department of Technology and Innovation, according to the proposal.
The spending plan also represents his initial attempt to transform the Chicago Police Department into an agency better prepared to implement the more "holistic" approach to public safety that focuses on the "root causes" of crime, as the mayor promised during the campaign.
Johnson's plan makes 398 of the department's more than 11,700 sworn positions into jobs open to civilians, who would not have law enforcement powers.
CPD is also set to add training officers and see its fleet of vehicles expand to accommodate the nearly 200 new detectives Johnson has promised to promote.
The overall budget for the Police Department is set to rise from $1.94 billion in 2023 to $1.99 billion under Johnson's proposed budget.
Johnson balanced the city's 2024 budget by cutting $243.3 million, and finding an additional $321.3 million in new revenue, according to the spending plan.
Johnson is set to use $49.5 million from the city's Tax Increment Financing program to help fill the budget shortfall.
The city's financial picture is not only being buoyed by that burst of additional TIF revenue, but also by $50 million from the city's surplus from prior years. Chicago ended 2022 with a surplus of $307.3 million, according to the city's annual financial report.
In addition, Chicago has $461.5 million left unspent from the nearly $2 billion in federal relief funds the city got in 2021 to strengthen Chicago's tattered social safety net and provide direct aid to Chicagoans struggling to recover from the COVID-19 pandemic, officials said.
Finances will continue to be pinched by soaring pension payments, as the city complies with a state law that requires two of Chicago's funds be funded at a 90% level by 2055 and the other two by 2058, ensuring they can pay benefits to employees as they retire.
In 2024, state law requires Chicago to pay more than $2.41 billion to its pension funds. Johnson also proposed making an additional payment to the city's four pension funds of $306.6 million, following a policy put in place by Lightfoot, to prevent "further growth of the city's unfunded pension liabilities," according to the forecast released by the Johnson administration.
That additional pension payment prompted Fitch, one of a handful of major ratings agencies, to upgrade Chicago's credit rating, which helps determine how much the city must pay in interest to borrow money, much like an individual's credit score, and will likely save the city tens of millions of dollars in borrowing costs.
Contact Heather Cherone: @HeatherCherone | (773) 569-1863 | [email protected]
---