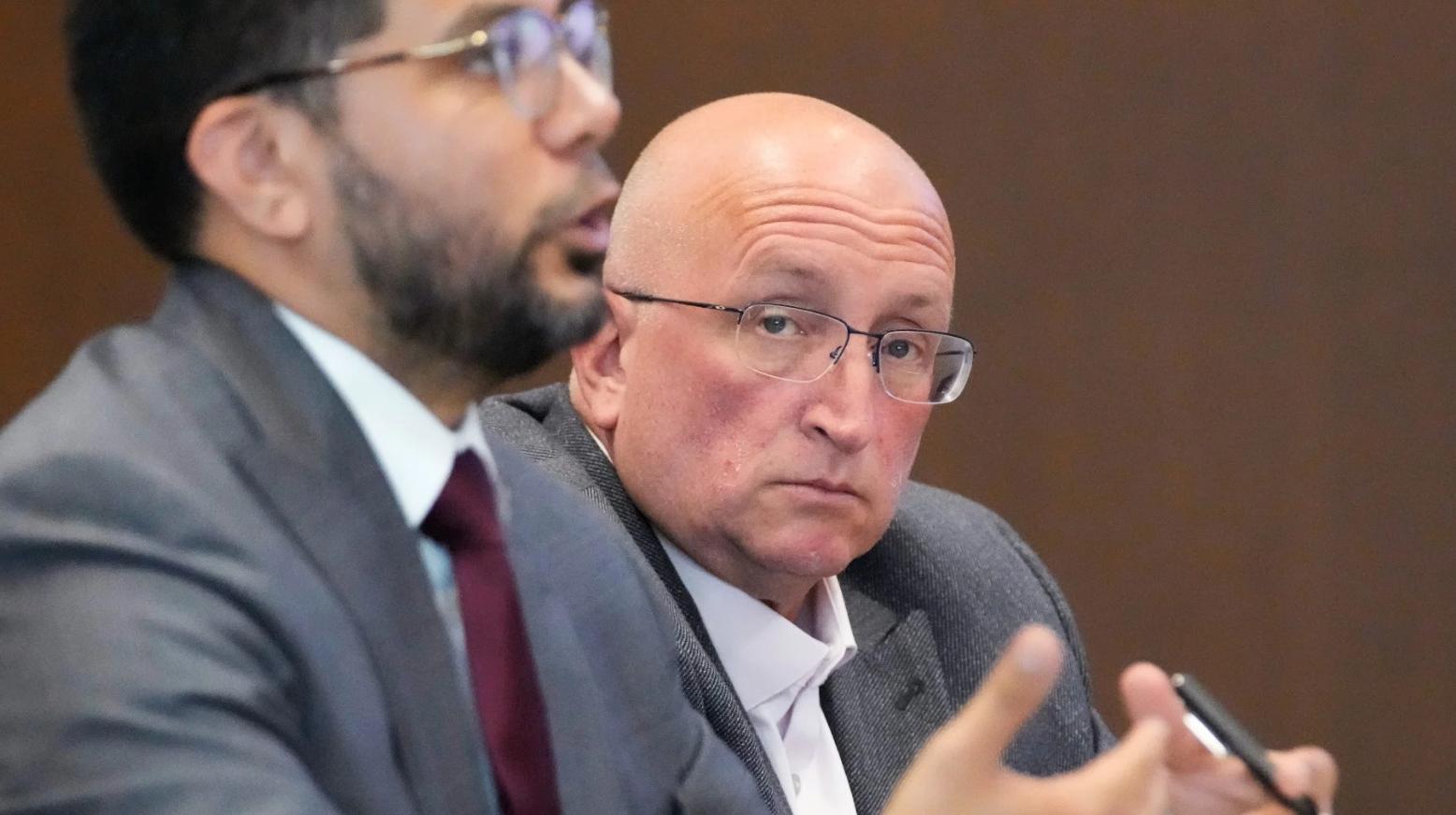 Attorney George Gomez, left, speaks to Judge George D. Strickland as Robert E. Crimo Jr., looks on during an appearance at the Lake County Courthouse, Monday, Aug. 7, 2023, in Waukegan, Ill. (AP Photo / Nam Y. Huh, Pool)
The father of the alleged Highland Park Fourth of July Parade gunman is set to go to trial Monday on charges that he acted recklessly when supporting his son's application for a firearm owner's identification card years before the shooting.
The bench trial of Robert Crimo Jr. is set to begin Monday in Lake County Judge George Strickland's Waukegan courtroom, more than 16 months after Crimo's son — Robert Crimo III — allegedly killed seven people and wounded dozens more during the holiday parade.
Crimo Jr. was charged last December with seven counts of reckless conduct — one for each of the seven people killed.
According to Illinois state law, reckless conduct occurs when someone "by any means lawful or unlawful, recklessly performs an act or acts" that causes "bodily harm to or endanger the safety of another person" or causes "great bodily harm or permanent disability or disfigurement to another person."
Lake County prosecutors have alleged Crimo Jr. took a "reckless and unjustified risk" in December 2019 when he signed his son's application for a FOID card. At the time, Crimo III was only 19 years old and could not legally obtain a FOID card or purchase a firearm without his father's assistance.
Highland Park police had two previous interactions with Crimo III in 2019. One occurred that April after he allegedly attempted suicide. Months later, in September, Crimo III allegedly threatened family members, saying he was "going to kill everyone," according to prosecutors.
Prosecutors have also sought to introduce Crimo III's school disciplinary and therapeutic records at trial to try and prove Crimo Jr. had knowledge of his son's "violent ideations" prior to aiding him in his FOID application.
Crimo Jr.'s defense team considered calling their client's son to testify at trial, but Crimo III's own attorneys said he would invoke his 5th Amendment rights against self-incrimination on the witness stand.
While Strickland will not hear from Crimo III in person at trial, his words will be heard in snippets from his interview with police following the mass shooting. While that video will not be played in court, prosecutors and defense attorneys plan to use transcripts from that seven-plus hour conversation that came after Crimo III was arrested.
Crimo III's attorneys argued that publishing the video could prejudice their client's right to an impartial jury for his yet-to-be scheduled trial. They also wanted the transcript to be sealed, but Strickland rejected that argument, saying he would not make his ruling based on "secret, sealed evidence."
Crimo III's younger brother is expected to testify, as is another man who claimed Crimo III put a toy cap gun to his neck and pulled the trigger shortly after he heard him discussing a mass shooting at a school.
Prosecutors also plan to present text messages evidence they said shows arguments between Crimo Jr. and Crimo III, in which the father called his son "irrational" and Crimo III allegedly expressed suicidal ideations.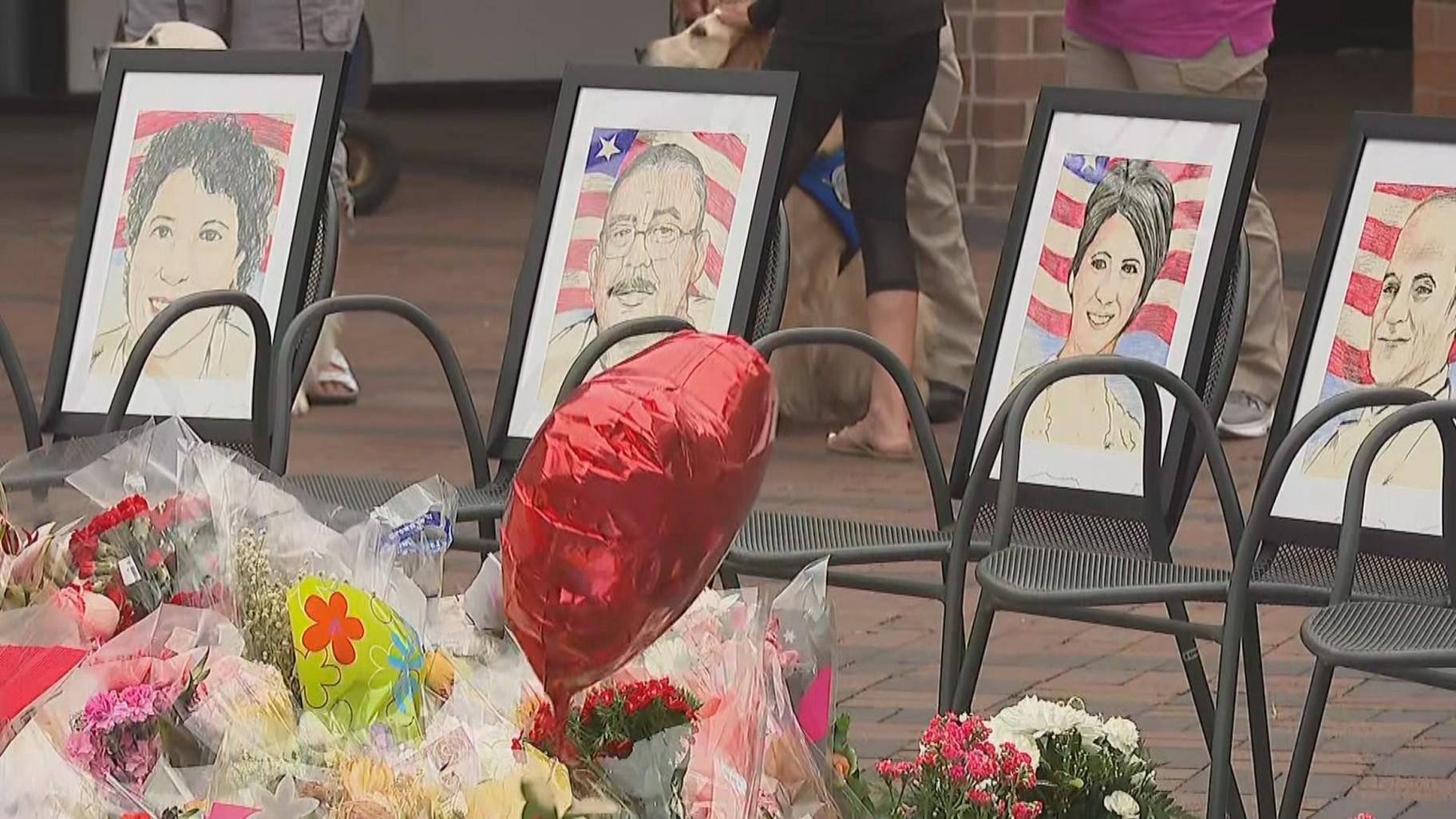 A memorial to the victims of the July 4, 2022, shooting in Highland Park. (WTTW News)
Because he's chosen a bench trial, Crimo Jr's fate will be left in the hands of Strickland. As opposed to a jury trial — where jurors hear evidence and deliberate before reaching a verdict — in a bench trial, that task is left up to the judge.
Strickland first has to rule on what evidence and testimony he'll allow at trial, and then weigh its credibility and importance as the trial goes on.
Parents being charged in connection with a mass shooting allegedly committed by their child is exceedingly uncommon in the U.S. the most notable case is that of James and Jennifer Crumbley — whose son Ethan pleaded guilty to killing four and wounding seven inside an Oxford, Michigan high school in 2021 — who currently face charges of involuntary manslaughter in connection with the shooting.
They face up to 15 years in prison if convicted.
But Crimo Jr. isn't facing charges quite that severe. The reckless conduct counts he's been charged with are Class 4 felonies in Illinois and can include prison sentences of up to 3 years.
Prosecutors plan to call 10 witnesses at trial, while the defense is expecting at least two. Attorneys on both sides believe the case can be completed within five days, though it's not yet clear when Strickland would issue his verdict.
Contact Matt Masterson: @ByMattMasterson | [email protected] | (773) 509-5431
---