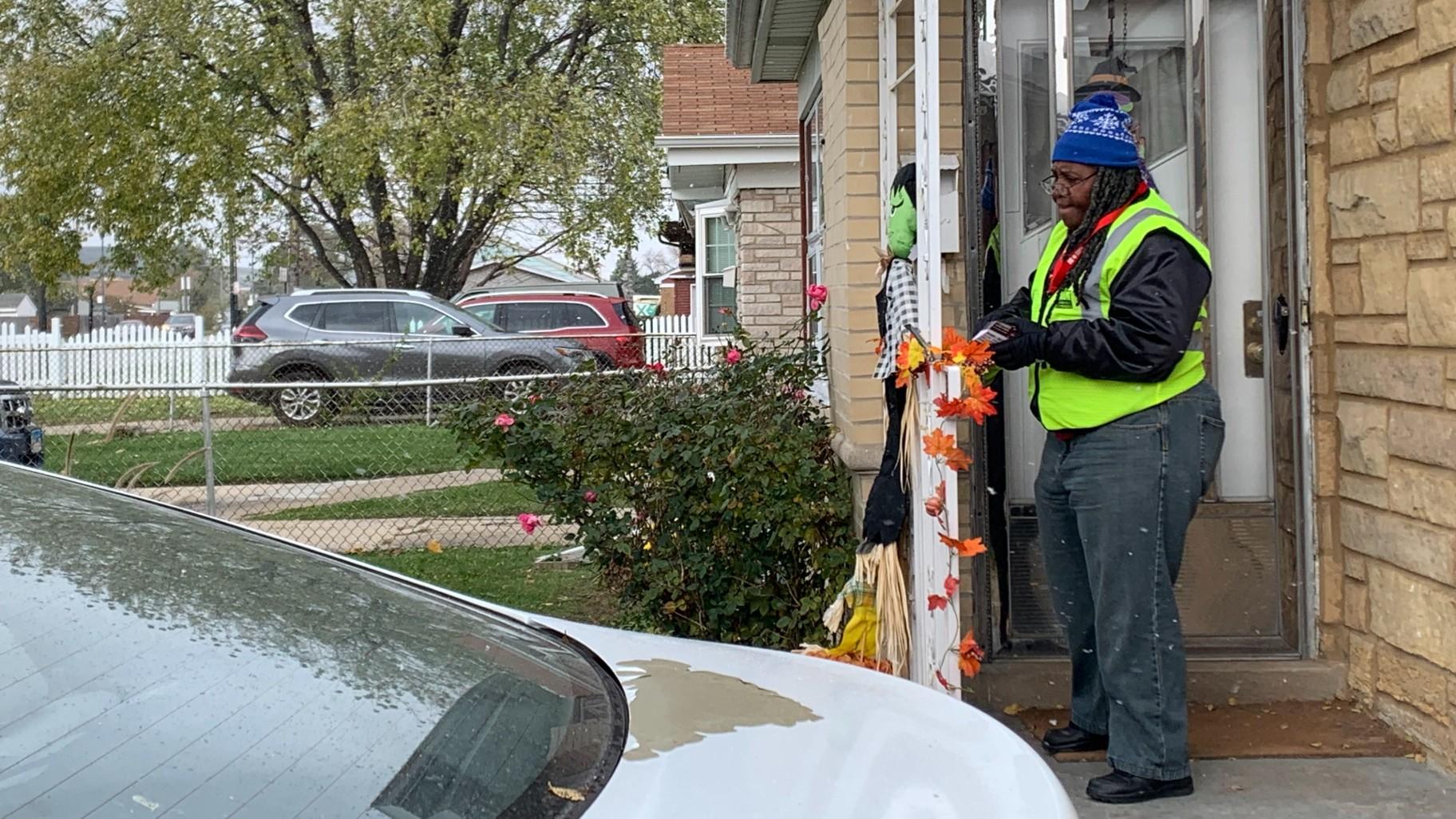 Community health worker Stefferina Woodrick leaving a flyer at a house on the 7800-block of Pulaski Road in Ashburn on Oct. 31, 2023. (Eunice Alpasan / WTTW News)
It might have been a tad too early for trick-or-treaters in the early afternoon hours of Halloween in the Ashburn neighborhood, but that didn't stop a group of community health workers on a mission that also involved going door to door down several blocks.
"If we don't do it, who else is going to be able to get it done? Who's going to want to be out in the snow?" said community health worker Ife Sanders, as she withstood a strong gust of snow flurries coming in the opposite direction.
Their mission that afternoon was to pass out flyers with information about an upcoming COVID-19 and flu vaccination clinic at the nearby Richard J. Daley Community College.
Starting at 79th Street and Pulaski Road, the six community health workers split into separate groups and headed north, leaving the notecard-sized flyers on the windshield of people's cars and on the front door of homes. Some stuck them on the corners of mailboxes and Halloween decorations.
Community health workers Stefferina Woodrick and Ledgure Herron had a door-to-door staggered system that allowed them to cover an entire block in just a few minutes.
The workers, representing Phalanx Family Services and the Calumet Area Industrial Commission, were canvassing as part of a broader partnership with the Chicago Department of Public Health that started during the COVID-19 pandemic.
The partnership includes 11 community-based organizations in the city that serve some of the communities hit hardest by the pandemic. In those early days, some of the work of community health workers involved assisting with COVID-19 contact tracing and a COVID-19 hotline where people could get information.
Now, efforts have shifted to a focus on improving overall health and wellness in communities on top of COVID-19 awareness efforts.
"People are kind of COVID-ed out, so you have to be upbeat and say, 'We're just trying to keep the information current,'" Herron said. "It gives people factual and actual information. There's so much out there on the internet."
For Herron, the work is personal. He was in intensive care after getting COVID-19 in April 2020. He said he knows what COVID-19 can do and feels the work he does helps save people's lives.
Lisa Walsh said being a community health worker has shifted her area of focus as she studies to be a nurse. "I think it's important this work being my background going into (nursing) just to address things like social determinants of health and where the disparities are," Walsh said.
146,800 Chicagoans, or about 5% of the city's population, have received the updated COVID-19 vaccine as of Oct. 23, according to a spokesperson with CDPH.
Click here for more information on how to get vaccinated.
---
Contact Eunice Alpasan: @eunicealpasan | 773-509-5362 | [email protected]