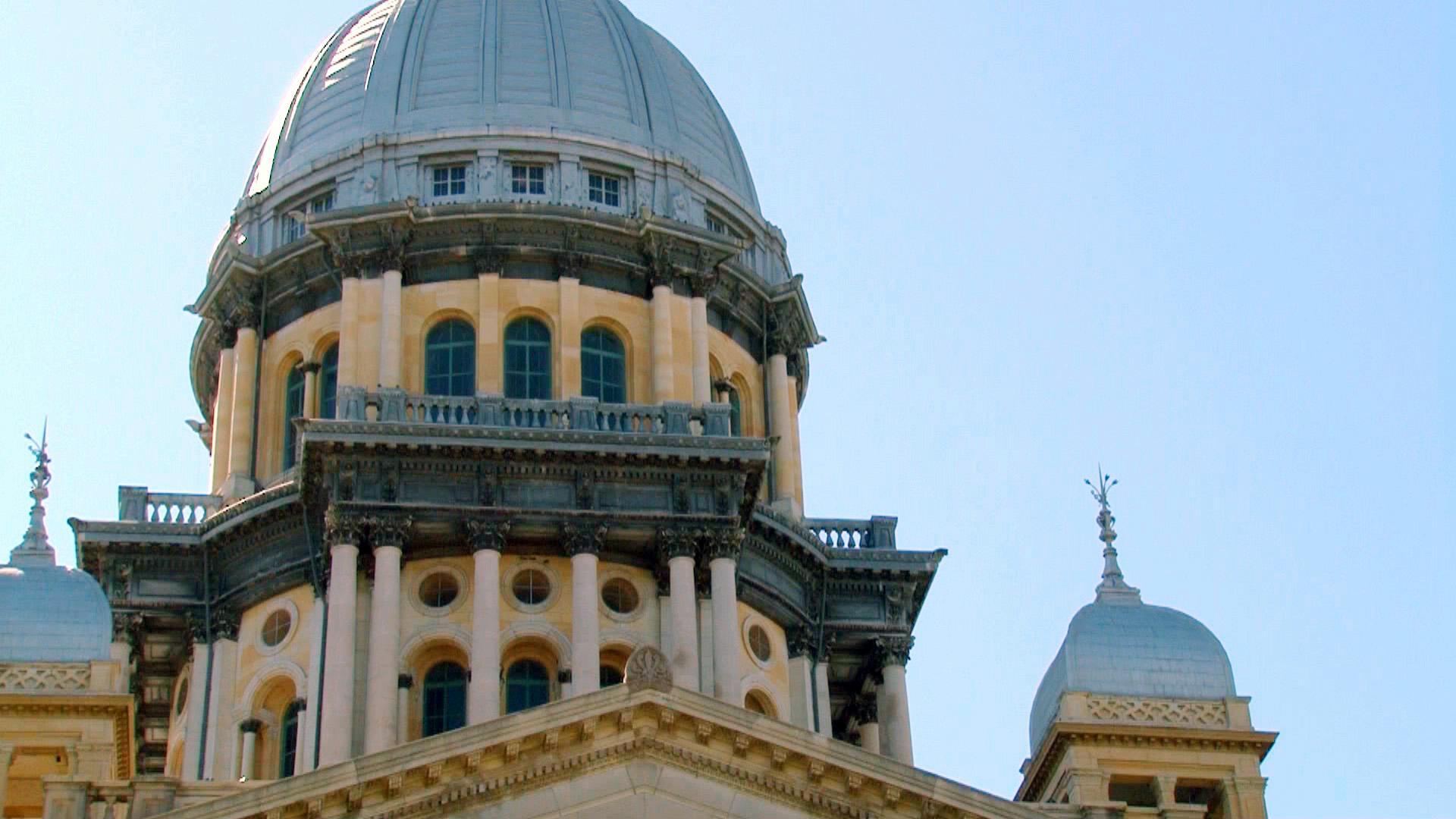 (WTTW News)
Illinois' powerful Democratic legislators have consistently boosted the labor movement, including by fostering passage last year of a first-in-the-nation constitutional amendment that guarantees employees' right to organize and collectively bargain.
Even with that covenant, a carveout in state law (the Illinois Public Relations Act) means the employees with whom legislators work most closely — legislative staff — may not legally be able to form a union.
The House on Wednesday approved a proposal (HB4148) clearing the way for them to do so.
A group of individuals working for the office of Illinois House Speaker Emanuel "Chris" Welch has been exploring forming a union, and as reported by WBEZ in May, those workers were initially rebuffed by the speaker.
Now, though, Welch is sponsor of a bill creating the Legislative Employee Labor Relations Act.
"This legislation will allow legislative employees in the House and Senate to organize and bargain collectively through representatives of their choosing for the first time in our state's history," Welch said. "Something I've remained firm on is: This legislation must give employees equal opportunity to join a union and make their voices heard."
Welch said the proposal is the result of careful negotiations.
Due to the particular nature of government work, he said stipulations were needed to make clear the General Assembly can't be forced to bargain over matters like the state budget, the fate of legislation, legislative session dates and state senators' and representatives' elections.
A legislative staff union would be able to go on strike, but not during any month the General Assembly meets. Typically, the legislature is in session from January through May, as well as a couple weeks over October, November and December.
But a legislative staff union could negotiate pay and hours — two of the top priorities for Welch's staffers who were behind leading the organizing campaign.
"Our pay is not adequate for the amount of work we do or the importance of the work that we do," Kelly Kupris, the acting vice president of the General Assembly's nascent union, the Illinois Legislative Staff Association (ILSA), testified at a House hearing Monday. "The infrastructure to support staff sustainability is nonexistent."
Statehouse culture has for years meant many General Assembly staffers are not allowed to leave the capitol building when the legislature is in session, and employees are often required to stay at work until session is adjourned for the day or they're explicitly dismissed, which can make for hours that easily surpass a standard 9-to-5 job.
"We all knew that accepting these jobs meant working long hours, working with highly emotional topics and juggling a stack of assignments taller than me," Kupris said. "We know there will be challenges that are inherent to the experience of legislative staff. But we are experiencing conditions that are not typical or healthy nor sustainable for making a livelihood."
Welch's legislation exempts General Assembly employees designated as chiefs and deputy chiefs of staff who work in lawmakers' home district offices.
Some representatives worried about what would happen to their workloads and budgets if their top district staff had to follow union time rules — a sentiment that could be considered hypocritical coming from Democrats given the party's bolstering of unions in other sectors.
During the floor debate, Republicans voiced concerns that should the unionization effort ultimately succeed, they will be put at a disadvantage because Democrats often put forward legislation last minute. Union work restrictions could mean that legislators couldn't call on staff at 2 a.m. to analyze a just-dropped bill, House Minority Leader Tony McCombie (R-Savanna) suggested.
State Rep. Ryan Spain (R-Peoria) said he still has a lot of questions about how it would all work, and that he worries the law could have unintended consequences.
But some change, he said, could be "a very good thing," noting the legislature's habit of pulling end-of-session "all-nighters that in my opinion have not resulted in very good outcomes at a policy level, and they certainly weren't a very good environment for our staff to work in."
The House passed the proposal by a vote of 73 to 35; it now moves to the Senate. Welch was unable to vouch for its chances in the other chamber — a reality recognized by the ILSA.
"We still have some stuff to iron out, but we are confident that any differences are within reach," ILSA leaders said in an emailed statement. "We are appreciative of the lines of communication Speaker and his aides have opened, and hope to cultivate a similar relationship with President Harmon and his team going forward."
Welch, who succeeded Illinois' longtime House Speaker Michael Madigan in 2021, said he has made improvements like outlining responsibilities, creating job descriptions and giving double-digit raises to those with jobs like legislative assistant.
"We have had staff issues for a long time — not just on the Democratic side, in all four caucuses," Welch said. "These issues have gone on for a long time. But I have tried to address them even without a union in place. Since becoming speaker, we have worked hard to make the environment here better."
Welch said those on his staff behind the effort are "courageous."
"I want you to know that these employees have been heard and we support these employees and, honestly, I believe they should be applauded," Welch said. "You make our work possible. Thank you for what you do; you keep this place running and help us deliver results for the people of this great state."
While the debate has centered on the House, and the ILSA was formed by those who work for Welch and the House Democratic caucus, the measure would also apply to Republican, Senate and some nonpartisan staff.
Follow Amanda Vinicky on Twitter: @AmandaVinicky
---