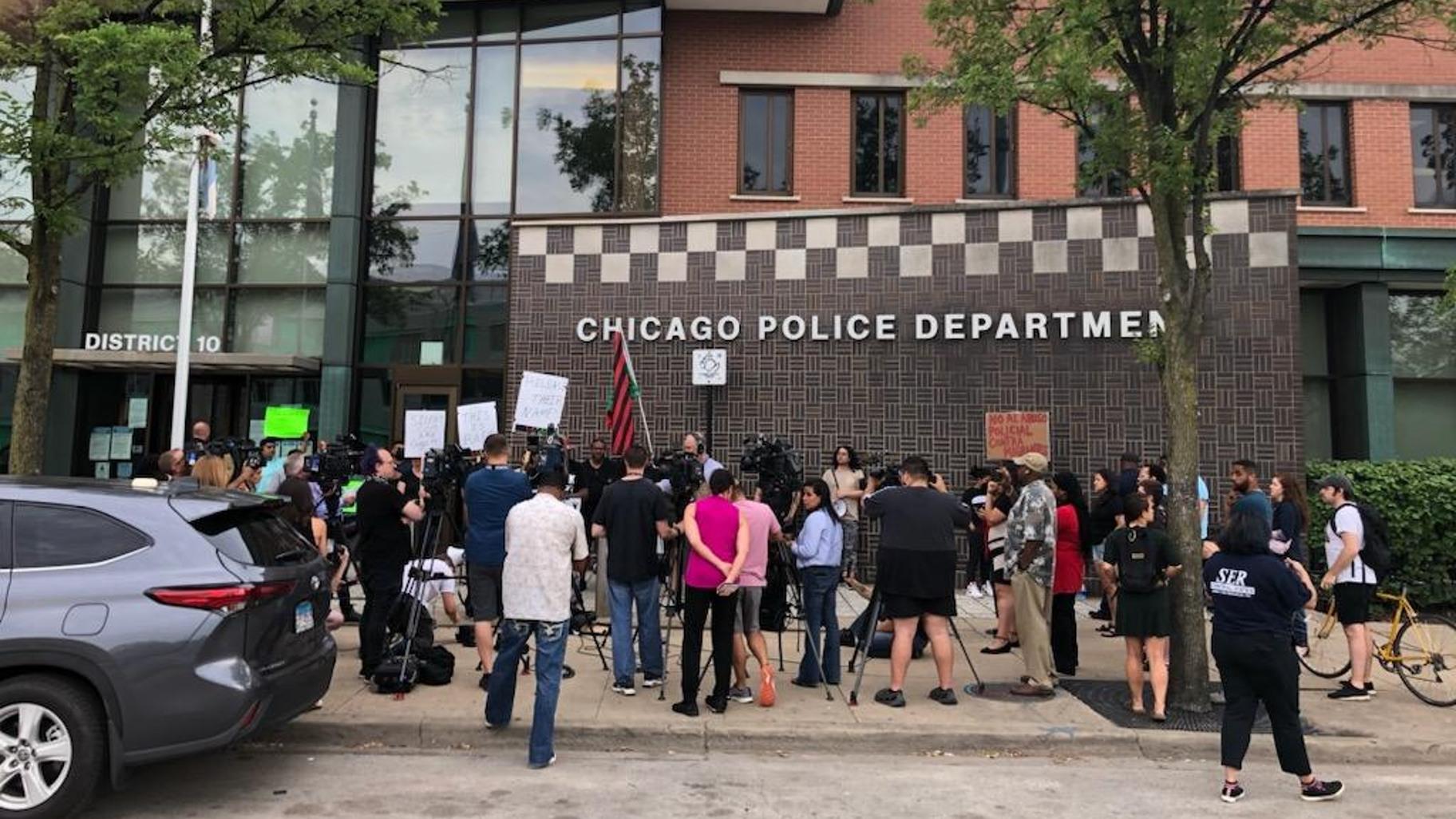 Protesters gather outside the Ogden (10th) Police District headquarters on July 7, 2023. (Marc Vitali / WTTW News)
There is no evidence that any Chicago police officer had sexual contact with any of the migrants forced to sleep on the floor of the stations after arriving in the city from the southern border, the head of the agency charged with investigating police misconduct announced Friday.
Investigators with the Civilian Office of Police Accountability, known as COPA, were unable to identify any victims or witnesses in the nearly three-month long probe launched after the explosive allegations prompted Mayor Brandon Johnson to temporarily move the migrants out of the Ogden (10th) Police District headquarters, which patrols Lawndale and Little Village, said Chief Administrator Andrea Kersten.
"At this time, there is not sufficient objective verifiable information of sexual misconduct," Kersten said in a statement. "COPA has concluded its investigative efforts and the case will be closed without allegations or findings of misconduct. Should new material evidence be received, COPA has the authority to re-open this investigation."
The probe began on July 6 after a city employee told COPA that an officer at the Ogden District "had sexual intercourse with an underage new arrival resulting in her becoming pregnant," according to Kersten's statement.
A few days later, COPA received information about similar allegations occurring in the Town Hall (19th) Police District, which patrols Lakeview and other North Side neighborhoods. Probes of both allegations are now closed, officials said.
John Catanzara, the president of the police union that represents rank-and-file officers, did not immediately respond to a request for comment from WTTW News. However, the union responded to COPA in a post on X, the social media platform once known as Twitter that said "COPA's behavior was shameful and completely unacceptable."
"Unsubstantiated rumors spread via social media became "fact" for (COPA) and our members were dragged through the mud with zero witnesses, zero complainants and absolutely zero evidence," according to the post. "Yet COPA went to the media with their 'story.'"
During a virtual briefing with reporters, Kersten said COPA learned of the allegations at the same time that the news media did, forcing them to conduct the investigation in the white-hot media spotlight. That glare prompted the agency to hold a rare mid-investigation update, she said.
COPA would have been "derlict in its duty" if it did not conduct a robust investigation. Kersten said COPA ran down every available lead and Chicagoans should be confident in its throughness.
Since the first bus of migrants arrived in Chicago 13 months ago, more than 15,000 people have made their way to the city, straining the city's social safety net and at times exacerbating tension between Chicago's Black and Latino communities.
That crisis intensified during the past week, with 36 buses arriving in the past seven days, officials said. That has increased the number of people living in Chicago's airports and police stations to more than 2,300, an increase of 25% in the past seven days, according to city data.
Contact Heather Cherone: @HeatherCherone | (773) 569-1863 | [email protected]
---