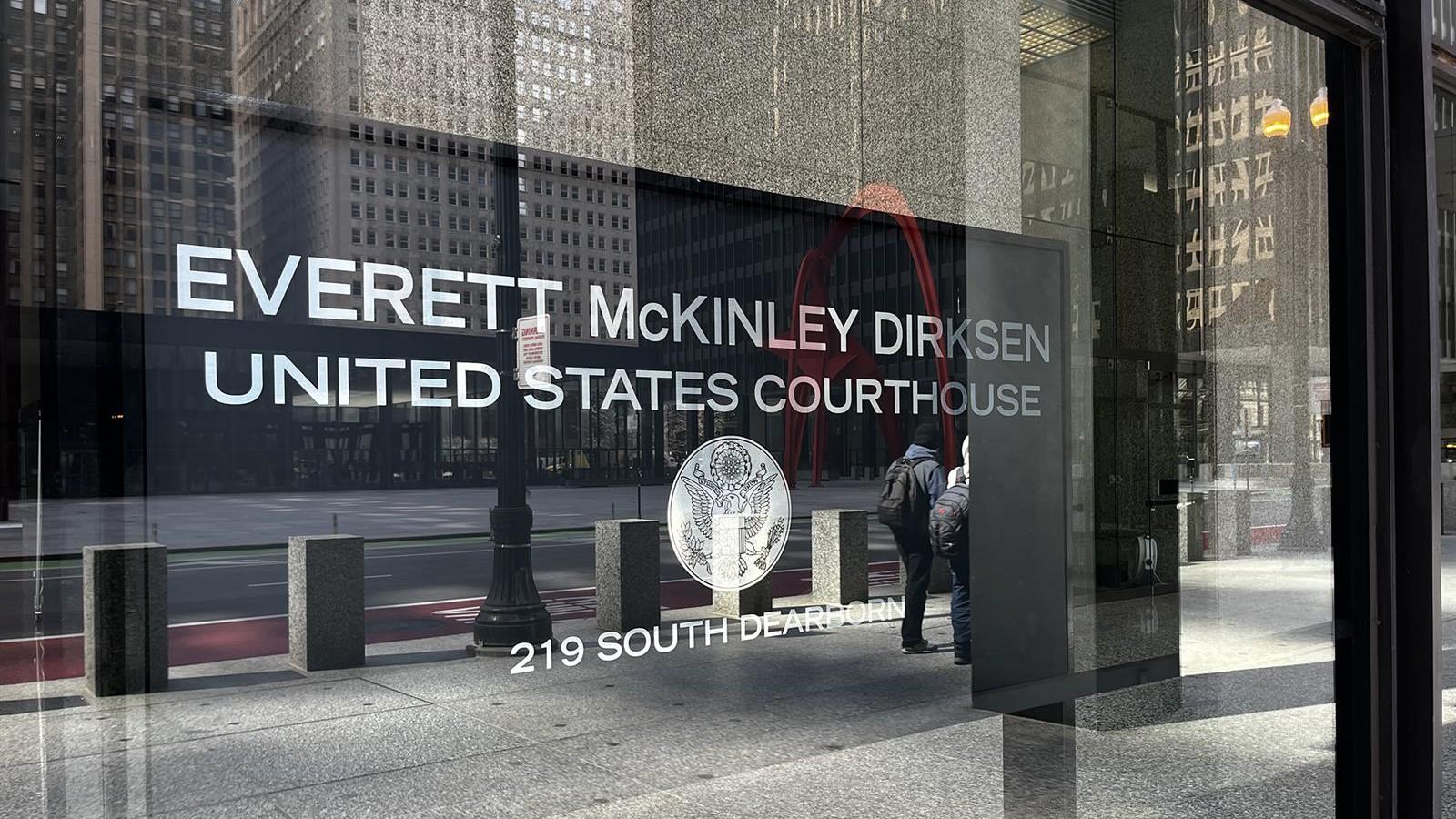 The Dirksen Courthouse is pictured in Chicago. (Capitol News Illinois)
A Portage Park businessman charged alongside Ed Burke in his upcoming trial on racketeering, bribery and extortion charges is seeking to sever his case, arguing he would be "unduly prejudiced" by going to trial alongside the former Chicago alderperson.
Charles Cui — who previously sought to have his case separated from Burke and co-defendant Peter Andrews — filed a renewed motion to sever Friday in which he claimed that jurors could become "confused" and consider Cui to have been part of a conspiracy that is only alleged to have involved Burke and Andrews.
"Severance should be granted," Cui's defense attorney Tinos Diamantatos wrote in the motion, "because there is a serious risk that the jury will be unable to make a reliable judgment about Mr. Cui's guilt or innocence and that potential for prejudice outweighs any economy in trying Mr. Cui alongside Mr. Burke and Mr. Andrews."
Burke is set to stand trial on 14 counts alleging the powerful politician repeatedly — and brazenly — used his elected office to force those doing business with the city to hire his private law firm. Burke has pleaded not guilty, and used millions of dollars of stockpiled campaign cash to fund his defense.
Andrews, a longtime aide to Burke, is charged with helping the ex-alderperson attempt to extort two businessmen who operated a Burger King restaurant in the 14th Ward. Cui is accused of hiring Burke's law firm in exchange for the alderperson's help obtaining a sign permit and city subsidy for the redevelopment of a Portage Park bank into shops.
Cui's severance motion argues that the government in a recent filing is alleging that a conspiracy only existed between Andrews and Burke — not Cui. Specifically, Diamantatos referenced a 74-page Santiago proffer filed by prosecutors last month which he said includes Burke's name 437 times, Andrews' name 196 times, and Cui's name just four times.
"The content of these filings highlight the danger that the jury will wrongfully attribute to Mr. Cui alleged co-conspirator statements or prior bad acts allegedly committed by Mr. Burke, which are all inadmissible for proving Mr. Cui's guilt," Diamantatos wrote. "And while counsel for Mr. Cui can argue to the jury about the disparity in the amount of evidence introduced at trial as to their client, some bells just cannot be unrung if the jury is left with a misimpression about Mr. Cui's alleged role in the case."
Cui's previous severance motion was denied by U.S. District Judge Robert Dow — who was overseeing this case until last year, when he was appointed as counselor to U.S. Supreme Court Chief Justice John Roberts. But Dow did leave the door open for Cui to eventually re-file his request, noting the possibility for "prejudicial spillover" as "much evidence is specific only to Ald. Burke."
"As trial now approaches, the evidence and basis for Mr. Cui to assert that there will be a prejudicial spillover effect is no longer hypothetical," Diamantatos wrote. "The discovery received, the government's Santiago proffer, and the government's 404(b) motion confirm the vast majority of the evidence that the government intends to admit at more than a four-week trial will be irrelevant and inadmissible as to Mr. Cui."
Prosecutors allege that from 2016 to 2018, Burke used his positions as alderperson and chairman of the Committee on Finance to solicit and receive bribes "from parties having business with the City of Chicago or subject to Burke's and fellow Alderman Daniel Solis's authority as Aldermen."
Solis — a disgraced former alderperson who admitted to taking bribes as the powerful chair of Chicago's Zoning Committee and has since entered into a deferred prosecution deal — agreed to work as a government informant and recorded hundreds of hours of conversations as part of investigations against Burke and former House Speaker Michael Madigan.
While those tapes will be used at trial, prosecutors this month told U.S. District Judge Virginia Kendall they do not plan to call Solis as a witness to testify.
The trio's trial is scheduled to begin Nov. 6.
Heather Cherone contributed to this report.
---