Ald. Ed Burke is set to stand trial on Nov. 6, 2023, on 14 counts of racketeering, bribery and extortion, more than four years after federal prosecutors first alleged the powerful South Side politician repeatedly — and brazenly — used his elected office to force those doing business with the city to hire his private law firm.
The trial is scheduled to last six weeks, attorneys told U.S. District Court Judge Robert Dow, complicating efforts to set a trial date. The case helped reshape Chicago politics and has long been delayed by the massive amount of evidence marshaled by the federal government against Burke, once the most dominant politician at Chicago City Hall.
Burke is set to be tried along with his longtime aide Peter J. Andrews and real estate developer Charles Cui. None of the defendants were present for Tuesday's brief hearing.
Burke, 78, was re-elected to a 13th term on the Chicago City Council in February 2019, less than two months after he was charged with attempted extortion. 
If Burke decides to run for re-election in February 2023, he will do so before being brought to trial on charges he has faced for more than an entire term on the City Council. Burke has essentially stopped raising cash for campaign expenses, but is using his formidable war chest to fund his legal defense. 
Burke is set to turn 80 just after the completion of his scheduled trial.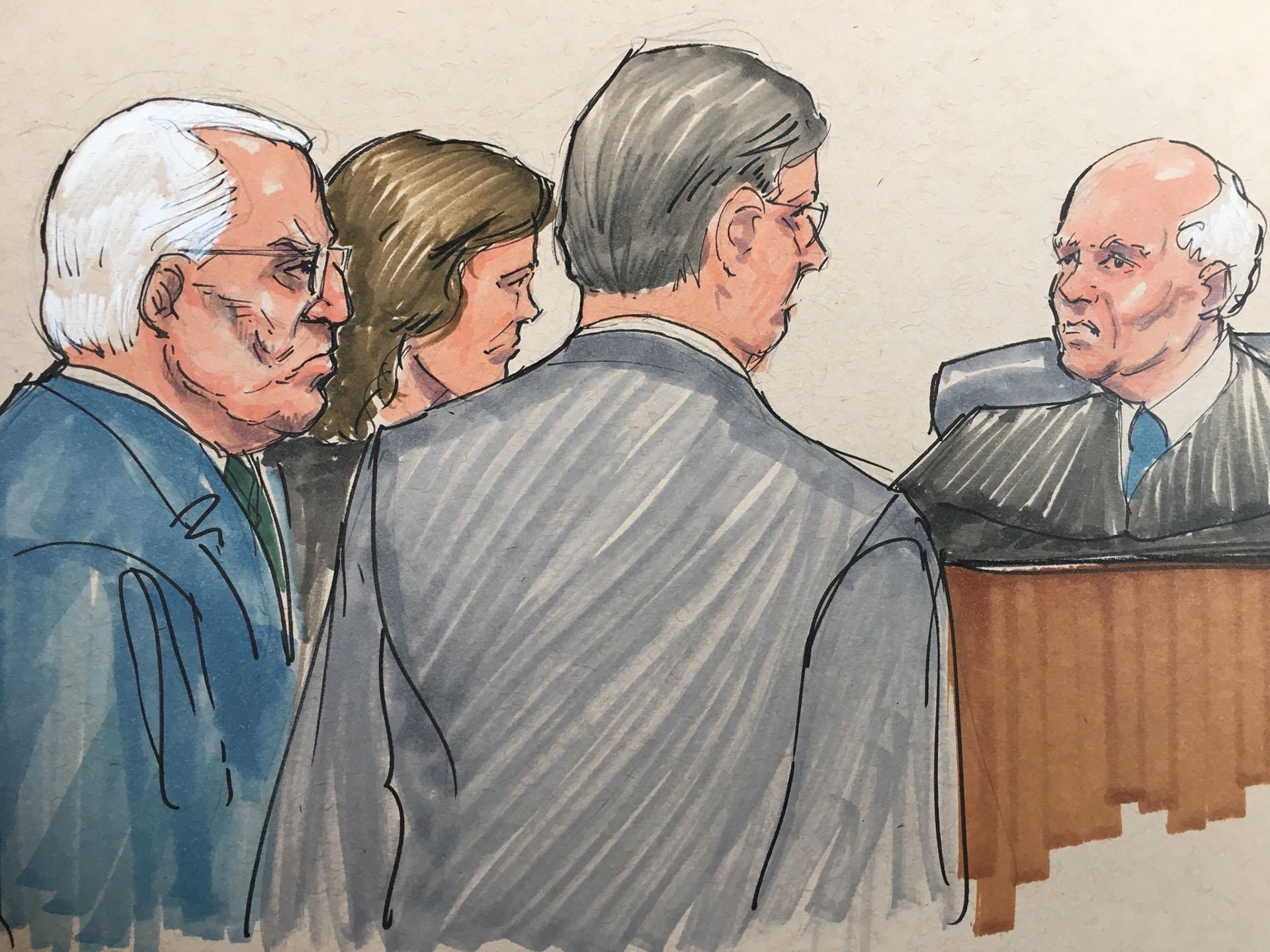 In this courtroom sketch, Ald. Ed Burke, left, appears before U.S. Federal Magistrate Judge Jeffrey Cole with his attorneys on Tuesday, June 4, 2019. (Credit: Tom Gianni)
In June, Dow rejected all of Burke's attempts to cut the heart out of the 14 federal criminal charges facing the politician who once ruled City Hall with an iron fist as chair of the all-powerful City Council Finance Committee.
Burke has spent more than $3 million in campaign contributions on fees to cover his legal defense, and has an additional $8 million in his campaign accounts, according to records filed with the Illinois State Board of Elections in April.
Burke faces charges of racketeering, bribery and extortion. Racketeering charges — usually brought against members of the mob or street gangs — allege a pattern of corruption unknown to its victims.
Andrews, a longtime aide to Burke and the current chair of his campaign finance committee, is charged with helping Burke attempt to extort two businessmen who operated a Burger King restaurant in the 14th Ward. 
Cui is accused of hiring Burke's law firm in exchange for the alderperson's help obtaining a sign permit and city subsidy for the redevelopment of a Portage Park bank into shops.
Burke was the subject of "the longest wiretap in the United States that concluded in 2018," according to prosecutors. In all, investigators intercepted 9,101 calls made by Burke or answered by him during the investigation, according to court records. 
Some of the charges facing Burke revolve around a plot involving disgraced former Ald. Danny Solis to force the firm renovating the Old Post Office in Solis' 25th Ward to hire Burke's private law firm in return for city approvals. Burke pledged to kick back a portion of the spoils to Solis in return for his approval of an $18 million subsidy and a tax break worth $100 million, prosecutors alleged.
Solis entered into deferred prosecution agreement with federal prosecutors that will likely mean he will avoid prison and keep his city pension.
Solis agreed to help federal agents investigate Burke after Solis was secretly recorded by a developer as part of another investigation and confronted by federal officials with evidence that he traded sex acts, Viagra, free weekend use of an Indiana farm once owned by Oprah Winfrey and a steady stream of campaign contributions for City Council actions.
Contact Heather Cherone: @HeatherCherone | (773) 569-1863 | [email protected]