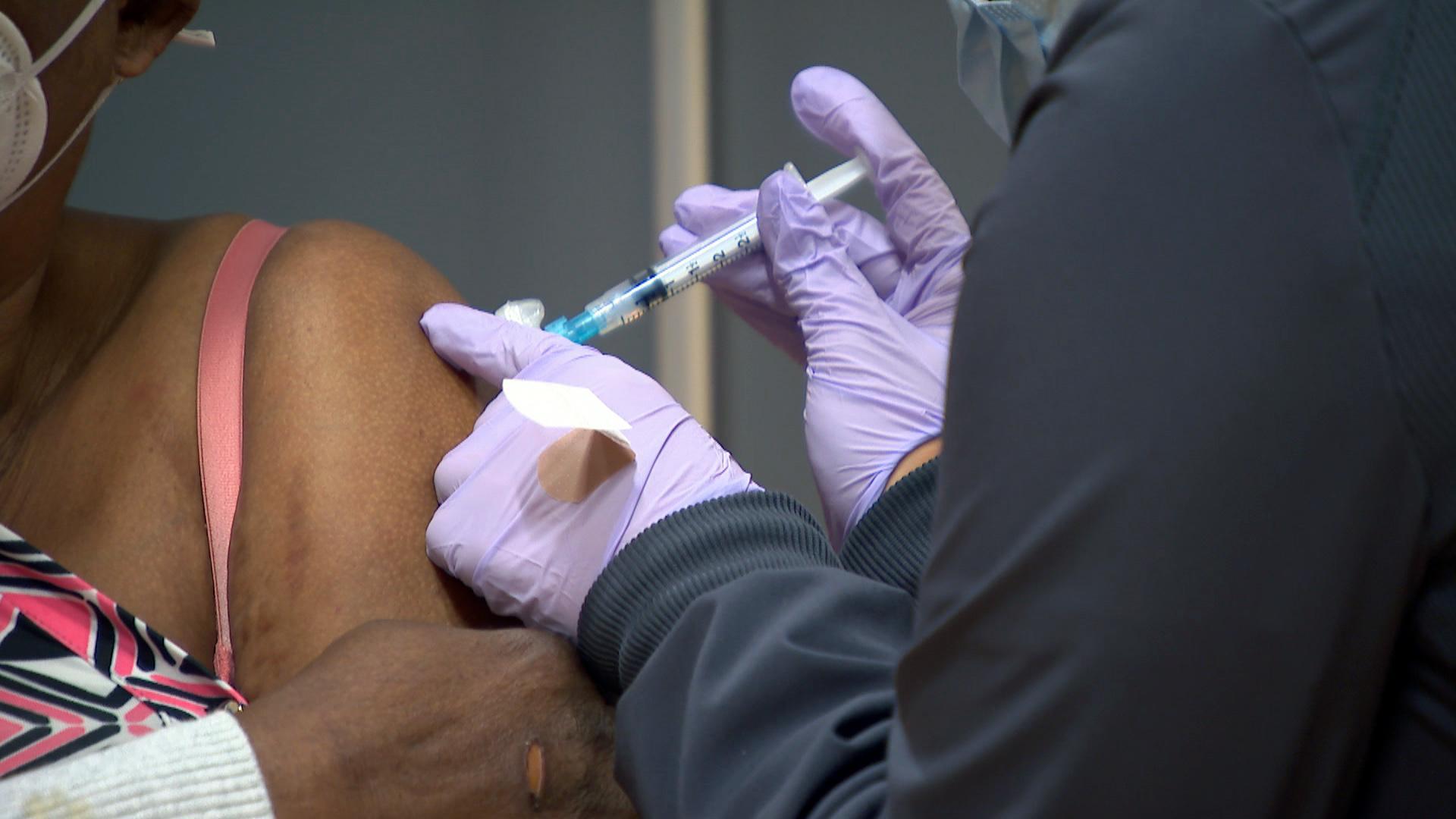 (WTTW News)
Newly updated COVID-19 vaccines are on their way to pharmacies, doctor's offices and health clinics in Chicago just as a rise in COVID-19 and other respiratory illnesses like flu and RSV is expected in the coming weeks and months, local health officials said.
"COVID-19 is still with us, it has not gone away," Chicago Department of Public Health Medical Director Brian Borah said. "It still poses a threat to all age groups and all groups of people, especially infants, those 65 years and older and those with underlying medical conditions."
The updated COVID-19 vaccine and flu shot is recommended for everyone 6 months and older, according to the Centers for Disease Control and Prevention.
So, what's new about these COVID-19 vaccines? This latest COVID-19 vaccine offers protection against current circulating strains of the virus. Similar to how flu shots are updated each year, COVID-19 vaccines are also updated because previous vaccines lose their protection over time as the virus that causes COVID-19 continues to change.
Vaccination remains the best protection against COVID-19-related hospitalization and death, the CDC says, in addition to reducing someone's chance of suffering from long-term complications of the disease, commonly known as long COVID.
While daily COVID-19 case rates and hospitalizations levels in Chicago have increased modestly since July, levels overall remain low in Cook County. With the weather getting colder and people heading indoors during the fall and winter months, public health officials said they expect levels of COVID-19, flu and RSV to increase.
"COVID is a vaccine-preventable disease," said CDPH Medical Director Stephanie Black. "Every hospitalization and every death that happens because of it is preventable."
Where To Find COVID-19 Vaccines, Flu Shots
COVID-19 vaccine doses from Pfizer-BioNTech and Moderna are expected to be available within five to 12 days at clinics and pharmacies throughout Chicago.
COVID-19 vaccines and flu shots will be available to everyone at no cost, regardless of insurance or immigration status, according to CDPH.
People with private health insurance or Medicaid or Medicare coverage should go to a pharmacy or doctor's office to get their updated COVID-19 vaccine or flu shot. Visit vaccines.gov or vacunas.gov (Spanish) to find a vaccine provider near you. Be sure to bring your insurance card, as the provider will need to submit a claim to your insurer.
Chicagoans who are uninsured or underinsured can receive a COVID-19 vaccine, regardless of immigration status, at federally qualified health centers and at city-run family vaccination clinics:
Federally Qualified Health Centers (FQHCs) across Chicago

To find an FQHC with no-cost vaccines, visit findahealthcenter.hrsa.gov (call ahead to make sure the center has the vaccine) or call the city's hotline at 312-746-4835

CDPH Immunization Clinics: Walk-ins welcome, but registration is highly encouraged. Create an account and register for an appointment at getvaxchi.chicago.gov or by calling the clinic.
Greater Lawn Clinic, 4150 W. 55th St., 312-745-1477

Schedule: Monday to Friday, 8 a.m.-3 p.m.

Uptown WIC Clinic, 845 W. Wilson Ave., 2nd level, 312-742-3227

Schedule: Monday ,Wednesday and Friday, 8 a.m.-3 p.m.; Tuesday and Thursday, 9 a.m.-4 p.m.

Lower West Clinic, 1713 S. Ashland Ave., 312-743-1198

Schedule: Thursday and Friday, 8 a.m.-3 p.m.
In addition, uninsured Chicagoans will be able to access no-cost vaccines at some retail pharmacies that are participating in the Bridge Access Program. Visit vaccines.gov or vacunas.gov (Spanish) and check the box for Bridge Access Program to find no-cost vaccines without insurance.
CDPH will also have its annual family COVID-19 and flu vaccination clinics at City Colleges of Chicago. Details on how to make an appointment are expected to be announced soon:
Saturday, Oct. 7, Malcolm X College
Saturday, Oct. 14, Kennedy-King College
Saturday, Oct. 21, Wilbur Wright College
Saturday, Oct. 28, Olive-Harvey College
Saturday, Nov. 4, Richard J. Daley College
Saturday, Nov. 11, Arthur Velasquez Institute
Saturday, Nov. 18, Truman College
For homebound seniors and those with limited mobility, CDPH continues to offer its At Home vaccination program, which operates Saturdays and Sundays from 8 a.m.-6:30 p.m. To make an appointment, call 312-746-4835 or go to chicago.gov/athome.
Visit CDPH's website for more information about COVID-19 guidance and other mitigation strategies.
Contact Eunice Alpasan: @eunicealpasan | 773-509-5362 | [email protected]
---