At Above Average Candle Studio in North Park, couples come in to learn how to make custom scented candles. Or at least, that's what they think they're there for. It's a romantic bait and switch that's the brainchild of owner and instructor Ogi Merzier-Emiabata.
"Listen — the candles and the fragrance is really the bait to get you here. At the end of the day, it's really about bringing people closer together," said Merzier-Emiabata. "We always say 'make candles, make magic.' When I see the magic happen in the studio, that's what gives me the energy to keep going."
"I'm a lifelong Chicagoan and I grew up on the West Side," she continued. "Togetherness and family, I think that is a very Chicago thing. I really wanted to do something that was going to bring people closer together."
Merzier-Emiabata originally planned to open a doggy day care in the garden-level space — but that idea was quickly snuffed out by the pandemic. So, she pivoted to teaching themed candle workshops for friends, family members and couples as a crafty activity. She said she named the shop as a sly wink to a past job in retail.
"I've been a retail manager for many years, and I'll never forget I had a visit from someone and they said, 'My visit was below average,' and that kind of stuck with me," Merzier-Emiabata said. "So when it came time to name this concept, I thought, you know what? Everything that I do and everything that I am is not below average. It's above average, and that's where the name Above Average Candle Studio came from."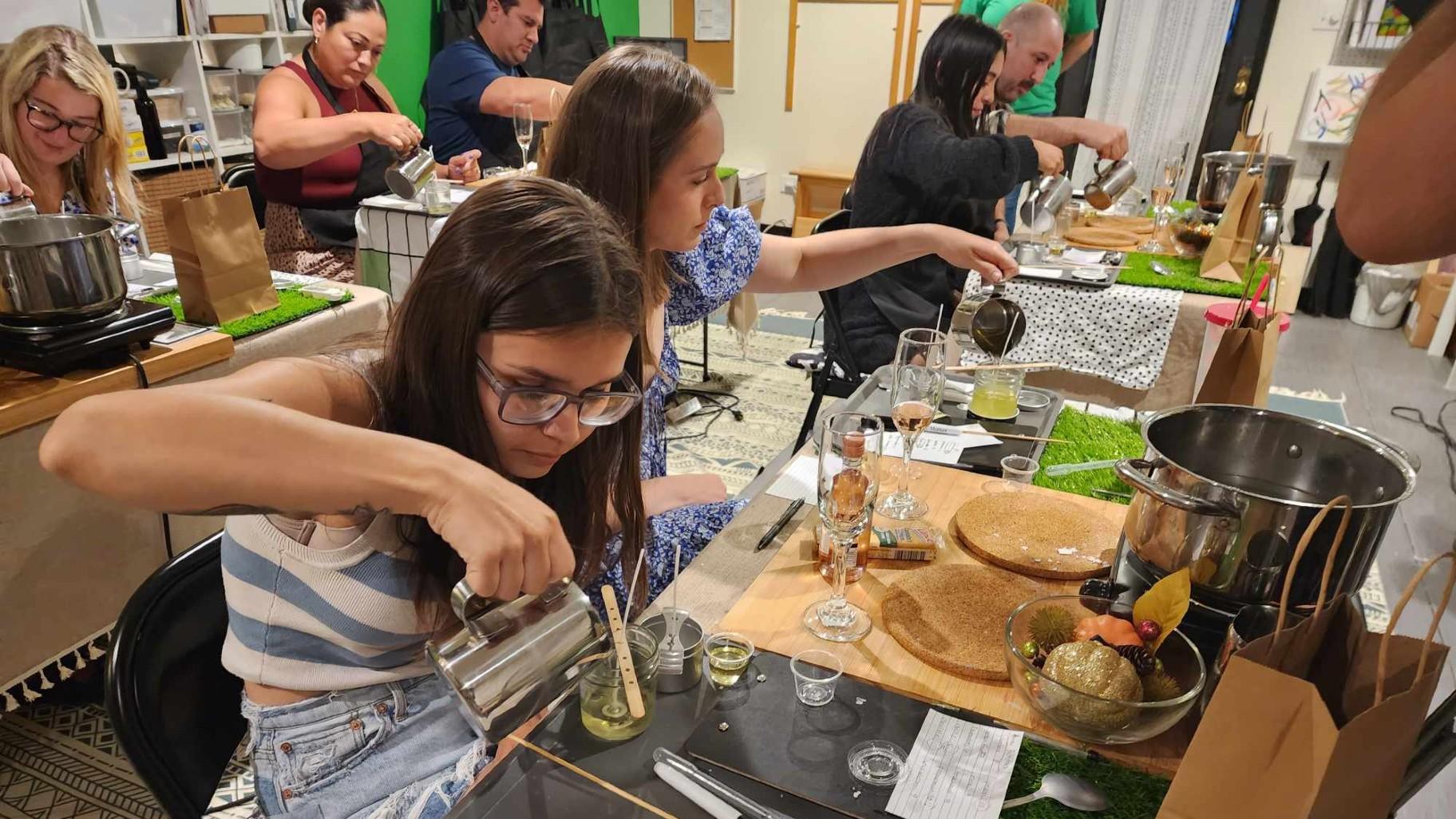 People make candles during a class at Above Average Candle Studio. (Erica Gunderson / WTTW News)
She said her earliest classes were pretty standard craft classes.
"Initially I just thought, 'I'll give them some activities to do in between the science of making the candle," she said. "It'll be fun. They'll laugh and that'll be it."
But as Merzier-Emiabata saw how intimate creating candles together could be, she reshaped the class into a workshop that lights the flame on a deeper connection for all kinds of relationships, including romantic couples. She said the concept has been enough of a success that she's opening a second location in Old Irving Park this fall.
"My passion is definitely about that, about bringing people closer together," Merzier-Emiabata said. "When people say it's the best date night they ever had, 'I never knew my wife felt that way about me,' then I realize that it really is way more than just making candles. And that right there makes me say, yeah, you gotta keep doing this. We have no choice but to put love in the world. We need it."
---