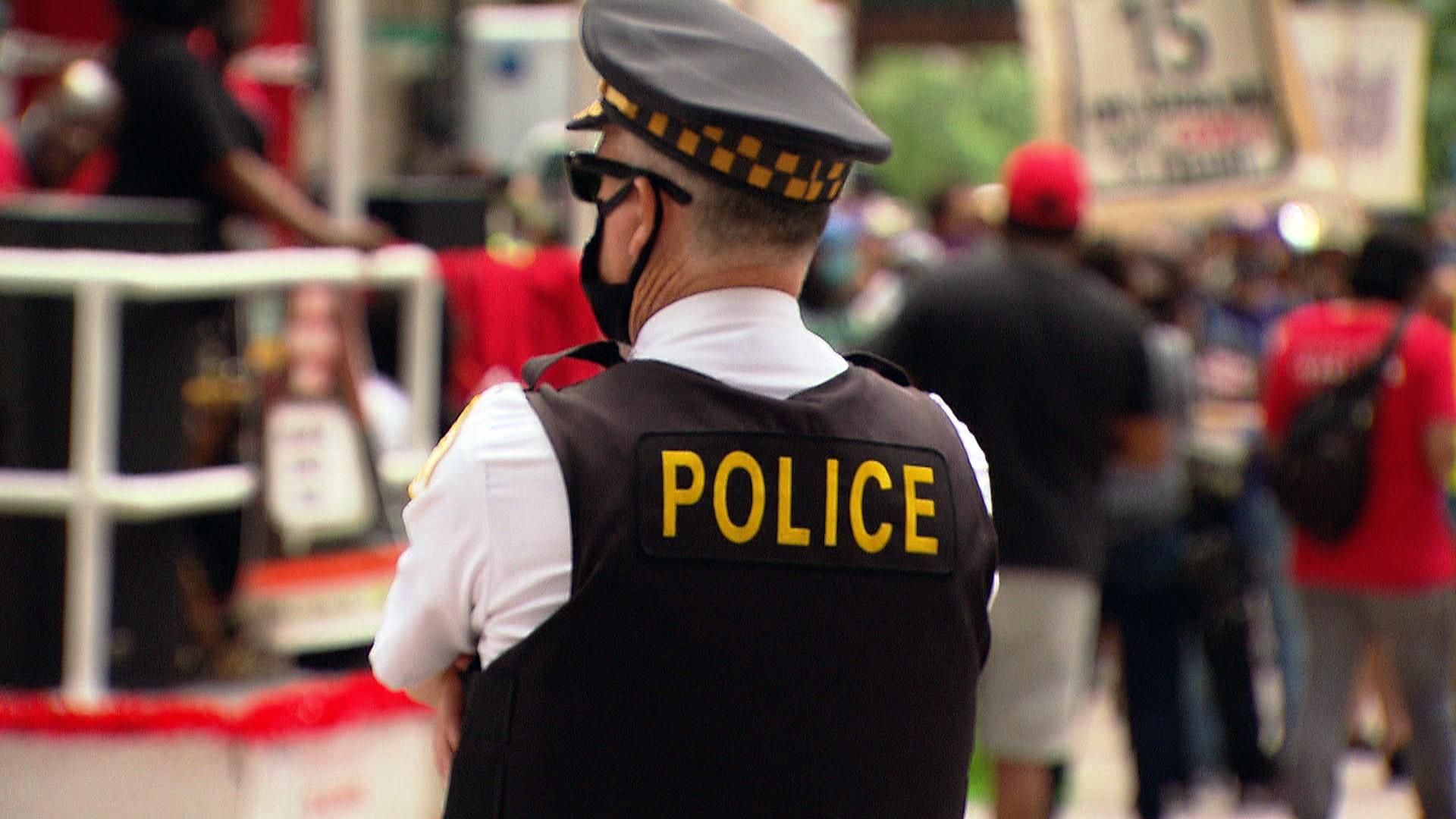 Demonstrators march in Chicago on Wednesday, June 24, 2020, to show their support for removing police officers from schools. (WTTW News)
Chicago Police did not track how long it takes them to respond to half of all 911 calls between 2017 and 2021, making it impossible for the city's inspector general to assess whether it takes officers longer to respond to calls for help coming from Black and Latino neighborhoods, according to an audit released by the city's watchdog on Wednesday.
Inspector General Deborah Witzburg said city officials and police brass are "ill-equipped to evaluate and improve response times, simply because, more often than not, we have no information on when the police arrive to respond to an emergency."
"Without this basic information, we can't assess whether city services are provided equitably or efficiently—and we can't improve what we can't measure," Witzburg said in a statement.
Neither police officials nor the city's watchdog can measure "the efficiency or equity of 911 police responses because of inadequate data — despite a CPD policy which requires members to capture the relevant data," according to the audit.
Annually, Chicago police officers respond to approximately 1.3 million calls for help dispatched by the city's Office of Emergency Management and Communications, known as OEMC, or an average of approximately 3,500 dispatched calls per day, with more calls coming in during the summer months, according to the audit.
Department policy requires officers to record the time at three points during every response: when they acknowledge that they have been dispatched, when they are on their way to the location of the incident and when they arrive, according to the audit.
The audit analyzed 911 calls made from Jan. 1, 2017, through Dec. 31, 2021, and found that in just 49% of those calls were all three of those required times recorded.
A new information system purchased by the city promises "some but not adequate improvement," according to the inspector general.
That system will track the location of police vehicles using GPS and automatically record a timestamp when the police vehicle is within a defined distance of the location of the 911 call, in an effort to eliminate human error, according to the audit.
However, the new system will not automate the collection of other important times in the police response process, according to the audit, and is not scheduled to launch citywide for another six months, the audit said.
In response to the inspector general's findings, officials with CPD, OEMC and the Office of Public Safety Administration attributed the missing timestamps to officers scrambling to respond to life-threatening emergencies.
However, the audit found exactly the opposite: all three times were more likely to be recorded as required when those calls received the highest priority, in part, because dispatchers were more likely to enter data about the call into the city's system.
During the audit, members of several South and West Side organizations told the inspector general that they believe there to be geographic disparities in CPD's response to 911 calls and that they have experienced slow or no response to calls for help in their communities, leading to distrust of CPD members and the city's emergency response apparatus. 
The South and West sides have some of the highest rates of 911 calls for police service per population, according to the audit.
Residents of the South and West sides said they believed officers were more likely to quickly respond to calls where someone reported seeing a gun, and often falsely told dispatchers just that to speed the police response.
"This lack of community trust and the ensuing manipulation of the 911 system not only erodes the relationship between the police and the communities they serve, but also risks creating confusing or potentially dangerous 911 response situations with CPD members responding based on inaccurate information," according to the audit.
The inspector general did not identify any other trends in response time data, including geographic location, according to the audit.
In November 2021, the city settled a lawsuit brought in 2011 by the Central Austin Neighborhood Association that alleged that officers simply failed to respond to calls for help about shootings, drug dealing and thefts by agreeing to publish data on 911 response times.
The inspector general's audit found that data, even if collected and published by the city, would be worthless, according to the American Civil Liberties Union of Illinois, which represented the neighborhood association.
"A modern, large, urban police force should be able to capture and analyze data about response times, allowing officers to be deployed in a fashion that assures every neighborhood has 911 calls answered in a timely fashion," said Alexandra Block, senior supervising attorney, ACLU of Illinois. "The lack of timely response continues to sow mistrust between CPD and the community it is intended to serve."
The inspector general urged police brass to retrain officers on the policy that requires them to record the time it takes to respond to each 911 call at three points and do a better job managing the data the department collects to ensure it is complete.
Police leaders promised to attempt to implement the inspector general's recommendations, but warned they face "limitations in both technology and band-with to truly evaluate this data in the manner recommended."
Contact Heather Cherone: @HeatherCherone | (773) 569-1863 | [email protected]
---