The U.S. Chamber of Commerce estimates that theft cost American retailers nearly $100 billion last year.
In Illinois, the chamber estimates more than $2 billion worth of goods were stolen from retailers in 2021, but it says the cost to Illinois businesses was more than double that when other factors are taken into account.
One major change occurring over the past decade or so is that organized crime gangs have moved into retail theft in a big way, say retail experts.
Rob Karr, CEO of the Illinois Retail Merchants Association, says stores started to notice a change in the pattern of retail thefts about 12 years ago.
"Some of the larger stores' loss prevention units started to notice that there were these groups that would go literally state to state, store to store and steal a large amount of things and monetize them," said Karr. "It has grown in complexity and it has grown exponentially in terms of its scope. You have these organized retail crime syndicates who come in and sweep large amounts of merchandise in an extraordinarily short period of time and then ship them all over the world for profit."
Karr says that to a large degree, prosecutorial authorities have yet to catch up with both the scope and the complexity of the problem.
(WTTW News)
But Illinois Attorney General Kwame Raoul has been focused on the issue, and in 2021 organized a special task force to target organized retail crime.
Raoul says the proceeds from retail crime are often used to fund other criminal endeavors, from gun trafficking to human trafficking and sometimes even terrorism.
"Frequently the people you see carrying out the acts aren't the head of the criminal enterprise and so we call them 'mules,'" said Raoul. "For instance, we've cracked down on two schemes that use drug addicts and they paid them with either cash or in some cases drugs to steal the items and then they were resold on Facebook."
Another criminal group was reselling stolen goods through pawn shops, said Raoul.
Scott Glenn, vice president for asset protection at Home Depot, says retail theft is well beyond simply being a nuisance for the company.
"It's certainly material," said Glenn. "Theft has existed as long as doors have been opened to the public. I've been doing this for 27 years but I've never seen it this bad."
Glenn said Home Depot was already seeing a growth in theft prior to the COVID-19 pandemic, but that the pandemic appeared to accelerate that process.
"I think it escalated and elevated during COVID for a lot of different reasons," said Glenn. "It was starting prior to COVID. And I think the reason why is because you think about opioids, you think about the rise of online marketplaces…. People realized you could sell things very fast, very anonymously online.  And we went from having two or three websites that sold product to hundreds of websites that sell product. And so those things happened and then COVID came along and that's just accelerated the online economy in a lot of different ways. And so (theft) just got worse."
Aside from the impact on the bottom line, Glenn said Home Depot is worried about physical attacks on their store employees.
"It's grown to a point where the financial implications are one thing, but the safety of our customers and our associates is now something that we worry about just as much because of the brazenness and the aggressiveness of some of the theft that we're starting to see in our stores," he said.
Glenn said Home Depot staff are not expected to intervene if they observe a theft taking place for their own safety, but they are expected to file detailed reports on every incident they witness.
"It's really an observe-and-report type of scenario," said Glenn. "We have a process for those associates to be able to bring that information back to us and then we use all of our back-end systems to try to put these things together and try to tie these things together to go after these organized retail criminals."
That includes the use of new technologies including AI, machine learning and enhanced camera systems and pattern recognition systems.
"All those different types of resources are available to us and we are testing and learning and trying to figure out which ones work best for us," said Glenn.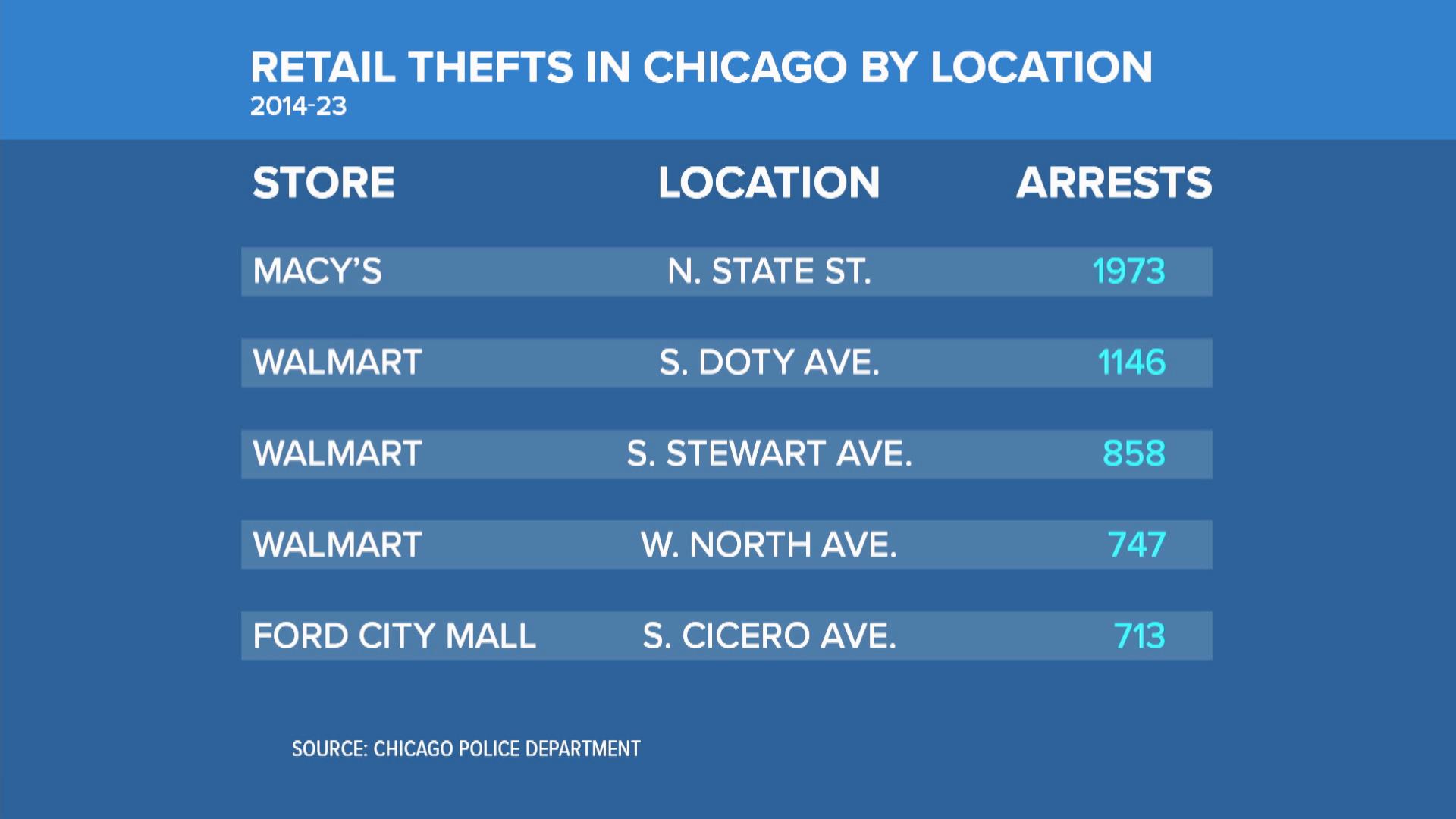 (WTTW News)
One notable change in Chicago is that according to Chicago Police Department data, arrests for retail crime have dropped dramatically.
Prior to the pandemic, the police department was making between 300 and 400 arrests per month for retail theft. While the arrest numbers predictably dropped sharply with the onset of the pandemic and widespread store closures, the arrest numbers have not returned to pre-pandemic levels.
Why police are making fewer arrests is not clear, although some critics of Cook County State's Attorney Kim Foxx have pointed to her move to raise the threshold for felony shoplifting charges to $1,000 from $500.
Many retailers were critical of the change.
"Increasing the threshold has a demonstrable impact in terms of encouraging additional theft," said the Illinois Retail Merchant Association's Karr. "Criminals are intelligent. They know exactly where that threshold is."
"You can't necessarily blame rank-and-file law enforcement who don't want to do a couple of hours of paperwork if cases aren't going to be prosecuted," said Karr.
---