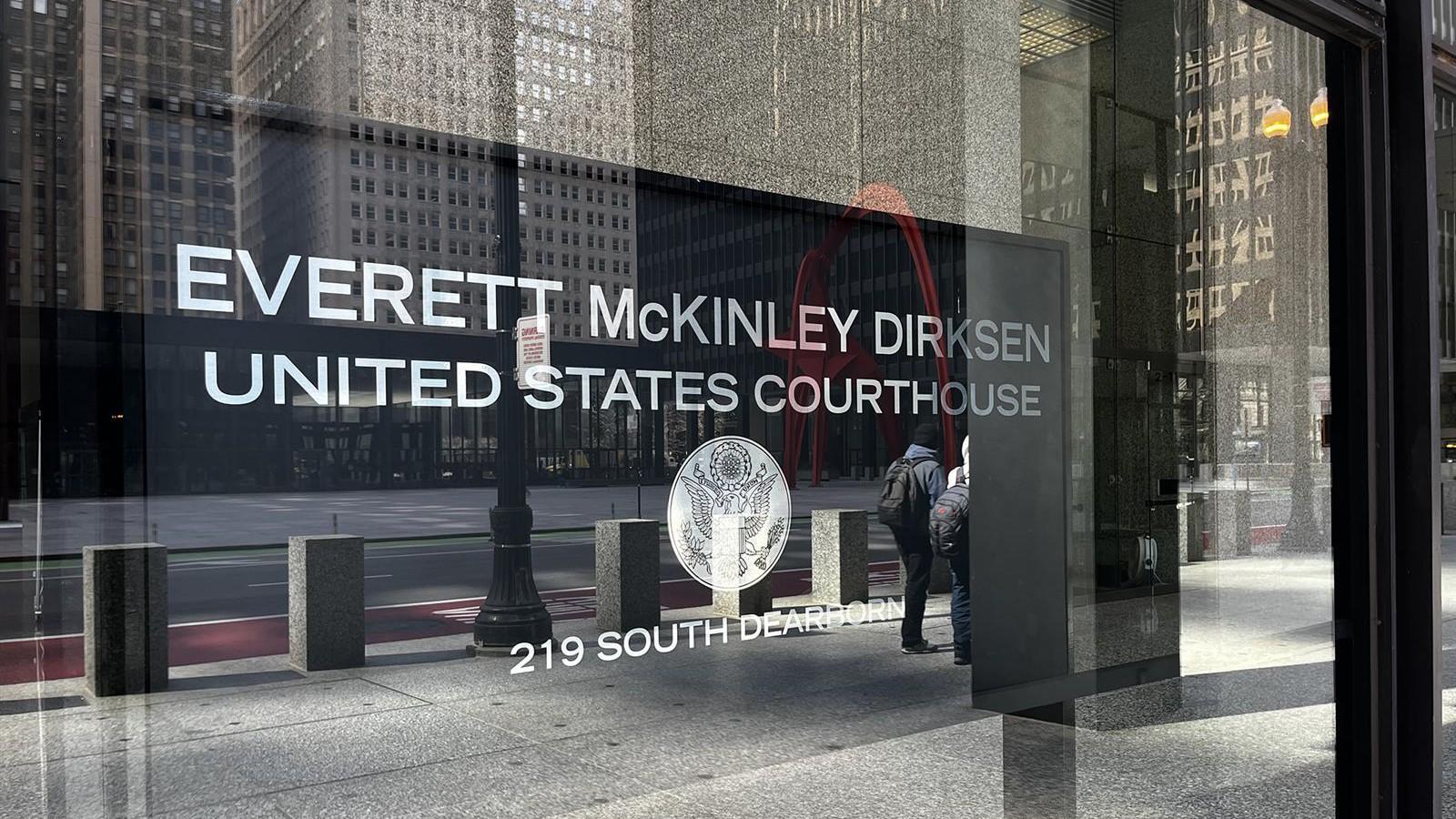 The Dirksen Courthouse is pictured in Chicago. (Capitol News Illinois)
After calling more than a dozen witnesses and presenting several wiretapped phone recordings, federal prosecutors are set to rest their case in the perjury trial of Michael Madigan's former right-hand man, Tim Mapes.
The prosecution was expected to formally rest Friday, the trial's ninth day at the Dirksen Federal Building downtown, but due to technical delays and ongoing testimony, that will be pushed back to the start of next week.
Mapes, who was Madigan's longtime chief of staff, is charged with making false declarations and attempted obstruction of justice, both stemming from his alleged false testimony in 2021 before a grand jury about Madigan's relationship with longtime confidant Michael McClain.
According to federal prosecutors, Mapes was set to testify before a grand jury in March 2021 that was investigating the former speaker's "efforts to accept and solicit bribes," as well as his connections to McClain and their "participation together in bribe-related activity."
Mapes did so under an immunity agreement, but prosecutors alleged he violated that deal by lying to the grand jury about work McClain had performed for Madigan between 2017 and 2019.
The prosecution's final witness was Eileen McDermott, a special agent with the FBI, who walked jurors through the numerous phone conversations investigators recorded between Mapes and McClain.
According to McDermott, the FBI intercepted thousands of calls on McClain's phone between 2018 and 2019, and of those, 60 were between McClain and Mapes. Records showed McClain and Mapes were in contact the day Mapes resigned his position on June 6, 2018 — a move made at Madigan's behest after Mapes was accused of sexual harassment in the workplace.
"You know I'm there for you, so whatever I can do to help," McClain said in a voicemail left on Mapes' phone the day of his resignation. "All you've got to do is call on me. God bless."
"Anything I can do, I'm willing to do," McClain told Mapes when they spoke on the phone later that day, adding that Mapes was the "only person who's made me cry today."
Prosecutors on Friday presented numerous recorded calls between the pair throughout the rest of 2018 in which the men talked about family, the death of McClain's mother and scheduled lunch meetings. The prosecution has attempted to show the men remained close and spoke regularly, even in the weeks and months after Mapes' resignation.
The phone records also showed that after FBI agents executed search warrants on McClain's home in May 2019 — thus revealing that an investigation was underway — he and Mapes did not speak on the phone for months.
Other witnesses who've testified thus far include state Rep. Bob Rita, former state Rep. Lou Lang and ex-Madigan staffers Will Cousineau and Craig Willert.
Mapes' defense team is set to cross-examine McDermott and begin calling its own witnesses Monday. The trial is expected to conclude next week.
Contact Matt Masterson: @ByMattMasterson | [email protected] | (773) 509-5431
---