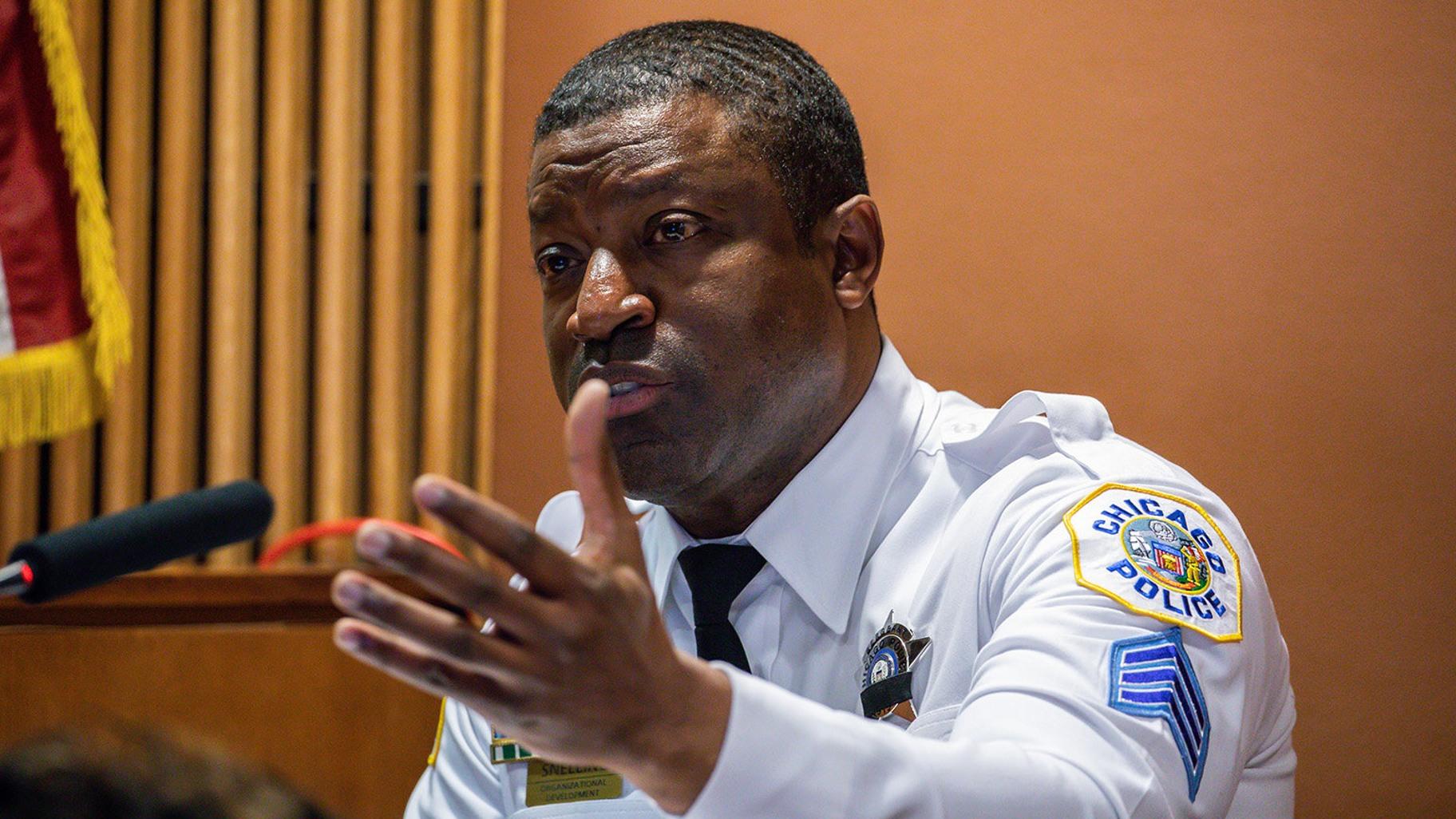 Chicago police Sgt. Larry Snelling testified during the trial of three Chicago police officers accused of trying to cover up the killing of Laquan McDonald on Wednesday, Nov. 28, 2018. (Zbigniew Bzdak / Chicago Tribune / Pool)
For a decade, Chicago Police brass relied on Chief Larry Snelling to explain to judges and juries when — and how — Chicago Police officers were permitted to use force against Chicagoans during high-profile trials that accused officers of misconduct.
Now, Mayor Brandon Johnson is banking on Snelling's comfort in the hot seat to help him succeed where his predecessors as Chicago's top cop have failed and fully implement the court order, known as the consent decree, that requires the Chicago Police Department to change the way it trains, supervises and disciplines officers.
Snelling, tapped by Johnson on Sunday to lead the Chicago Police Department, served as an expert witness in more than two dozen civil and criminal cases involving police officers, according to court records reviewed by WTTW News.
Johnson's office highlighted Snelling's experience testifying as an expert in federal use-of-force cases when announcing the pick and noted that Snelling "redesigned the department's current force training model around national best practices and constitutional policing" while spending more than half of his career as an instructor charged with training aspiring Chicago Police officers at the department's academy.
But the 2017 federal investigation that led to the consent decree not only found that Chicago Police officers routinely violated the constitutional rights of Black and Latino Chicagoans but also found graduates of the department's five-month academy were "unprepared to police lawfully and effectively."
Snelling did not directly answer a question from WTTW News on Monday about whether the U.S. Department of Justice's concerns about CPD's training academy should give reform advocates pause about his commitment to reforming the department.
Instead, Snelling vowed to ensure officers get quality training that prepares them to protect and serve the people of Chicago.
"Officers want good training, and when they get it, they want more of it," Snelling said, adding that he would not just seek to comply with the consent decree for the sake of compliance.
"In order to change this department and produce the best possible officers that we can put out there, our training has to be robust and it has to work for our officers," Snelling said.
The city is in full compliance with approximately 5% of the 4-year-old consent decree, according to the most recent report from the team overseeing court-ordered reforms of the Chicago Police Department. CPD has yet to fully comply with any of the training requirements identified in the consent decree, according to department data.
Despite that record, leaders of the American Civil Liberties Union of Illinois — which brought the lawsuit that triggered the consent decree in the wake of the federal investigation prompted by the outrage over the 2014 murder of 17-year-old Laquan McDonald by a Chicago police officer — welcomed Snelling's appointment as an "opportunity for fundamental change in the way people across the city experience policing."
"Chief Snelling should embrace this moment to change the 'us versus them' culture in CPD — a change that is long overdue," said Alexandra Block, senior supervising attorney. "At core, this culture change means pushing towards a community safety approach that ensures that all people in Chicago are treated with respect, provided with the timely services and support they need, regardless of their zip code, and are able to live without fear, including the fear that too often stems from interactions with law enforcement."
Illinois Attorney General Kwame Raoul, who is responsible for helping to enforce the consent decree, called Snelling a "strong choice to head the Chicago Police Department," noting he has "decades of experience with the department and is well-versed in training officers on the use of force and 21st century policing."
The department called on that expertise during the criminal cases that swirled around the murder of McDonald. Snelling testified during the 2018 criminal trial of three officers who were accused of conspiring to cover up the shooting, which sent former Police Officer Jason Van Dyke to prison.
Those officers were acquitted by a judge.
In the McDonald case, Snelling testified about why Van Dyke's shooting of McDonald was not justified, even though he had a knife.
"If there was a movement in furtherance toward the officer that you could actually see in the video, then it would rise to the level of deadly force, but I can't see it in the video," Snelling said, referring to the video of McDonald's shooting.
Police officers are only permitted to use deadly force as "a last resort that is permissible only when necessary to protect against an imminent threat to life or to prevent great bodily harm to the member or another person," according to the department's current use-of-force policy.
That policy was revised in 2017, 2020 and 2023, records show.
In 2015, Snelling was a witness for the prosecution during the federal trial of Aldo Brown, a veteran Chicago Police officer convicted of using excessive force in the 2012 beating of a South Side convenience store clerk.
Brown was sentenced to two years in prison after the jury found he was not justified when he pummeled and kicked the man for nearly a minute before putting him in handcuffs. Brown also kicked the victim again while he was handcuffed on the floor, according to surveillance video of the inicident.
Brown's lawyer, Daniel Herbert, called Snelling the government's "star witness," according to transcripts of his closing argument, obtained by WTTW News.
But during his testimony, Snelling was not asked whether Brown violated the department's use-of-force policy. Instead, prosecutors used Snelling to painstakingly break down what officers are taught during the academy — and what actions they are allowed to take when confronted with someone who resists their commands.
"The day they walk in, we tell them it's a noble profession," Snelling said. "They have to carry themselves professionally. And they're here to uphold the laws."
WTTW News' Jared Rutecki contributed to this report.
Contact Heather Cherone: @HeatherCherone | (773) 569-1863 | [email protected]
---