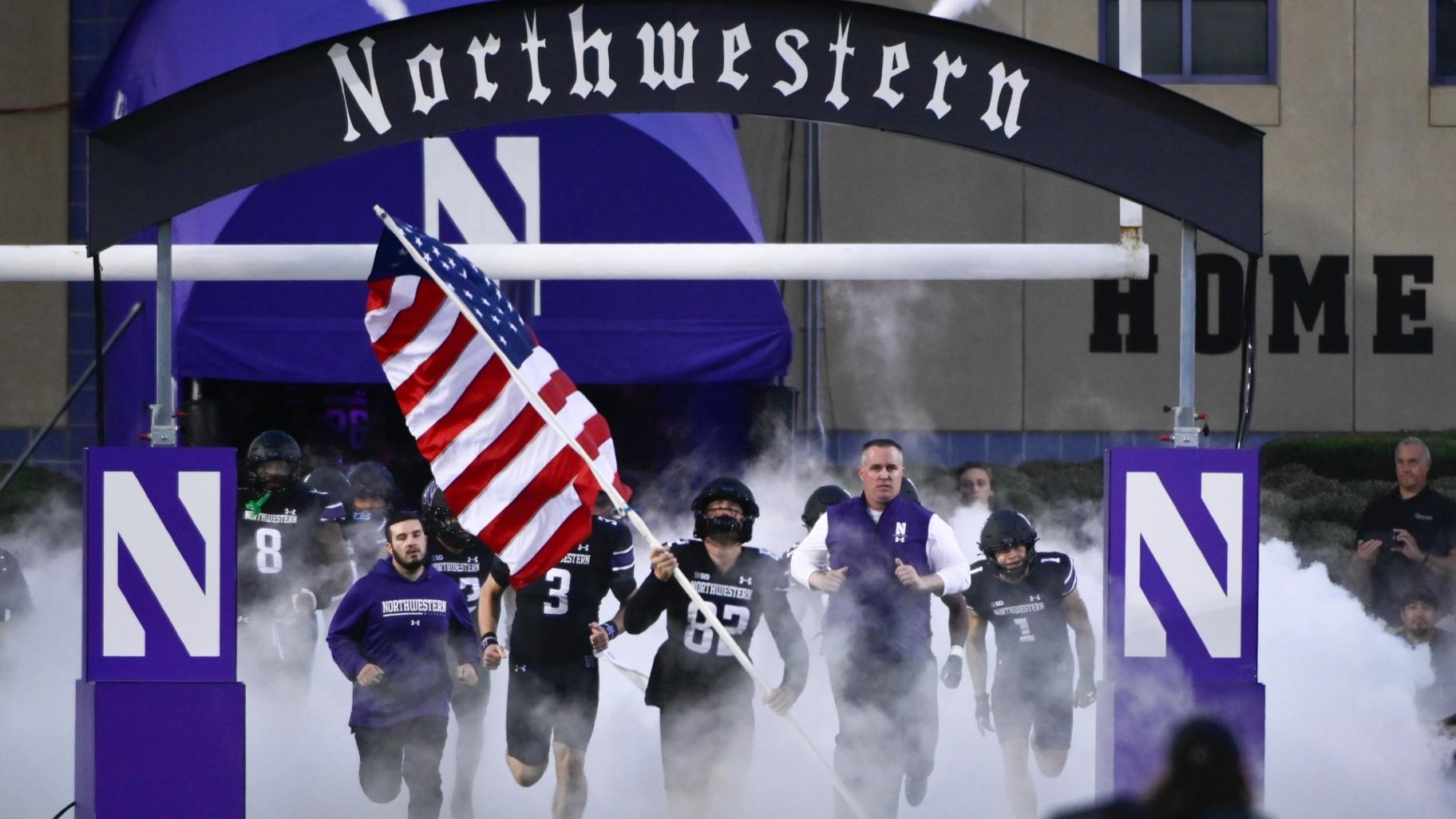 FILE - Northwestern coach Pat Fitzgerald, right, leads the team onto the field for the team's NCAA college football game against Miami (Ohio) on Sept. 24, 2022, in Evanston, Ill. (Matt Marton / AP Photo, File)
EVANSTON, Ill. (AP) — Approximately 1,000 former Northwestern University athletes sent a letter condemning hazing while defending the school's culture, saying allegations of abuse within the football program and other men's and women's teams do not reflect their experiences.
"We strongly condemn hazing in any form and firmly believe it has no place in collegiate sports or, for that matter, in university life, period," the letter obtained by The Associated Press on Thursday reads. "The allegations being made are troubling and we support the University's efforts to fully investigate these claims. However, these allegations do not represent or define the overall athletics culture at Northwestern."
Northwestern is facing more than a dozen lawsuits across multiple sports with allegations including sexual abuse of players by teammates as well as racist comments by coaches and race-based assaults.
---
Read More: The Northwestern Hazing Scandal: A Timeline of Allegations, Investigations and Lawsuits
---
Football coach Pat Fitzgerald was fired last month after 17 seasons. Baseball coach Jim Foster was also let go after one year amid allegations that he created a toxic environment.
The letter was signed by 1,004 people, including 277 football players and four football managers, two student trainers and three mascots.
"The level of competitiveness required in college athletics is formidable and the same is required in the classroom at NU," the letter read. "The opportunity to compete at this level in both the classroom and in our respective sports is unique and deeply valued. These experiences were the building blocks for each of our lives after graduation. This is the Northwestern we proudly came to know and appreciate, and for which we are immensely grateful."
---