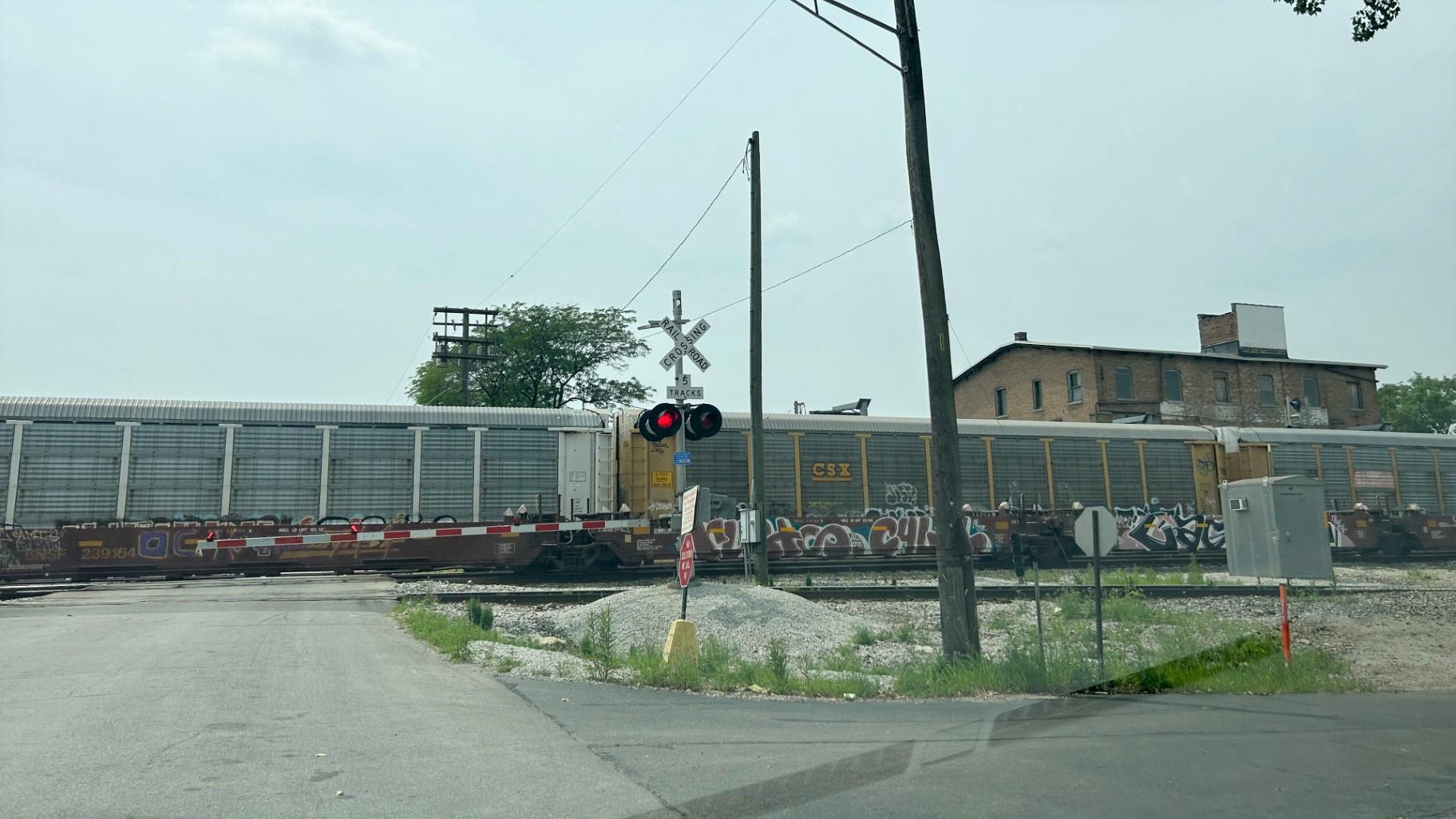 A railroad crossing south of 139th Street and Seeley Avenue in Thornton Township. On June 30, 2023, a WTTW News producer waited 37 minutes for the train to pass. (Jared Rutecki / WTTW News)
You leave home at the last minute, hoping to make it to work on time. And then your morning commute is dealt a stroke of bad luck: the train gates come down.
That scenario might play out for everyone on occasion, but for area residents who live and work near certain rail crossings in Illinois, the panic can become an almost daily dilemma.  
Illinois has registered 8,550 complaints, the third highest total in the country since blocked crossings began being tracked at the end of 2019 by the Federal Railroad Administration, an agency within the United States Department of Transportation. 
Beyond just an inconvenience to commuters making their way to work, these blockages cause serious problems when they interfere with ambulances, fire trucks and police cars en route to providing emergency services. While train blockages happen all over Illinois, the effects are often concentrated in communities of color in Cook County.
Those effects can include ambulance drivers and police officers taking detour after detour to reach an emergency call. The blockages are also a major headache for kids and their parents, forcing residents in many of the impacted communities to leave for school early in case a train forces them to recalculate their route.
"What's a little guy like me from the city of Harvey supposed to do?" Mayor Christopher Clark  said about the south suburb's relationship with train companies operating in the area. "I'm David and they're Goliath."
Long stoppages can also potentially be the difference between life and death. 
Documented delays created problems for first responders at blocked train crossings in other parts of Illinois and across the country. 
In 2021, a woman in the south suburbs died following an emergency trip to the hospital. Her ambulance was blocked at multiple rail crossings that night, routing her through many barriers as responders struggled to find a path around a stopped train, police and rail reports show.
'Every day is a problem'
Some of the area's problems with high rail traffic are simply a matter of geography.
Chicago is the nexus for the transportation of goods across the country. As a result, more than 4,900 reports of blocked crossings have been recorded in Cook County since the end of 2019. Blockages are defined by the FRA as when stopped trains impede the flow of motor vehicle or pedestrian traffic at railroad tracks for an extended time. Cook County's numbers make up almost 60% of the state total.
The two crossings with the highest number of complaints in the state sit less than half a mile apart at the border of the Clearing West neighborhood in Chicago and the suburb of Bedford Park. When a train rolls through this area, traffic backs up past Argo Community High School, west of the tracks, and John C. Dore Elementary in the city.
These crossings at 63rd and 65th streets at South Harlem Avenue near SeatGeek Stadium in Bridgeview racked up 1,624 complaints as of the morning of Aug. 4. This area sits next to a yard operated by the Belt Railway Company, the country's largest intermediate switching railroad, located in Bedford Park, and near other major rail operations.
A recent April fire drill stands out in the memory of Argo Superintendent William Toulios, who grew up in town. He often watches traffic build up from his office window. During that drill, the fire chief was blocked from completing the exercise by a train, according to Toulios.
"He was actually stuck on 63rd. He had to pull his vehicle off the side, put the lights on, and he had to walk to the school to actually check on us," Toulios said. "I've seen EMS vehicles turning on side streets just to get through. And, you know, that's what they got to do."
The Belt Railway shuffles cars for all the major railroad companies. It has run the Clearing Yard for more than a century, operating and sorting cars 24 hours per day, every day of the year. The Belt had the highest number of complaints of any rail company in the state, according to Illinois Commerce Commission data.
A representative from the Belt, as the company is known, acknowledged how trains impact traffic in the area, and said the company adjusted schedules to decrease blockages during school drop-off and pick-up hours.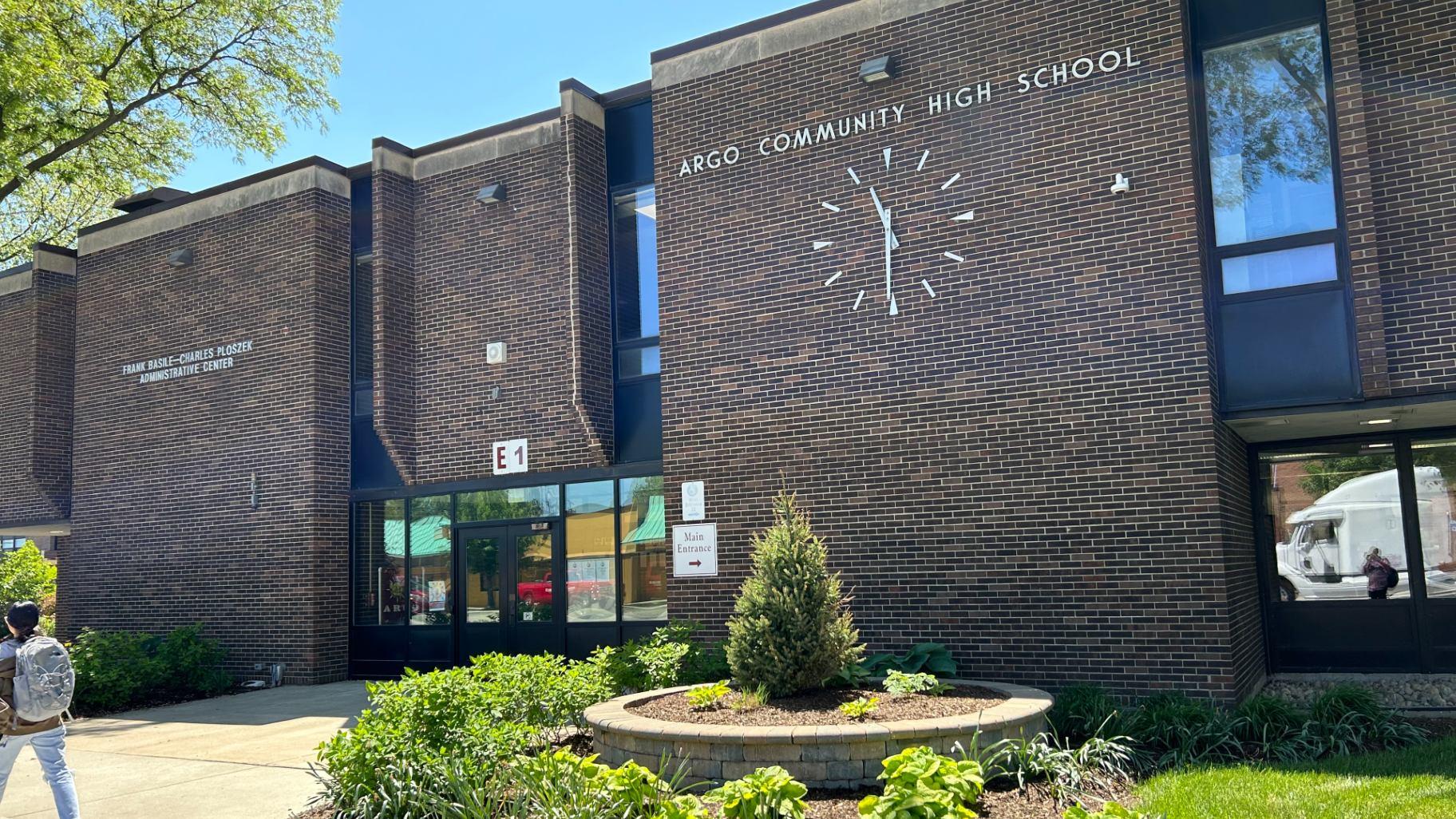 Argo Community High School draws students from Summit, Bedford Park, Bridgeview, Justice, Willow Springs and Hickory Hills. (Jared Rutecki / WTTW News)
Argo draws students from Summit, Bedford Park, Bridgeview, Justice, Willow Springs and Hickory Hills. Students are 54.6% Hispanic, according to data from the Illinois State Board of Education, in a district Toulios characterized as "one of the most diverse schools in Illinois."
On the final day of school, parents told a reporter the trains were a frustrating problem during the year. That day, students walked past the recently dedicated statue of Argo graduate Mamie Till-Mobley, an educator, civil rights icon and mother of Emmet Till. Both will be recognized by a national monument following a recent proclamation by President Joe Biden.
The final bell for the school year rang about seven minutes after a train passed through the nearby crossings.
Data from the FRA show more than 800 incidents since 2019 where people were reported climbing on, over or through train cars at the Harlem Avenue crossings. These crossings, which can be blocked by the same train, have the fourth and fifth highest complaint totals in the country.
The danger of children climbing over stopped trains drew national attention following reporting by ProPublica and InvestigateTV. These dangerous scenes take place across the country, including in Cook County, where FRA reports show almost 1,800 reports of people climbing over stopped trains.
But some relief may be in sight for the people living and working around the area's most complaint-heavy tracks.
A $91.3 million project led by the Chicago Region Environmental and Transportation Efficiency (CREATE) program will elevate the road over the tracks at West 65th Street. Construction should start in 2025, and it is expected to be completed by 2027. The project will not change the grade at 63rd Street, though it will make traffic safety improvements, according to documents and interviews.
This is one of many rail safety projects involving the public-private transportation program. The only solution to this problem is a grade separation, according to a Belt spokesperson, who said Belt wants to see the project, which raises the surface so the tracks and roadway don't interfere with each other, complete while helping area communities.
A study of the project said traffic conditions are degraded by trains in the area, which contribute to substantial delays. It said on-time performance data from PACE showed the 63rd/Harlem stop is the worst with only 9% on-time performance. Both PACE and CTA report bus service delays in the area when trains block the tracks, according to the study.
Toulios applauds the project, but worries about how it will affect traffic when Harlem Avenue construction closes lanes down. 
Many residents expressed concern during public comment on the project. Input called it potentially, "the most welcome improvement to the area in years," with one respondent saying, "I have lived in the neighborhood for over 50 years and every day is a problem with catching a train leaving my house and coming back home."
The FRA data also include comments about the crossings. Residents regularly report being late to school, jobs, flights and medical appointments. Other replies about the crossings include, "This happens WAY TOO FRQUENTLY," and "Lots of kids from the school next door climbing over the trains to get past them. This is a daily occurance."
Another was more succinct, using seven middle finger emojis to express frustration.
The crossing at 63rd Street is designated as "911 critical" because it is a key route used by police, fire and ambulances for delivery of emergency services to Chicago. That crossing had 354 reports of blocked first responders, plus 405 reports at the crossing on 65th Street since 2020. 
FRA is unable to confirm the accuracy of the reports submitted to its portal, and the collection is not designed to provide a representative sample or create generalizable statistics. According to the FRA, the administration shares monthly reports with train companies and works with communities to improve crossings. 
When railroads fail to act quickly, and a crossing is reported through the portal on three separate calendar days in a month, the FRA Safety Management Team will contact a railroad directly to determine the cause and potential solutions associated with a blocked crossing, according to an FRA spokesperson.
About 75% of the time, the crossing in Chicago saw three or more reports on different days per month since January 2020. The Bedford Park crossing, which saw reports on 14 different days in April 2022, hit this figure about 91% of the time.
Not every blocked crossing is reported by members of the public or first responders. Because there is no federal statute or regulation regarding how long trains may block highway-rail grade crossings, the FRA does not have authority to take enforcement action against railroads, according to a spokesperson. 
Local authorities, IDOT, Illinois State Police, the Illinois Commerce Commission and the Illinois Attorney General's Office all said they also lacked authority to fine trains blocking crossings for extended periods of time or did not have a role in enforcement. 
ICC spokesperson Cayli Baker said communities were no longer allowed to ticket rail carriers following a 2008 Illinois Supreme Court case. She said the board works with multiple levels of federal, state and local government as well as rail companies to mitigate blockages.
"Despite the ICC's limited authority over blocked crossings, the agency takes these types of complaints seriously," Baker said in an email.
Baker encouraged residents to report blocked crossings both to the FRA and the ICC portal for complaints.
'It's gotten worse'
Mayors know their path to political office might require a targeted campaign. 
Harvey Mayor Christopher Clark recently undertook a different type of campaign with the intent of getting local residents and those traveling through town to report train problems to the federal government.
Clark spoke to legislators who said anecdotes wouldn't be enough to get funding for a grade crossing update in Harvey. They advised that he needed data to show how bad the problem was. So, nine months after the FRA built a portal to report blocked train crossings, Clark appeared in a YouTube video telling residents about the website where they can report blocked crossings in Harvey.
Like other residents of the south suburban community, Clark, who has lived in Harvey for more than half a century, knows all too well about blocked crossings. He believes having his public works department put signs up at rail crossings in town and making the video might help Harvey get an overpass like the ones in other communities near Chicago.
The domain stoppedtrain.com, which appears on signs near rail crossings around town and redirects to the FRA website, was registered under the name of Harvey's former City Administrator Timothy Williams. Clark believes the signs and video have improved responses to the FRA from the area.
"It's gotten worse over the past 54 years. It's gotten worse just over the past two years," Clark said.
The problems become serious when long trains block multiple crossings in Harvey, Clark said. It makes accessing the hospital and other area services difficult.
"The train is so long and it sits there on the track. And it's blocking the entire city," Clark said. 
He described the difficulty of emergency service providers tracing routes through multiple suburbs to reach their destination in Harvey.
Clark said with the massive amount of money spent recently on transportation projects across the country, Harvey should have already been selected for a grade crossing update.
"The problem is not the rails," Clark said. "The problem is the federal government's lack of response and lack of support in areas such as Harvey, Dixmoor and Robbins."
According to a recent assessment by IDOT, Class I railroads' reliance on precision scheduled railroading, which keeps trains in this largest national class departing on a regular schedule with reduced employees, made service worse while increasing both transit times and costs. Delays and staffing also caught the attention of regulators at the Surface Transportation Board, which held a public hearing involving leaders of large railways in 2022.
These delays regularly manifest in Chicago's south suburbs, including Harvey, an area beset by divestment and crisscrossed by rail lines. The South Suburban Mayors and Managers Association, which services municipalities in Cook and Will counties, states in its legislative priorities the region has, "yet to recover from historic commercial redlining, the Housing Crisis of 2009, the Great Recession, and the COVID pandemic."
According to FRA data, 12 of the top 20 suburbs in Cook County with the highest volume of complaints are located south of Chicago, a major spur of the transport of goods in the Chicago area and the country.
FRA data maintained by the ICC showed reports of 36 one- to two-hour delays at the crossing near Sibley Boulevard and Ashland Avenue, and 22 that lasted between two and six hours over the past three years.
This crossing, with the fourth highest count of FRA complaints in the state, is maintained by CSX Transportation, and causes problems in multiple nearby suburbs. Harvey is the municipality with the third highest total of complaints and delays in the state.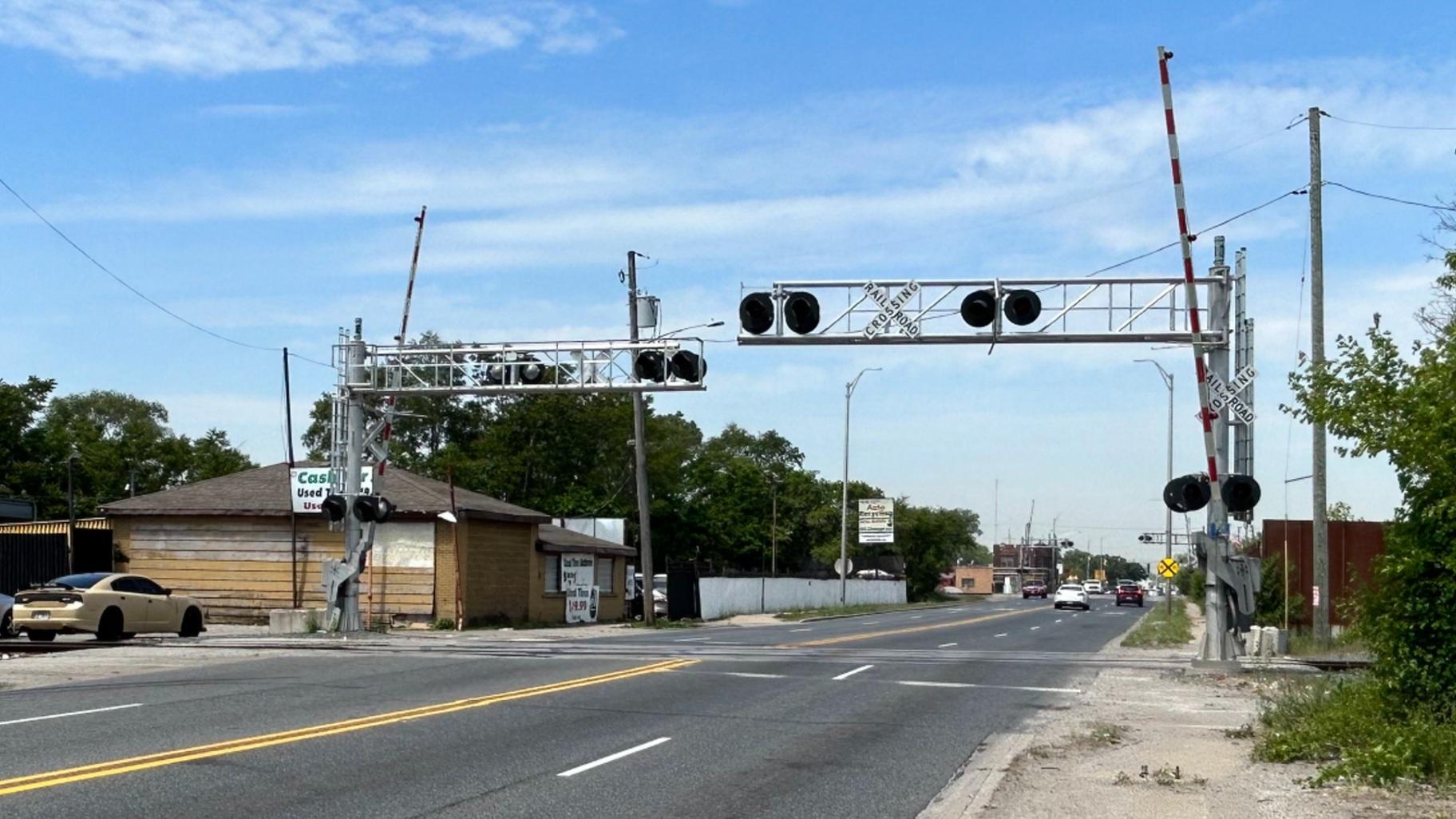 This Harvey railroad crossing, located on Sibley Boulevard west of Ashland Avenue, has the fourth most complaints of any crossing in the state. (Jared Rutecki / WTTW News)
In 2017, IDOT provided federal funding to the railroad to reconstruct and renew the crossing surface, and upgraded the control circuitry and replaced the gates and cantilevers in 2012, according to a spokesperson. 
The rail company CSX had the third highest number of delays reported by rail companies in Illinois, according to records from ICC. 
When trains get delayed at the crossing, those traveling to Rosa L. Parks Middle School are affected. The school serves students in Harvey and Dixmoor.
"That's the same train that when our kids are either going to, or coming from school, they can't get across the tracks," Dixmoor Village President Fitzgerald Roberts said. "We have so many complaints. They'll sit there for two, three hours."
The district is almost entirely students of color, and the school reports 99.4% students as low income, according to ISBE data.
Roberts is constantly frustrated by the trains, and sometimes has to improvise to keep students safe.
"Some kids, I had to actually stop them from going under the train, or over it, on the way to or from school," Roberts said. "I had the police actually take them around the tracks, through Harvey and back up to get to school."
Most of the south suburban communities with the most complaints are majority or mostly communities of color, and a large part of the population hovers at or below the poverty line, according to Census data.
The leaders of Harvey and Dixmoor agreed on the impact of train noise, especially late at night in their communities.
Complaints about trains cluster in Blue Island, Burnham, Dolton, Lansing and South Holland. Five of the 20 crossings with the most complaints in Illinois are located in Harvey or Dixmoor, and the south suburbs have six of the top 15 crossings in the state with the highest counts of first responders being blocked.
Increasing train length has been connected to blocked train crossings in communities like those in the south suburbs. The average train length increased 25% for Class I railroads since 2008 across the country, according to a 2019 Government Accountability Office study.
Roberts is bothered when school travel is affected, but said the crossings on Western Avenue, including one with the eighth most complaints in the state as of Aug. 4, are a major problem because of how they can trap residents when trains stop there. The Western Avenue crossing saw 66 reports of climbing incidents, and was third highest in the state for blocked first responders, according to FRA data.
PACE provided maps from 2013 showing a massive cluster of bus delays at rail crossings in the south suburbs including Blue Island, Posen, Harvey and Dolton. A PACE spokesperson said the agency has not studied the issue in depth since then, and said some crossings are still problematic while a few have seen improvements.
A rerouted ambulance trip
Every second matters in emergency medical trips, especially when dealing with a heart attack.
According to a Dixmoor police report, an officer arrived at a mobile home park next to the tracks at 8:05 p.m. on Dec. 8, 2021, for a medical assist. The police arrived after the ambulance, which responded to a woman's report of chest pains.
The ambulance headed to UChicago Medicine Ingalls Memorial Hospital through Dixmoor, but was delayed and rerouted through several residential streets due to gridlocked trains, according to the report. The narrative reported seven blocked crossings.
The train was stopped on the tracks and didn't move for two and a half hours, according to the police report. An FRA report along the ambulance route shows a 12- to 24-hour blockage from a stationary train at the same time first responders were called. The ambulance arrived at Ingalls at 8:28 p.m., according to the police report. Rosemary Newman, 74, was pronounced dead from "full cardiac arrest" at 8:57 p.m., the report said. 
---

A police report from Dec. 8, 2021, details several blocked railroad crossings the night Rosemary Newman died. (Dixmoor Police Department)
---
Crossings near the trailer park listed in the police report are operated by CSX and the Indiana Harbor Belt Railroad Company, a short-line railroad headquartered in Hammond with a large yard in Riverdale. Canadian National Railway also runs a massive intermodal terminal nearby in Harvey.
The hospital is less than two and a half miles from where Newman lived. A WTTW News reporter drove from the trailer park to Ingalls in less than seven minutes. Family members declined to talk about the case.
"At CSX, we take every reasonable effort to ensure that our trains occupy grade crossings for the shortest time possible," a CSX spokesperson said in a written statement. "On December 8, 2021 a CSX train was stopped at Western Avenue as it waited for a signal to proceed from the controlling railroad. Our goal is to, safely and efficiently, keep freight moving as we work to provide excellent service to our customers. We have made significant improvements on the Elsdon line and work hard to limit the impact of our operations on the neighboring community."
CSX highlighted its role in the CREATE Program to improve the flow of trains through the Chicago area and to enhance the efficiency and safety of the region's rail network. The company said it would partner with local, state and federal agencies to apply for funding from the Bipartisan Infrastructure Act to modernize grade crossings or eliminate them altogether, and improve train fluidity through Chicago communities.
Indiana Harbor Belt Railroad Company did not respond to multiple requests for comment.
Another Dixmoor police report from January 2022 describes a train stopped for 7 hours and 40 minutes, where officers found it "difficult to perform basic law enforcement and patrol duties."
Whether it's police, fire or emergency medical services, blocked crossings can create problems across the area.
"The EMT trucks can't fly. So that's the only way you have to get around those trains," Clark said. "And those trains are sitting on the tracks, and they do it for hours."
---