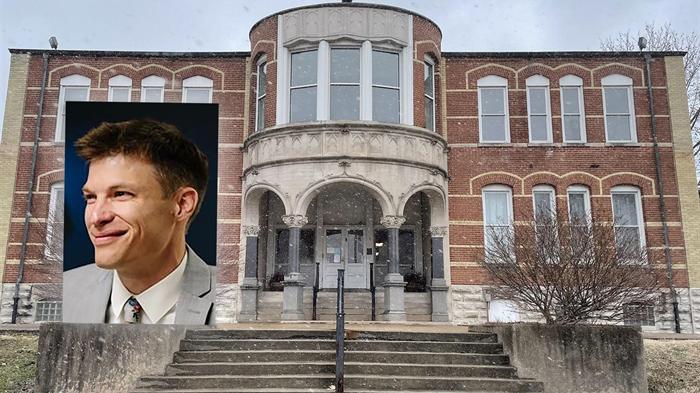 Illinois Department of Human Services Inspector General Peter Neumer is pictured with a backdrop of Choate Mental Health and Developmental Center, where he investigated allegations of abuse and neglect. (Neumer photo provided, Choate photo by Beth Hundsdorfer)
After serving nearly four years as the watchdog for the Illinois Department of Human Services, Peter Neumer will step down from his role overseeing investigations into the abuse and neglect of some of the state's most vulnerable people. 
The department announced the move to staff on Friday, noting that Neumer accepted a position as the inspector general for the Chicago Park District and that he will be replaced by Charles Wright, Neumer's deputy since March 2021. Neumer's last day as IDHS OIG will be Aug. 17. 
Neumer and his staff investigated allegations of abuse or neglect of individuals who receive mental health or developmental disability services in programs that are overseen by the Illinois Department of Human Services. That includes oversight of the seven state-operated developmental centers and six mental health facilities. 
Reports from Neumer's office were a critical source of information for a series of investigative stories by Capitol News Illinois, ProPublica and Lee Enterprises into abuse, neglect and a cover-up culture at Choate Mental Health and Developmental Center in far southern Illinois.  
"Peter has been an invaluable resource to and champion for his office, for IDHS, and, most importantly, to the residents and patients with intellectual and developmental disabilities and/or mental illness, who he has protected and advocated for through the office's investigations into allegations of abuse and neglect," IDHS Secretary Grace Hou wrote in an email to employees announcing Neumer's departure.  
In 2019, when Neumer joined IDHS, Union County State's Attorney Tyler Tripp was new to his office, and Choate would soon add a new head of security, Barry Smoot. During the two years that followed, 17 Choate workers faced felony charges for abuse and neglect or, in the case of three top administrators, misconduct related to obstructing abuse investigations by the OIG or state police.  
Most of the criminal charges, including those of the three administrators, have resulted in dismissals. Others have resulted in plea bargains to less serious charges that yielded probation sentences. Only one worker received any jail time, a result of his failure to comply with the terms of his probation.  
Last month, Bobby Lee, a Choate worker who was accused of striking a 90-pound patient who has developmental disabilities in the face, pleaded guilty to misdemeanor battery in exchange for a sentence of 18 months probation, including anger management counseling and 30 hours of community service. 
In addition to investigating allegations of abuse and neglect, Neumer proposed and championed legislation to combat a culture of cover-ups that existed at Choate and was highlighted both in news reports and by Neumer's office. The new legislation was signed into law in June and allows the OIG to report workers who obstruct OIG investigations to Illinois' Health Care Worker Registry, a move that would bar them from working in any health care setting in the state.  
IDHS has fired 15 Choate employees since 2019 in the wake of OIG investigations into resident abuse or neglect. That includes six in the past year and three in July, according to the agency. Others have resigned in the face of impending discipline.  
"I am very proud of what IDHS OIG has accomplished during my tenure as Inspector General and believe that the office has never been better positioned to carry out its mission of protecting the vulnerable," Neumer said in a statement on Monday to Capitol News Illinois. 
Since the news reporting began in September 2022, there have been more than 450 new complaints to the OIG regarding allegations of abuse and neglect at Choate with more than 120 investigations still pending. In his annual report, Neumer said there was a 17 percent increase in investigations into abuse and neglect allegations during fiscal year 2022. Due to staffing levels, the increased number of investigations resulted in a 14 percent increase in OIG investigators' caseloads. The OIG sought to hire additional personnel to handle the investigations.  
Under OIG directives, investigations should be completed in 60 days or less. Under Neumer, about half of OIG cases were completed in that time. At state-run facilities, about a third of those cases were completed within the 60-day time frame. The OIG cases that extended largely consisted of the most serious allegations of physical abuse which would require extensive investigation, according to the OIG's annual report.  
Wright, Neumer's replacement, worked with the outgoing IG as the city of Chicago's office of inspector general and will take over at IDHS on Aug. 17. Hou's email noted that Wright has "extensive legal and investigative background and knowledge of IDHS."  
Capitol News Illinois is a nonprofit, nonpartisan news service covering state government. It is distributed to hundreds of print and broadcast outlets statewide. It is funded primarily by the Illinois Press Foundation and the Robert R. McCormick Foundation, along with major contributions from the Illinois Broadcasters Foundation and Southern Illinois Editorial Association.   
---