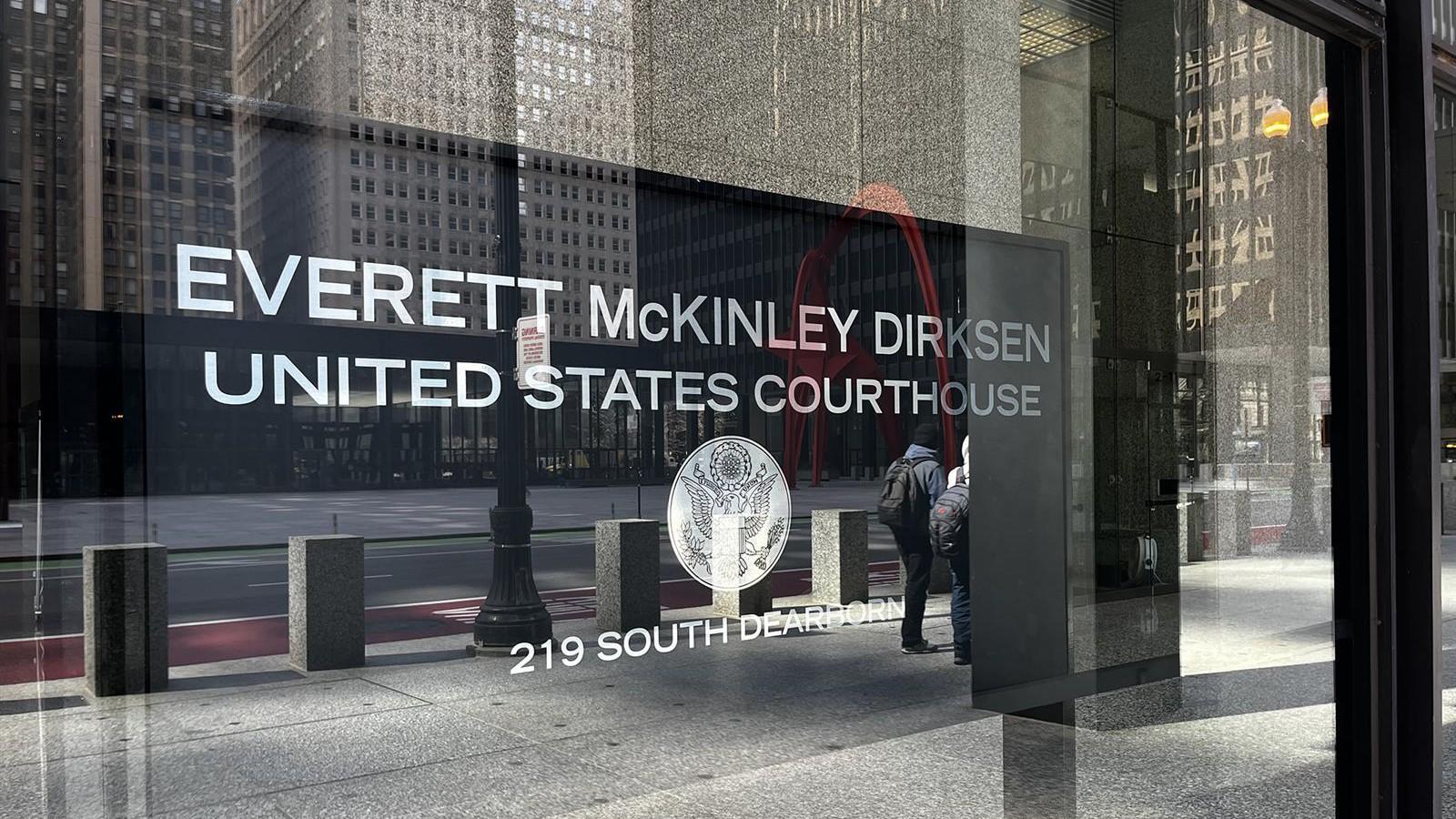 The Dirksen Courthouse is pictured in Chicago. (Capitol News Illinois)
Jury selection is underway in the perjury trial of Tim Mapes, the former chief of staff for ex-Illinois House Speaker Michael Madigan, who stands accused of violating an immunity agreement by lying under oath about the speaker and his longtime confidant Michael McClain.
Mapes, 68, was indicted more than two years ago on a pair of charges: making false declarations before a grand jury and attempted obstruction of justice, both stemming from his alleged false testimony before a 2021 grand jury about Madigan's relationship with longtime confidant Michael McClain.
Prosecutors have said the grand jury was investigating "Madigan's efforts to accept and solicit bribes," as well as his connections to McClain and their "participation together in bribe-related activity."
According to prosecutors, about a week before he testified, Chief Judge Rebecca Pallmeyer entered an order granting immunity to Mapes, meaning no testimony or evidence he offered to the grand jury could be used against him unless he lied under oath.
But prosecutors claim he violated the terms of that agreement on March 31, 2021, when he allegedly lied to the grand jury about work McClain had performed for Madigan between 2017 and 2019.
According to prosecutors, while testifying, Mapes denied knowing that McClain acted as an agent for Madigan during that period, but he knew McClain had carried out work and assignments and had communicated messages for the speaker.
The indictment details seven separate allegedly false statements Mapes made while under oath.
In one instance, Mapes was asked if McClain had given him "any insight into what his interactions" with Madigan were "that you weren't privy to personally?" He allegedly replied: "No, that wouldn't — that wouldn't happen."
He also claimed McClain hadn't told him "what he was discussing with (Madigan) or anything that he was doing on behalf of (Madigan)" and said he didn't recall "any sort of tasks or assignments" McClain would have performed for Madigan from 2017 to 2018.
To secure a conviction, prosecutors must not only prove that Mapes' testimony was false, but that he knew it was false and that it couldn't be attributed to a "mistake, confusion or faulty memory."
Mapes has pleaded not guilty and denied any wrongdoing, saying that he responded truthfully to what his attorneys have called "vague and imprecise questions about events that allegedly took place many years ago."
Potential jurors were brought into the 21st floor courtroom of Judge John Kness in the Dirksen Federal Building on Monday morning, where attorneys began the voir dire process to impanel a jury. They were questioned Monday about whether they knew Mapes or possible testifying witnesses — including Illinois state Rep. Bob Rita and former Madigan staffer Will Cousineau — as well as their own background and whether their political beliefs would affect their ability to weigh the case fairly.
Opening statements are expected to begin Tuesday.
The trial is scheduled to last three weeks, but defense attorney Andrew Porter said Monday he believes it could conclude well ahead of that timeline.
Mapes was ousted as Madigan's top aide and as the executive director of the Democratic Party of Illinois in 2018 following allegations by a state employee who accused Mapes of making sexually inappropriate remarks and bullying and harassing her in the workplace.
Madigan faces a racketeering trial along with McClain next year. McClain was previously convicted as part of the "ComEd Four" case, in which he and three other former Commonwealth Edison officials and executives were found guilty of conspiring to bribe Madigan.
He is scheduled to be sentenced in that case in January 2024.
Contact Matt Masterson: @ByMattMasterson | [email protected] | (773) 509-5431
---