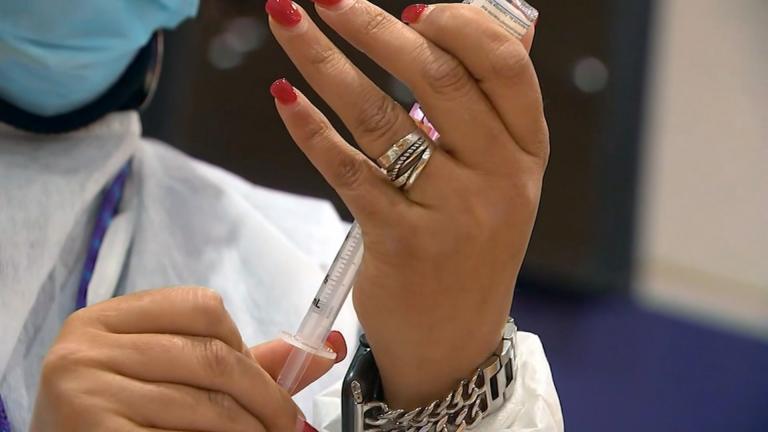 (WTTW News)
Local public health departments are continuing to monitor COVID-19 levels in the area as the U.S. sees a late-summer uptick in test positivity and hospitalizations.
"Historically, over the last few years, we do tend to see these kind of surges happen, first in the Northeast or the South, and then kind of trickle to the Midwest, but that's not always the case," said Illinois Department of Public Health Director Dr. Sameer Vohra.
While COVID-related hospitalizations are still relatively low at the state and county level, the virus continues to be a public health concern with the latest data from the Centers for Disease Control and Prevention showing an average of about 100 new weekly hospitalizations in Chicago and the greater Cook County area last month.
"It is a reminder that COVID is not gone and it is a reminder that COVID will continue to infect some in our community," said Massimo Pacilli, deputy commissioner for the disease control bureau at the Chicago Department of Public Health.
Local public health officials say it's too soon to sound the alarms about a potential surge; however, they offer insight into how health departments are approaching COVID-19 since the end of the public health emergency declaration in May and how people can protect themselves, especially as we head into the fall season.
Here's what you need to know from local health officials about COVID-19:
Might there be a potential COVID-19 surge in the area?
Local public health officials say it's too soon to tell if there will be a COVID-19 surge based on current data. Pacilli said that while there has been a recent slight uptick in COVID-19 levels in the Chicago area, levels remain relatively low, and the uptick isn't necessarily indicative of a surge.
Officials say they will continue to look at the data and the wastewater surveillance system to monitor viral levels in the area.
"It is always impossible to predict the future, but based on what we're observing, I would not sound the alarm bell, but it does mean that we should continue to pay attention to these indicators," Pacilli said.
How has tracking and monitoring COVID-19 changed since the end of the U.S. public health emergency declaration in May?
Changes in state reporting requirements tied to the end of the U.S. public health emergency declaration mean that public health departments have shifted to track mainly COVID-19 hospitalizations as opposed to COVID-19 cases.
The focus on hospitalizations is also because the level of severity when getting COVID-19 is not the same as it was three years ago, as more people build immunity from the virus, whether it be through vaccines or previous infection, Pacilli said.
The shift away from focusing on COVID-19 cases also comes as more people test at home versus in a lab or other medical settings, making it more difficult to track.
Local public health officials also say they have been moving toward classiyfing COVID-19 more as a respiratory illness.
"​​We had that focus originally in the pandemic around cases, but now we're really focusing around hospitalizations and we're moving from just COVID-specific to thinking about this in a real, respiratory illness overall," Vohra said.
The new COVID-19 vaccine and other ways people can protect themselves
Vaccine manufacturers are expected to release an updated COVID-19 vaccine in the fall, which will target the XBB.1.5 Omicron strain.
The CDC recently announced a federal "bridge access" program that aims to ensure uninsured U.S. adults can get access to the upcoming COVID-19 vaccines for free.
On top of vaccination, looking at individual risk also matters, especially for those who are high-risk or immunocompromised, Pacilli said. This might mean masking or taking antiviral treatment if COVID-19 infection does occur.
Contact Eunice Alpasan: @eunicealpasan | 773-509-5362 | [email protected]