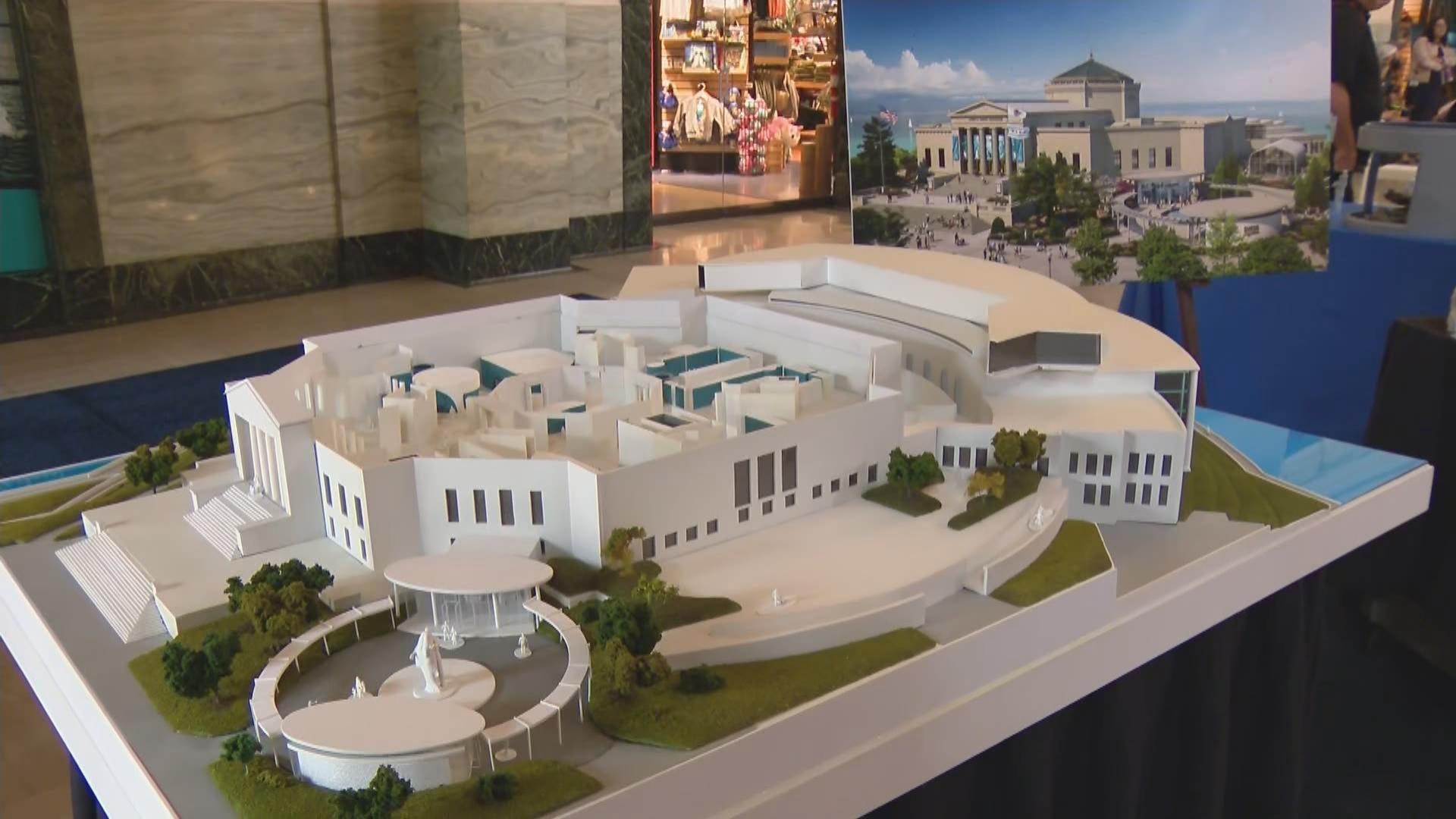 Models and renderings showing plans for the renovated Shedd Aquarium. (WTTW News)
The Shedd Aquarium is kicking off what it's calling the "most significant physical transformation" in recent history as part of an ongoing re-imagining of its facilities and galleries.
The renovation process, which is slated to begin in the coming weeks, is set to be divided into multiple phases that will extend across the next four years as the aquarium introduces new learning studios and exhibits and renovates its existing gardens and entrance points.
The changes come as part of the aquarium's $500 million Centennial Commitment project, which was launched last year and is set to be completed ahead of the aquarium's centennial anniversary in 2030.
"We may be turning 100 years old in just a few years," Shedd Board Chair David Koo said during a news conference Tuesday, "but we are just getting started."
The first phase of the transformation — which is scheduled to last from summer 2023 to summer 2024 — will include renovating the aquarium's welcome plaza, four acres of outdoor gardens and atrium, while adding a dual-habitat freshwater and saltwater system in the rotunda, which officials said will serve as the "beating heart" of the aquarium.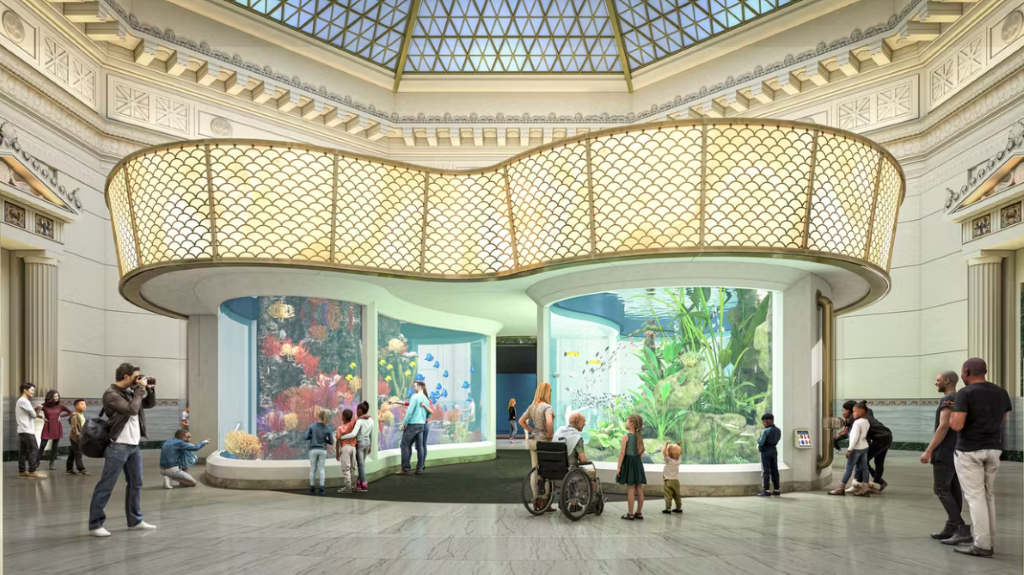 (Rendering courtesy Shedd Aquarium)
Improvements will also be made during this period to the existing "Amazon Rising" gallery.
From 2024 through the summer of 2026, the Shedd will add a new immersive "Changing Oceans" gallery detailing the different biomes throughout the depths, and a 40-foot Caribbean Tunnel, which will feature spotted eagle rays and a rescued green sea turtle, Nickel.
A new kelp forest habitat and an exhibit detailing the unique seafloor environment created when a whale dies, will also be added during this period, as will a Lakeside Learning Studio where guests can take part in hands-on science experiments and view animals up close.
Officials believe that with this space, the aquarium will be able to engage up to 50,000 additional students — for a total of 230,000 — each year.
The final phase, which will go from the summer to the winter of 2026, will see renovations to the "River Wonders" and "Living Lakes" galleries, and restorations to the aquarium's Grand Hall.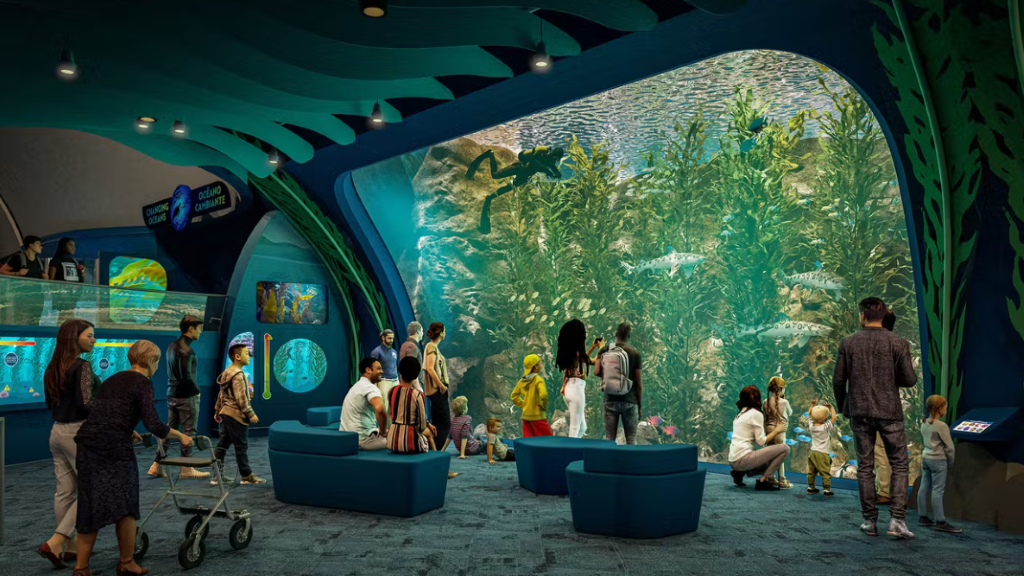 (Rendering courtesy Shedd Aquarium)
"It can't be overstated that the Shedd Aquarium is certainly the crown jewel of our city and this state," Mayor Brandon Johnson said Tuesday. "You bring the city together, you bring this state together, you bring people around the world to this location."
The Shedd will remain open throughout the multiyear transformation, which officials believe will create more than 2,000 jobs and add some $340 million in economic activity during these phases.
Officials also said the construction itself will include at least 50% of total onsite labor work hours going to Chicago residents and 25% of all onsite labor work hours going to minority and female workers.
Contact Matt Masterson: @ByMattMasterson | [email protected] | (773) 509-5431
---