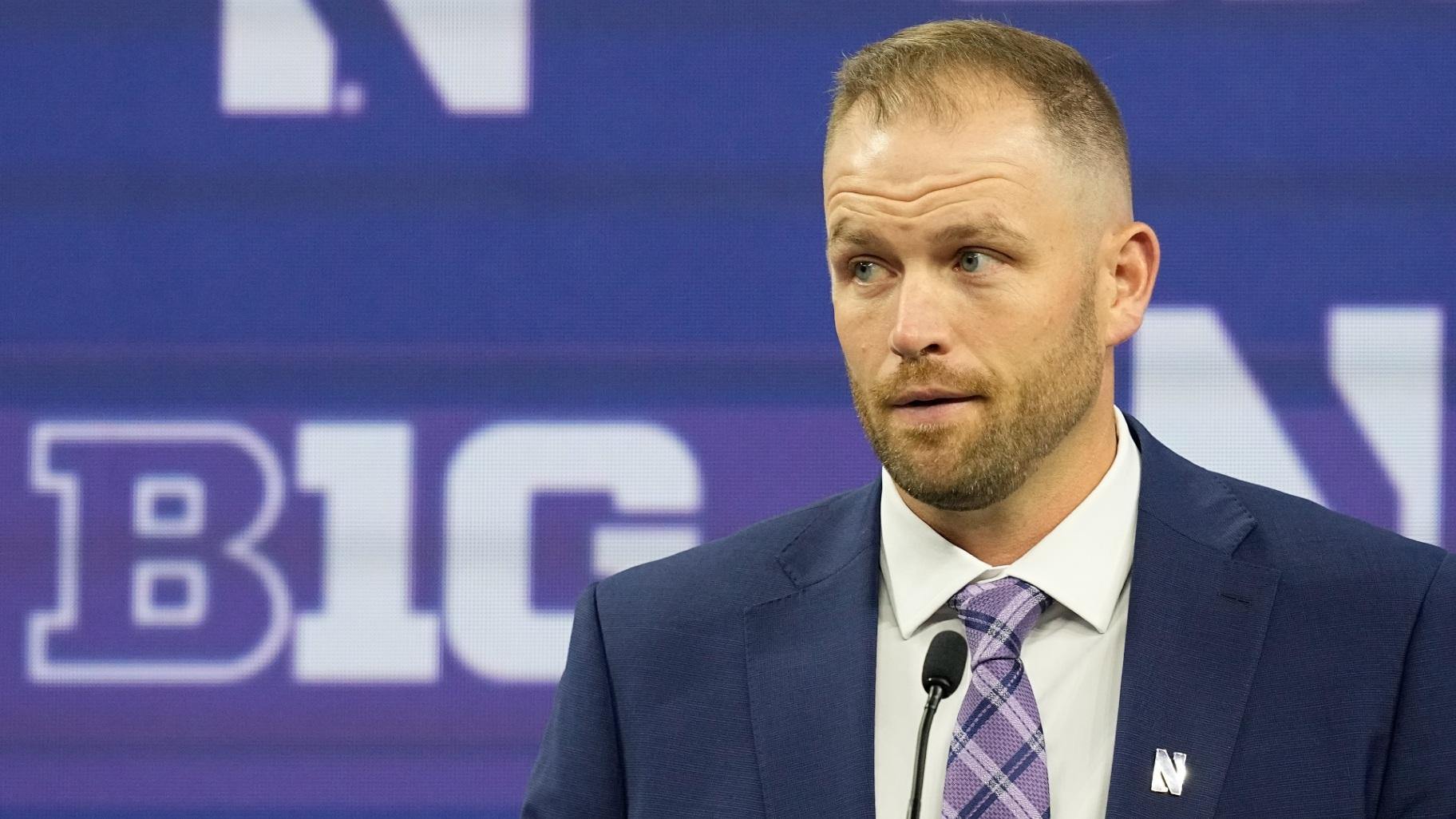 Northwestern interim head coach David Braun speaks during an NCAA college football news conference at the Big Ten Conference media days at Lucas Oil Stadium, Wednesday, July 26, 2023, in Indianapolis. (Darron Cummings / AP Photo)
INDIANAPOLIS (AP) — Northwestern's hazing scandal already has cost the university its winningest football coach and a once-pristine reputation.
The Wildcats were missing a presence at the Big Ten's annual football kickoff, too.
Pending litigation caused the three hand-picked players to skip Wednesday interviews, forcing interim coach David Braun to fend off questions about what happened and possible solutions all by himself.
"I won't speak to current allegations; I fully believe our university is going through a process and can speak to the facts," he said, making his first public comments since Pat Fitzgerald's firing on July 10. "What I can speak to is how proud I am of the way our team has come together with all this stuff swirling around, and there's absolute resolve and confidence from the leadership within our team."
Braun won two national championships as the North Dakota State defensive coordinator before joining Fitzgerald's staff earlier this year. He did not say whether he would make any staff changes when asked directly about coaches alleged to have witnessed or been involved in the misconduct.
Hazing wasn't just a hot topic. It was the biggest issue on the first of two days of interviews.
The first seven coaches, some of their players and even new Big Ten Commissioner Tony Petitti were peppered with questions about hazing and whether it can be better policed. The other seven schools are scheduled to speak Thursday.
Those who went Wednesday proceeded with understandable caution.
"Our institutions are going to take it upon themselves to do that," Petitti said in regard to a potential conference investigation. "They will obviously look at best practices to make sure what's happening on campus meets the standards we expect to provide a safe, healthy and vital environment."
Northwestern suddenly has become the lightning rod for what's gone wrong.
On July 7, school officials released an executive summary of their own investigation. Initially, university President Michael Schill announced Fitzgerald would be suspended for two weeks. Three days later, following leaks of additional information including sexual abuse allegations, Schill fired Fitzgerald. Fitzgerald finished his 16-year tenure with a record of 109-90, the second-winningest mark in school history.
Over the next 2 1/2 weeks, more information leaked out.
Baseball coach Jim Foster was fired July 13 for engaging in abusive behavior and on Monday a volleyball player added her name to the expanding list of former athletes suing the university for alleged mistreatment.
Braun spent the first 10 minutes of his 15-minute window delivering an opening statement by himself. Linebacker Bryce Gallagher, defensive back Rod Heard II and receiver Bryce Kirtz, who grew up in the Indianapolis suburbs, announced their decision in a statement Tuesday, making Northwestern the only one of the 14 Big Ten schools without a player in attendance in the same stadium where the Wildcats fought for a conference title in 2020.
"After talking with our parents, our teammates and coach Braun we have made the decision not to attend Big Ten Media Day," they wrote. "This was very difficult because we were excited about the opportunity to participate in this great Big Ten tradition, and to talk about the game we love and the season ahead. But given the recent events involving the Northwestern football program, we did not want our participation to be dominated by the hazing issue and steal away the focus from football and our upcoming season."
Braun released a statement Tuesday supporting the players' decision.
But that didn't make it any easier for Braun.
"Our No. 1 priority moving forward is ensuring that the student-athlete experience that the young men we coach and mentor is just that — the ultimate student-athlete experience," he said. "We have an opportunity to firmly commit to the values of Northwestern University and to firmly commit to what this program has been built on."
---