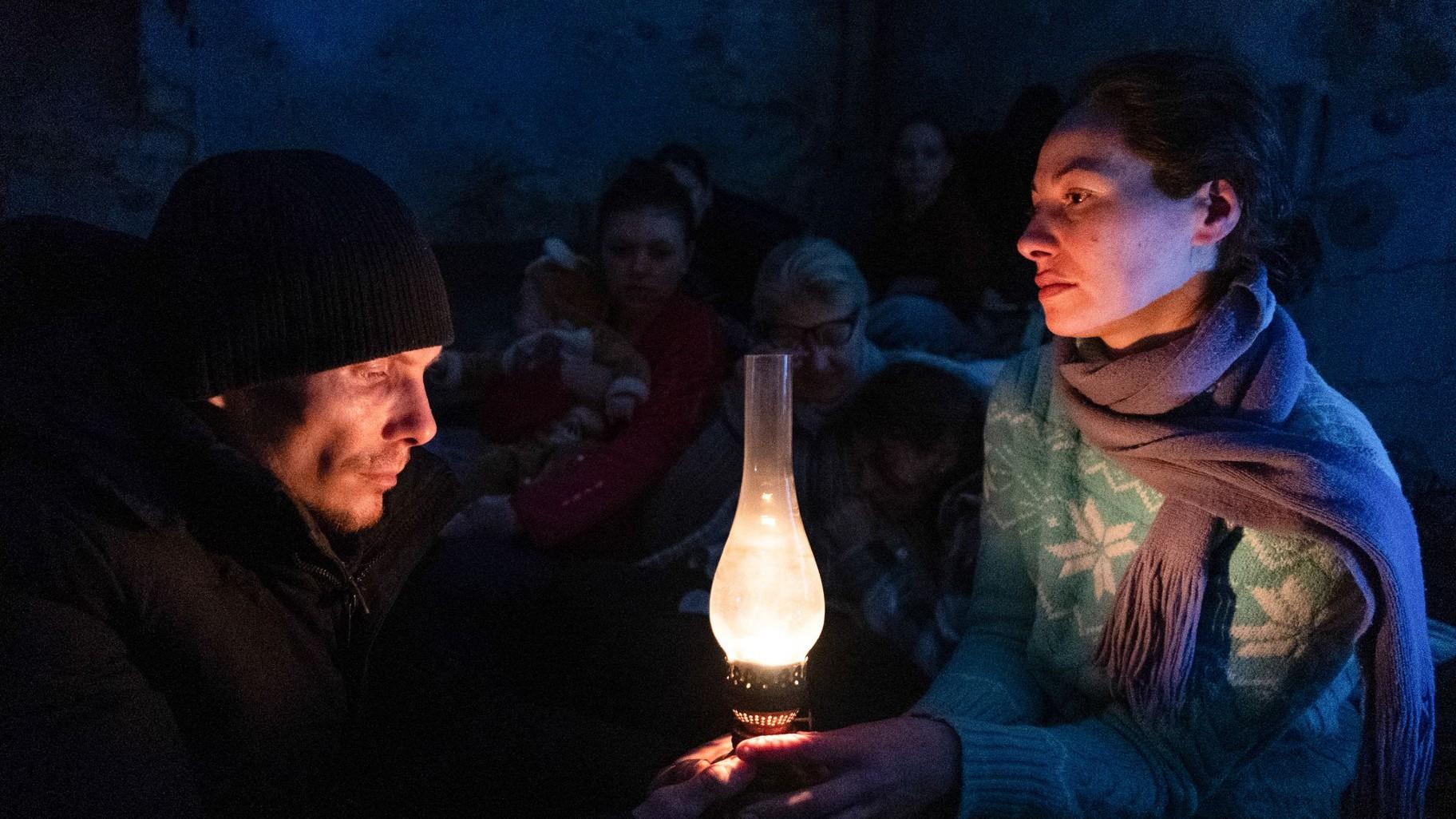 People take shelter in a youth theater in Mariupol, Ukraine, March 6, 2022. Still from FRONTLINE PBS and AP's feature film "20 Days in Mariupol." (AP Photo / Mstyslav Chernov)
A documentary that gives a vivid and harrowing look into the Russian invasion of a Ukrainian city during the opening days of the Russia-Ukraine war will be premiering at the Gene Siskel Film Center on Friday for a limited week-long run.
Ukrainian journalist Mstyslav Chernov, who works for the Associated Press, directs "20 Days in Mariupol," a 94-minute documentary compiled from 30 hours of footage Chernov and his colleagues shot last year while the Ukrainian city was under siege.
The documentary, a joint production by AP and PBS "Frontline," premiered this year at the Sundance Film Festival where it won the audience award for world cinema documentary. The team received two Pulitzer Prizes for its reporting.
In a conversation with Chernov, he spoke about how he hopes the film adds to people's understanding of the war. He discussed news fatigue, difficult moments while reporting in Mariupol and his approach to depicting war in a film.
The interview has been edited for length and clarity.
Help set the scene for me. What were the circumstances that led you to Mariupol and to document what we see in the film?
Russia's invasion of Ukraine started for all Ukrainians in 2014. Russia occupied Crimea and part of the Donbas region. My work as a conflict journalist started there in Donbas in 2014. I started collaboration with the Associated Press and started filming for them. For the past nine years, I've been covering various wars from Iraq, Afghanistan, Nagorno Karabakh, Syria and Gaza, but I've been always coming back to Ukraine. I would always try to keep telling this story of Russia's invasion in Ukraine because in recent years it has been kind of forgotten by most of the world. When this new wave of escalation was expected in February (2022), it was becoming quite clear that Russia is going to attack Ukraine. We didn't know how, whether there's gonna be a full-scale invasion across the country, or is going to be another escalation in Donbas. Me and the Associated Press team, photographer Evgeniy Maloletka and field producer Vasilisa Stepanenko, we all thought that Mariupol will be one of the key targets for Russia because it's so tactically important and symbolically important for them. Therefore, we decided to go and report on what will be going on in Mariupol and already back then we knew that it might be surrounded just because of its location and there will be a siege, so we were preparing for it in advance. Obviously, you can't prepare for everything in war, but we had an understanding of what might be waiting for us.
We were in Bakhmut on the 23rd of February and we were in a small restaurant that doesn't exist anymore along with the rest of the city that was wiped out as well as Mariupol. We were sitting in that restaurant and we were deciding to go to Mariupol and we drove all night and we arrived just an hour before the full-scale invasion started. We arrived and we listened to Vladimir Putin's speech. We were terrified, but at the same time, we were sure that we are in the right place.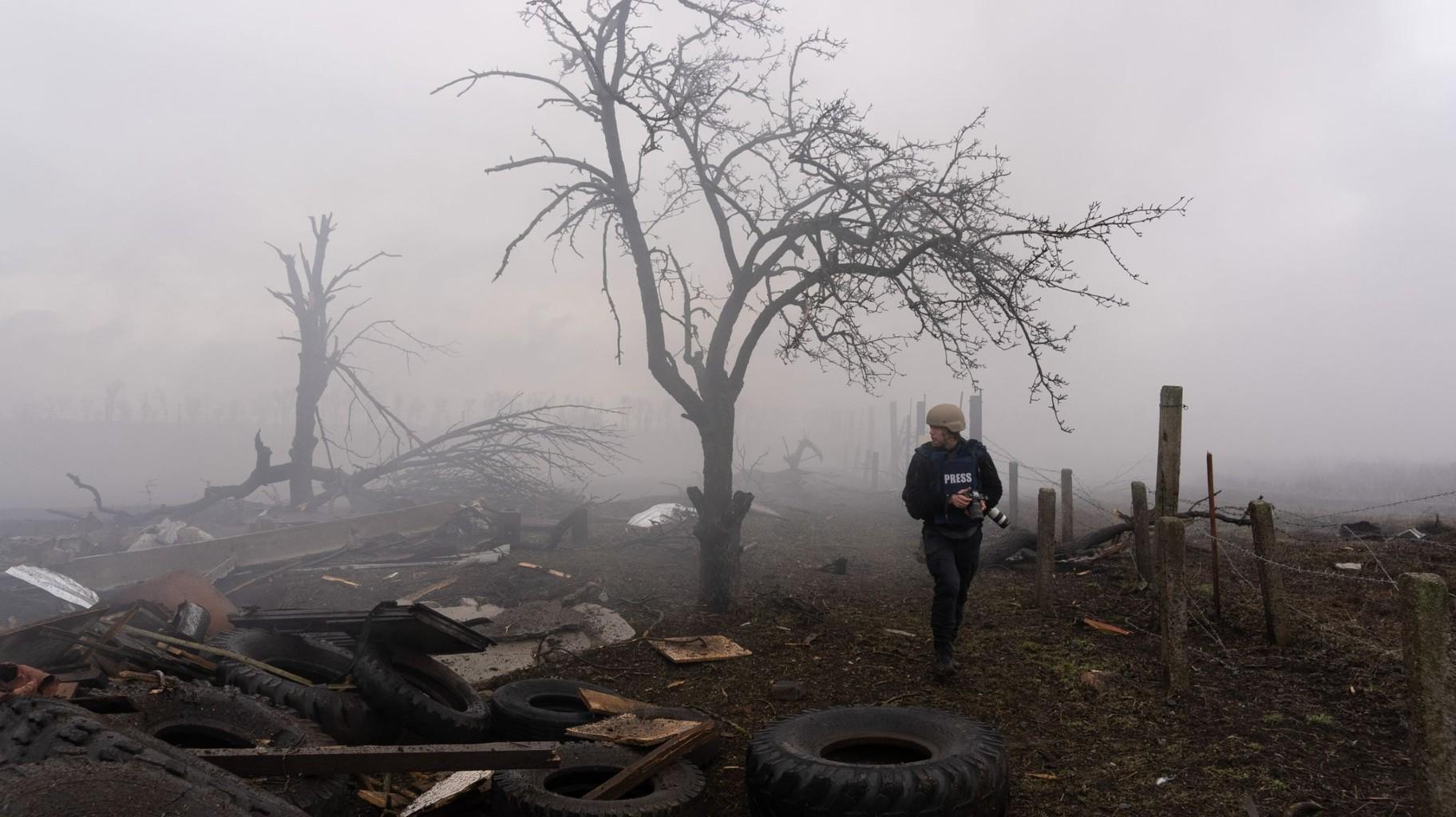 Photographer Evgeniy Maloletka picks his way through the aftermath of a Russian attack in Mariupol, Ukraine, Feb. 24, 2022. Still from FRONTLINE PBS and AP's feature film "20 Days in Mariupol." (AP Photo / Mstyslav Chernov)
Is there a moment in the documentary where you can't help but think, "Wow, I can't believe we captured that?"
It's not about capturing. I frankly have to say, we witnessed so many people dying, and children as well. Already after the first child died in front of our eyes — four years old, little girl — that was already too much. But then, another child was brought and he died. And then another one. My brain just couldn't believe this. How is this repeating over and over and over? It was the same surgery room. It was the same hospital. Same doctors. I just genuinely wanted it to stop, but it just wouldn't. People were brought, more and more and more people. Just a nonstop flow of injured civilians. It felt like a nightmare you can't wake up from.
Many reviews point to the graphic nature of the film and how difficult it is to watch. Could you walk me through how you approached that as a director?
I think the nature of how hard it is to watch this film is not in the graphic images because we actually, during the editing process, handled graphic footage with extreme care and respect to the victims. The visuals itself are not that hard. The impact, the emotional impact of the images, that is what hits hard. At the same time, it was very hard to find this balance between showing the war, how it really is and not sanitizing anything, and at the same time not pushing the audience away, by not overwhelming the audience with grief and pain so that people become desensitized to this. It's quite a natural, psychological reaction.
But I have to say that despite all the pain and suffering and destruction you see in the film, when I speak to the audience after they walk out of the cinema, I can see how much hope they have. It's not only pain and suffering. There is a lot of hope in this film. There's a lot of resilience and strength. So despite being painful, it is very inspiring for the audience. For me, as a director, it's a big achievement.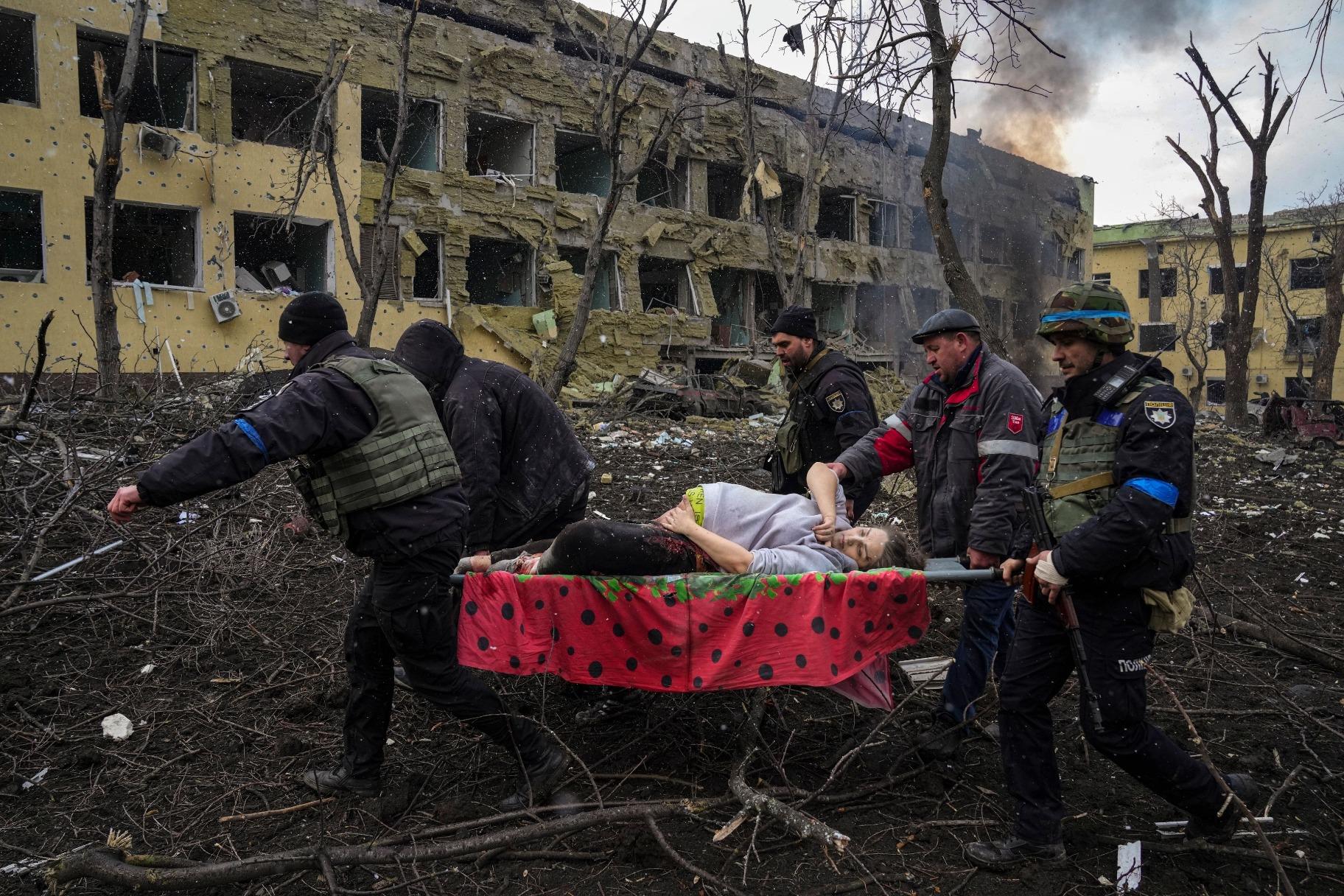 Ukrainian emergency employees and police officers evacuate injured pregnant woman Iryna Kalinina, 32, from a maternity hospital that was damaged by a Russian airstrike in Mariupol, Ukraine, March 9, 2022.Still from FRONTLINE PBS and AP's feature film "20 Days in Mariupol." (AP Photo / Evgeniy Maloletka)
How do you think your perspective as both a Ukrainian and a journalist influenced your approach to making this film?
Over these nine years of my conflict journalism work, every war has been very hard. People suffer everywhere and all of the conflicts, all of the victims of these conflicts deserve equal attention and equal compassion. But at the same time, being Ukrainian, being part of this community I am telling the story of, I am much more emotional while I'm doing this. It is quite hard for me to not to get engaged, not to try to help people. It's hard to be just a journalist. I always try to speak to people to help them somehow, to give advice whenever I can. It's practically like watching your home being destroyed. How can you help? Why wouldn't I be emotionally involved in this? But what helps me is AP, Frontline, they really have very high standards of unbiased reporting. So while making a film, these news dispatches that it consists of, there is a balance to that. Never being judgmental and never being too emotional. I think we found the right tone for this.
Has the making of this documentary changed the way you view your work as a journalist?
It did change a lot, the way I do my work to the extent that I probably still don't know how much it changed the way I work. I have a different approach to filming news. For the nine years of being in news, shorter news stories, one-minute, two-minute, three-minute news stories, were the main focus of my work, but now I try to look deeper, feel more, ask different questions, follow up more with people I meet. I think in general, modern journalism could really benefit from this approach because there has been and there will be a lot of manipulations with meanings. We call it "fake news," but I think it's more manipulation of the meaning of images we see in the news. So giving more context to the audience is crucial for better understanding and for defense from the manipulations with meaning. Here, that's where documentary shines. That's why documentary films are so important.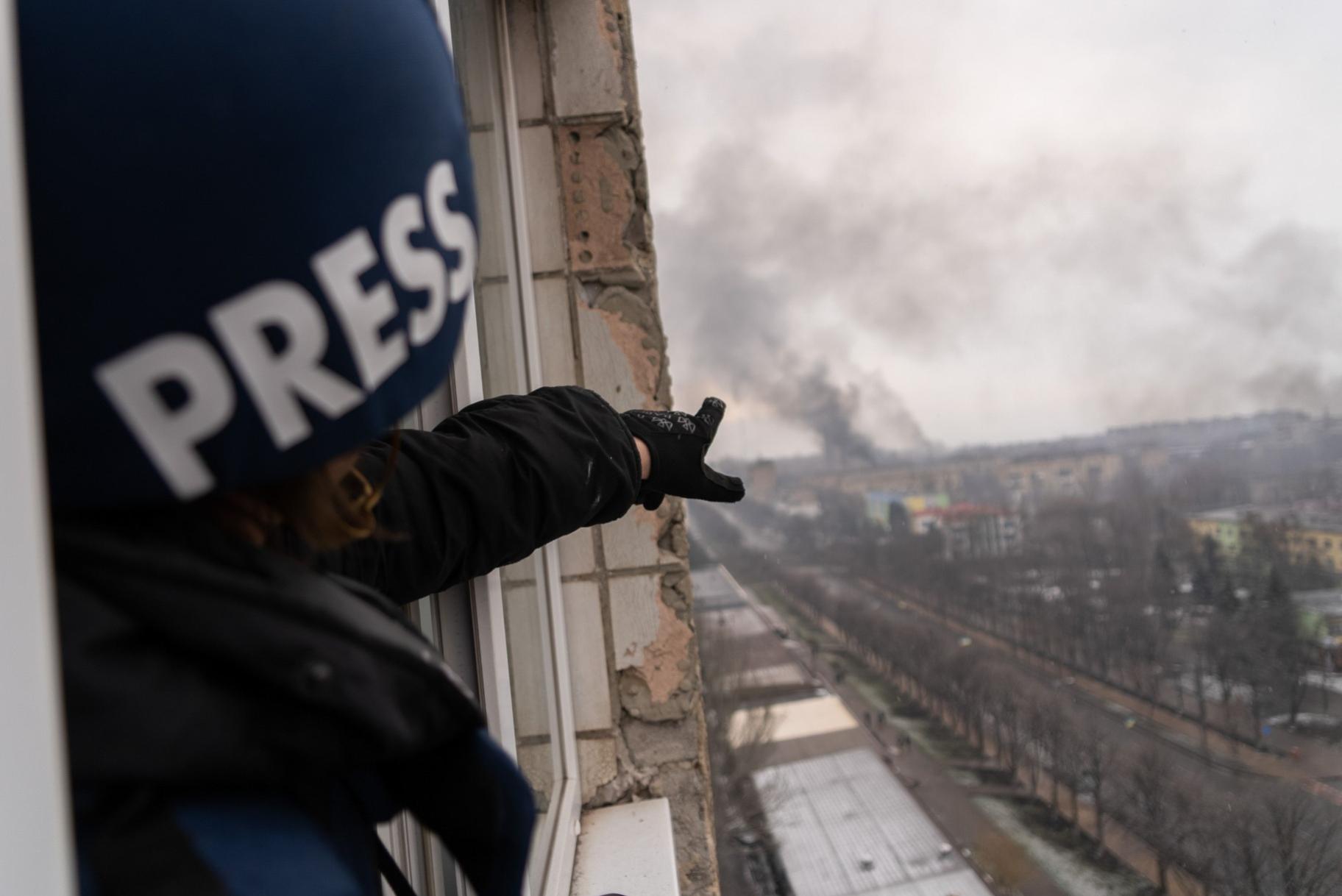 Photographer Evgeniy Maloletka points at the smoke rising after an airstrike on a maternity hospital in Mariupol, Ukraine, March 9, 2022. Still from FRONTLINE PBS and AP's feature film "20 Days in Mariupol." (AP Photo / Mstyslav Chernov)
How do you hope this film adds to how people understand the war that's still happening as we speak?
After people leave the screenings, after people watch the film, I can see that it propels them, it inspires them into trying to do something, trying to be more informed, more involved. That is already a big achievement for me. I'm very happy that this movie inspires. This film inspires people to try to understand and to know more and not to forget what is happening in Ukraine because naturally people get very tired of daily news from frontlines and that is quite dangerous because if you stopped paying attention to such an important event as this war, then we have a danger of this war expanding to a new scale, a bigger scale.
I think the function of documentaries in contrary to daily news we all consume is documentaries and books form our understanding of the past, not only of the present. Those generations that are to come, whether they're Europeans, Americans, Ukrainians or Russians, when they want to look back and see how this full-scale invasion started, how it really was, in contrary to what it was called, how violent and indiscriminate it was, how deadly it was to Ukrainian civilians, then this documentary, hopefully, will play a crucial part in forming a collective memory.
Do you think Americans have an accurate understanding of what the war actually looks like on the ground?
I don't think anyone in the world who hasn't been in an actual combat situation or in a city that has been just wiped out from the face of earth by bombs can really understand what is it to be in a war. However, it's a good thing. That kind of experience is something that no human should have. At the same time, any news or any documentary or any reports that are coming from the war zone have to be just truthful enough to what is happening to a point that people should always know how terrible the war is. There is always a danger of making it easy, that we are making it easier for an audience to watch how war looks like and that danger leads to people accepting the war as something normal, which it is absolutely not. The more accurate their experiences about war are, the less there's a chance that this war will expand and continue. The more we know about war, the more experience we have about it, the more efforts we all do to try to stop it.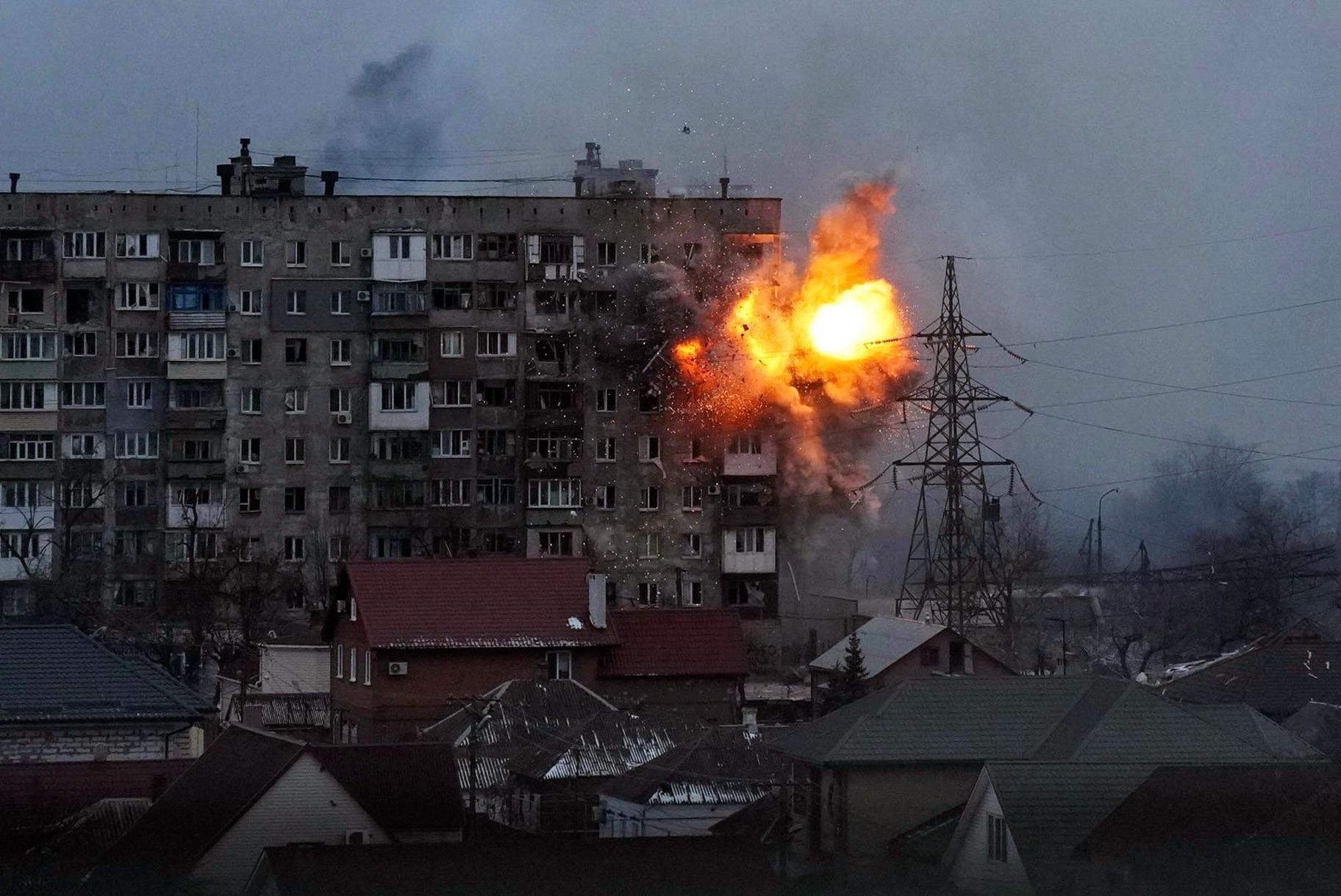 An explosion is seen in an apartment building after a Russian army tank fires in Mariupol, Ukraine, March 11, 2022. Still from FRONTLINE PBS and AP's feature film "20 Days in Mariupol." (AP Photo / Evgeniy Maloletka)
What aspects of seeing the war and living through it do you feel like are hard to convey even through something like a documentary or the news?
That is a problem in general. We are always limited by the screen and by the runtime, whether it's 95 minutes or it's a two-minute news report. We are still limited by the time and space of the screen and the perspective of the person who is filming and telling the story. One of the hardest things to convey, therefore, is the scale of war. What we see in '20 Days in Mariupol' is quite a precise description and experience of how is it to be in a war zone. However, even that is not enough to convey how much more is happening. What you see in the documentary is maybe 1% of what happened in Mariupol of all the tragedies that happened in Mariupol. What happened in Mariupol is, at the same time, a small percent of all the atrocities and war crimes and destruction that Russia caused in Ukraine across the whole country. So conveying that scale is the hardest part.
How are you feeling right now as we start to see more reviews coming out and more premieres for the film?
The most important thing for me is to make sure that this film is seen by as many people as possible. I think it will make a difference that way. At the same time, I really want to be back in Ukraine, to the frontline. I want to go back to frontline reporting. But to be here is important because while I'm here, I'm making sure that more people will see it, I present the film, I explain what is happening and that is as important as being on the frontline filming it.
Anything else you'd like to add?
Yes. I often hear that when people watch the film, they praise our courage, but I just want to say that every single journalist or filmmaker who was in Ukraine, or still reporting from there, is going through very similar experiences that the audience sees on the screen when they watch '20 Days in Mariupol,' so I just want to say that there is a story about all the journalists who are working on frontlines, not only about us.
Chernov is set to make an in-person Q&A appearance at the Gene Siskel Film Center following its July 18 screening. More information about movie times and ticket information here.