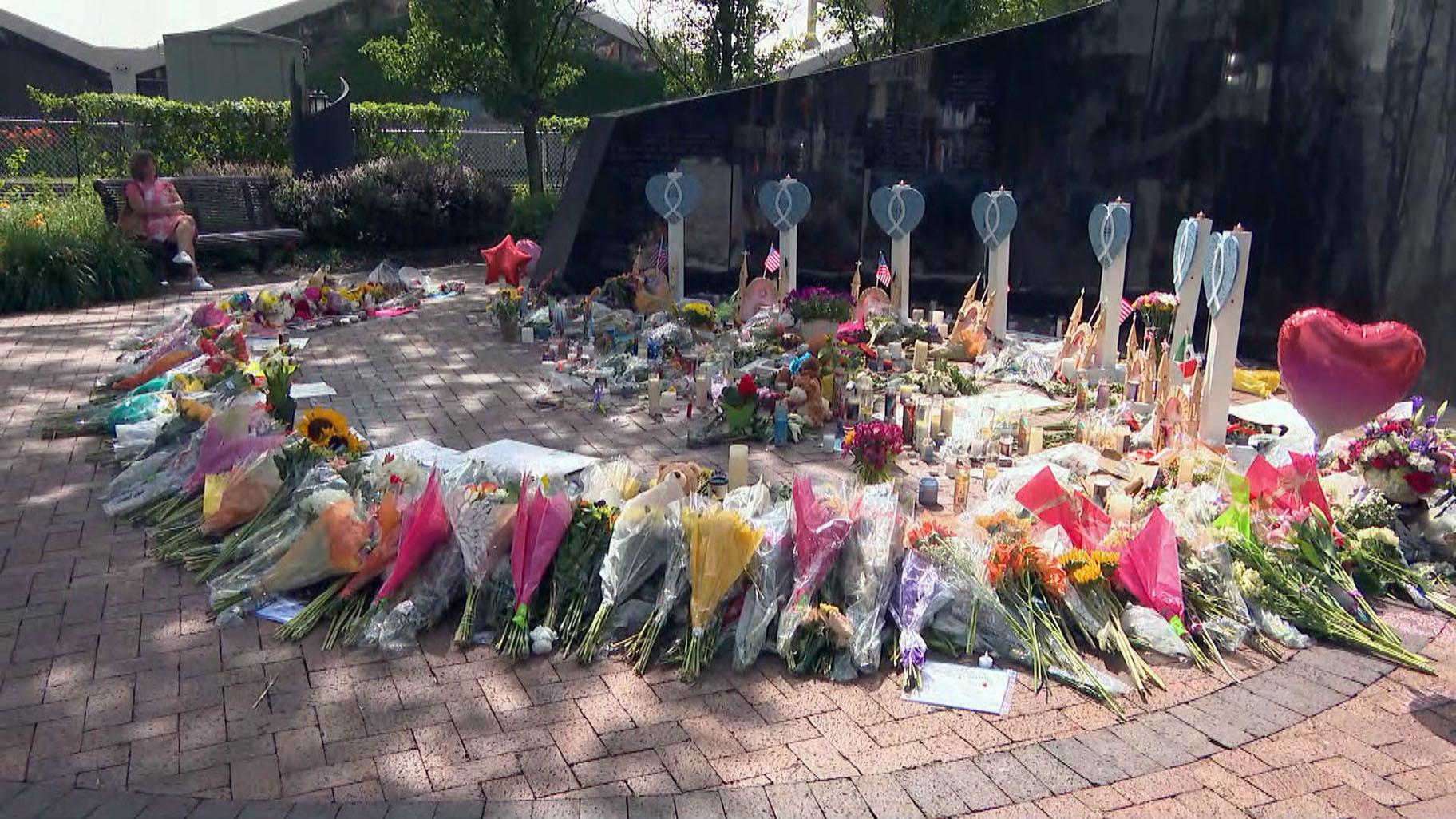 A memorial to the victims of the Highland Park shooting is pictured in July 2022. (WTTW News)
On Tuesday, Highland Park residents and the greater Chicago community will mark the one-year anniversary of the Fourth of July parade mass shooting that left seven people dead and 48 others injured by bullets or shrapnel.
Instead of the usual parade, there will be a community walk, preceded by a remembrance ceremony at Highland Park City Hall, as well as other commemorations.
A year later, there still is much healing to be done.
It will be a day to remember the victims.
A year ago, families and friends gathered to enjoy one of the most normal, and at the same time, exhilarating moments of summer.
A sunny day. A holiday. A communal event to be shared by people from all walks of life.
And then at 10:14 a.m. there was gunfire. The shooting left Katherine Goldstein, Irina McCarthy, Kevin McCarthy, Stephen Straus, Jacquelyn Sundheim, Nicolas Toledo-Zaragoza and Eduardo Uvaldo dead.
Their families, and their community, will never be the same.  
You will hear their names on Tuesday. They should be remembered.
Sadly, those seven people are not the only local victims of mass shootings over the past 12 months. In fact, there was a mass shooting on the 6500 block of South Martin Luther King Jr. Drive on that very same day, July 4, 2022.
Between last Fourth of July and June 30, 2023, there have been 47 mass shootings in the Chicago area alone, according to the nonprofit Gun Violence Archive. The group defines mass shootings as involving four or more shot in a single incident, not including the shooter.
Those 47 mass shootings resulted in 272 people being wounded and 46 others losing their lives.
Seven from the Highland Park shooting, plus Terrell Fanniel, Tacara Tunstall, Justin Griffin, David DeVeaux Jr., Jason Mundo, Lionel Coward, Khalil Denny, Christian Alva, Trinidad Vasquez, Andrew Bowens, Rafael Zavaleta-Barradas, Pierre Riley, Arsen Solaqa, Jerod Lewis, Jonathan Lewis, Ricky Vera, Mario Pozuelos, Mercedes Tavares, Brandon Perez, Nathan Billegas, Adele Jones, Alexandra Olmo, Unique Banks, Amara Hall, Nasir Hall, William Smith, Cartez Daniels, Samiya Shelton-Tillman, Sanai Daniels, Jabez Davis, Jarrell Harmon, Gale Stephen, Terry'a Adams, Art Johnson, Brian Ross, Robert Barnes and Reginald Meadows. (Two victims remains unidentified as of publication).
Of course, that list is of those who lost their lives in mass shootings. The other victims are the friends and family members who live on with the grief of losing a loved one. Then there are the victims who may not have lost their lives, but now live with their own physical and emotional wounds.
And of course beyond mass shooting events, violence of all sorts claims far too many lives in our communities.
Lives are lost, people are injured and family and community members are left to deal with the ripple effects that last far beyond a singular moment of violence.
Those numbers and all of those names remind of us what has happened. The question then becomes: What do we do now?  
The answers to gun violence are not simple, and opinions vary widely about the most effective course of action. But just because the path toward a solution is difficult and full of obstacles, that search must not abate.
In a city and metropolitan region where the lines between neighborhoods and towns are defined not just by borders on a map, but by income, race and resources, it is counterproductive to ignore the daily acts of violence that impact far too many of our neighbors.
To truly understand the issue, and from that understanding position ourselves toward real change, requires a shared mission and an informed community.
In an effort to help facilitate that complicated but necessary conversation, we have to explore violence in all its forms with depth and nuance. We need to hear from those who have been affected and those who are working to push forward solutions.
On Monday, WTTW News launches a new initiative, "A Safer City."
On television, "Chicago Tonight" will devote our entire Monday evening programs in July and August to the issues of public and community safety, crime and violence. We will focus on both the causes and potential solutions. We will prioritize public safety in our online coverage as well, with an emphasis, in part, on gathering and synthesizing data to provide facts and context around the issue.
This Tuesday we will rightly remember the lives lost and the others that were changed forever in Highland Park.
At the same time, we must also remember that the carnage continues daily — as must the search for answers.
Jay T. Smith is news director of WTTW News and executive producer of "Chicago Tonight."
WTTW News reporter Jared Rutecki contributed data reporting.
---