After decades of neglect and disuse, the Illinois International Port District on the city's Far South Side is showing its age — and that's why its leaders say that it's long past time for people and government to chip in some cash to bring the Port of Chicago back to shipshape.
"For a long time, maybe people didn't realize the importance of the port, the impact that we have because we bring all of the commodities — steel, iron, concrete, sand — all those things we need to build the infrastructure that we talk about," said Erik Varela, executive director of the Illinois International Port District. "If the port were to go away or not be invested in, you have to imagine that those commodities are going to go elsewhere, those jobs and those things will go there."
Varela came to his role in 2021 with years of experience in railroads and government affairs. He's also an attorney, which comes in handy as he's making a case for state, federal and private entities to fund the Port of Chicago and finally address the decaying infrastructure. Problems include a disintegrating dock wall, massive sinkholes and roads in desperate need of resurfacing. That creates a doom loop for the port because it has no taxing authority and depends on revenue from tenant businesses to pay for maintenance.
"When you have a half a dock wall that can't be used, it's hard to bring shippers, right?" Varela said. "It's hard to bring people, new businesses here when our infrastructure can't support what we're doing right now."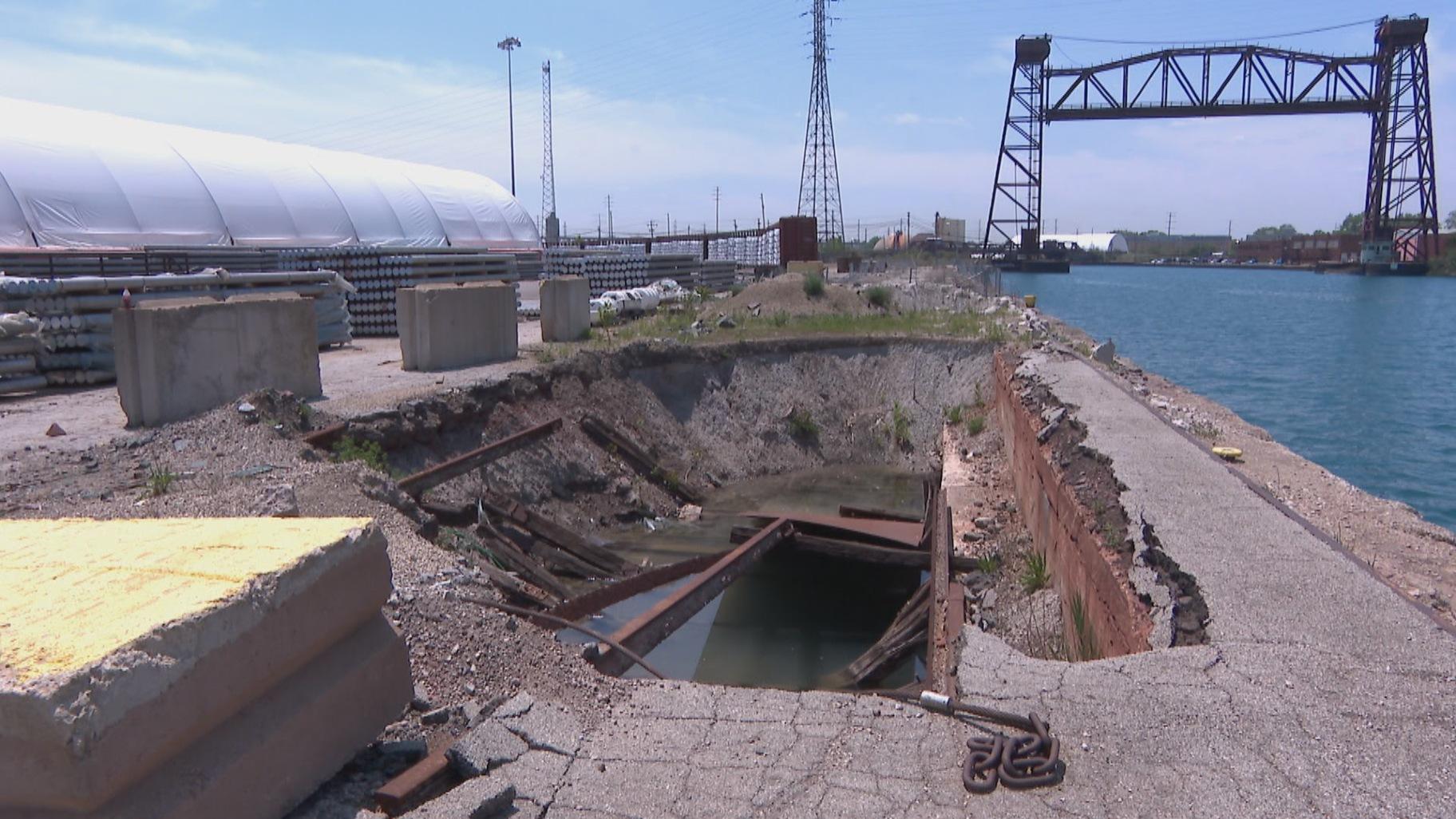 Illinois International Port District leaders are asking for funding to bring the port's infrastructure back into shape. (WTTW News)
The Port of Chicago was built to export goods through the newly opened St. Lawrence Seaway. But as shipping patterns changed, the port saw a decline in revenue, said P.S. Sriraj, board member and director of the Urban Transportation Center at UIC.
"The shift happened very gradually," Sriraj said. "As automobile and truck traffic became more ubiquitous, you saw the shift happening — and that connected very well with the railroads but left the waterways behind."
That revenue decline led the port to its current state of disrepair. But Varela and Sriraj said they see more potential than ever in the port, especially after the pandemic-induced supply chain fiascos that choked the economy in recent years.
"Moving freight by water is the cheapest and most environmentally sustainable," Varela said. "If you could get it to us, then we can help get it out without having to rely solely on what's happening on the coasts. It's an economic development engine, making sure that Chicago is a vital cog in that supply chain. You're bringing tax revenue in every time you bring a shipment in."
"It's a very geographically important location for freight movement and that, by extension, is an advantage for the port because we can tap into that overburden of the road and rail network to release some of the burden off of those and then bring them to the port, which is an underutilized treasure," Sriraj added.
Sriraj also suggested a busy port would result in less freight traffic on Chicago's notoriously congested roads.
"Every year, we lose thousands of hours of delay on the roads, be it as a passenger or as a trucker," Sriraj said. "So how do you manage this mobility issue in a reasonable manner? By making use of the resources that you already have."
Port District Board chair Ivan Solis lived just a few blocks away from the port as a teenager. He said growing up, he was aware of the port's existence, but did not necessarily understand what happened there. He said workforce training partnerships could change that in the future and keep jobs in the city by connecting the people to the port.
"There's a lot of opportunities to make use of the vast land that we have available, bringing in jobs," Solis said. "We've had conversations with City Colleges of Chicago. We talked about how to prepare young kids to come and work on loading ships, working in these warehouses."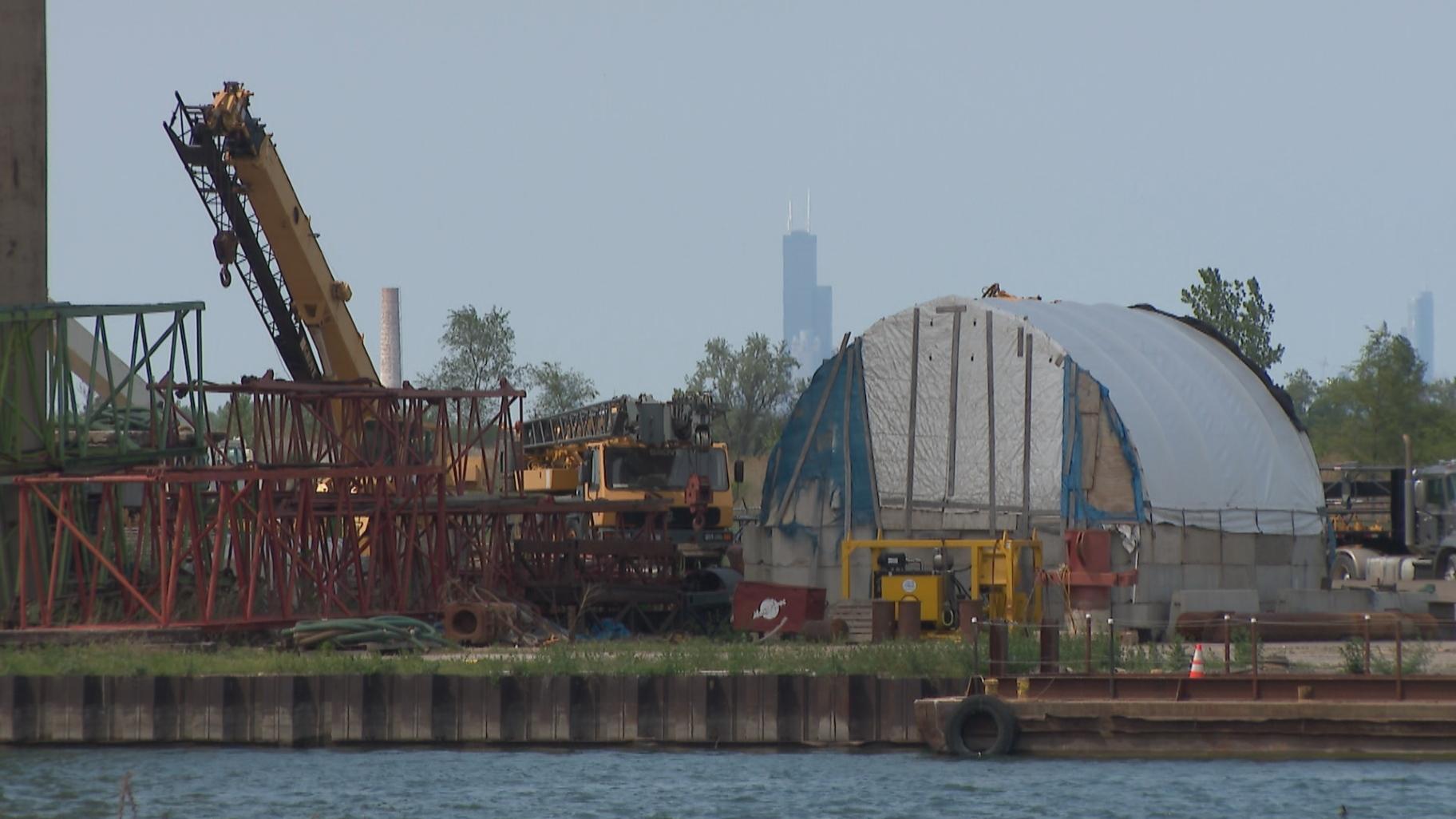 Illinois International Port District leaders are asking for funding to bring the port's infrastructure back into shape. (WTTW News)
Varela and the board's grand vision for the port goes far beyond an initial flush of overdue repairs. That vision includes improved natural areas, recreational amenities and options for industrial innovation. But before any of that can happen, Varela said, the port must be brought into a state of good repair. While that's expensive, he believes that if we build it, they will come.
"$100 million would be a tremendous improvement for this port, would put us back to full use of our infrastructure down here as well as our primary infrastructure up at the lake," Varela said. "If we look at Indiana or Wisconsin, Michigan, Minnesota, New York, we see the businesses there, we see the demand is there, we hear from the industry that that demand is going to continue to be there. So the justification for Chicago to invest in these just very basic infrastructure needs is tremendous."
---