Two organizations on the city's West Side are on a mission to bridge the gap between art and sustainability with a new initiative aimed at "redeeming plastic."
It starts with an assembly line of sorts: washing and drying detergent bottles that have been collected from different laundromats throughout the city's West Side. The plastic is then shredded into small granules, heated and made into a solid beam to create benches.
"A lot of times when we're driving down the street, you notice there's not as many benches on the West Side," said Cody Norman of Happy Returns. "This is an opportunity for us to come together and design this object that's accessible for public use and made from a material that will probably outlive everybody in this room."
It's a concept more than a year in the making, spearheaded by the organizations Alt_ and Happy Returns with funding from Earth Art Chicago.
"We really loved that art was at the center of this but so was the community piece because there's so many ways for youth and community members to get involved," said Uzma Noormohamed, program director of the Illinois Science and Energy Innovation Foundation. "… Folks will be interacting with it because of the placement in the community afterwards."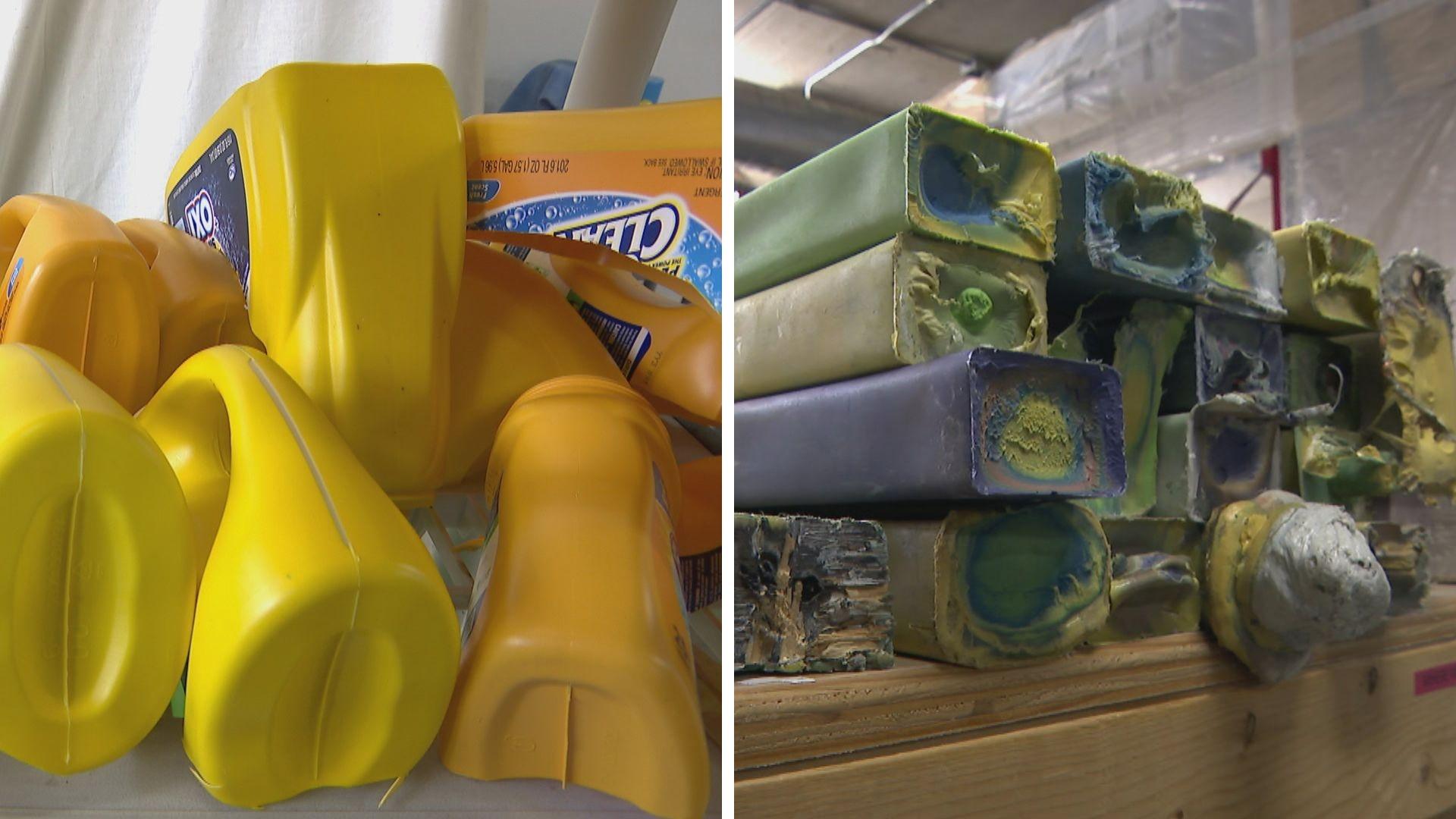 Plastic is cleaned (left) and shredded to be made into solid beams (right) for benches. (WTTW News)
It's through a joint project, Redemptive Plastics, that Jordan Campbell said they're able to continue their mission of using both art and faith as a tool to galvanize communities. It's a concept started by Campbell and his late business partner, Jon Veal.
"There's a scripture I think about how we're all called to plant seeds and water," Campbell said. "…  I think what we witnessed was Jon planted those seeds. He was encouraging people and challenging people but showing love. He talked about how sustainability is truly love over time."
Alt_ has an ideal collaborator in Happy Returns, whose mission is aimed at the intersection of digital craft and recycling plastics. The two groups want to take their love for sustainability, as well as their love for community, nationwide.
"In this project, we've processed about 800 pounds of plastic in the last six weeks, but that's a small fractional percentage of plastic that's consumed in a day in Chicago," said Norman, who called the project "an awareness tool."
"We're hiring people, we're training them and giving them the tools to go out and be artists that work with this material as well," Norman said. "This is investment in the community just as much as it's transformation of a landfill."
The folks at Alt_ and Happy Returns said they're in great need of volunteers to increase the turnout of their benches. If you're interested in redeeming plastic, click here for more information.
Follow Angel Idowu on Twitter: @angelidowu3
---
Angel Idowu is the JCS Fund of the DuPage Foundation Arts Correspondent.
---