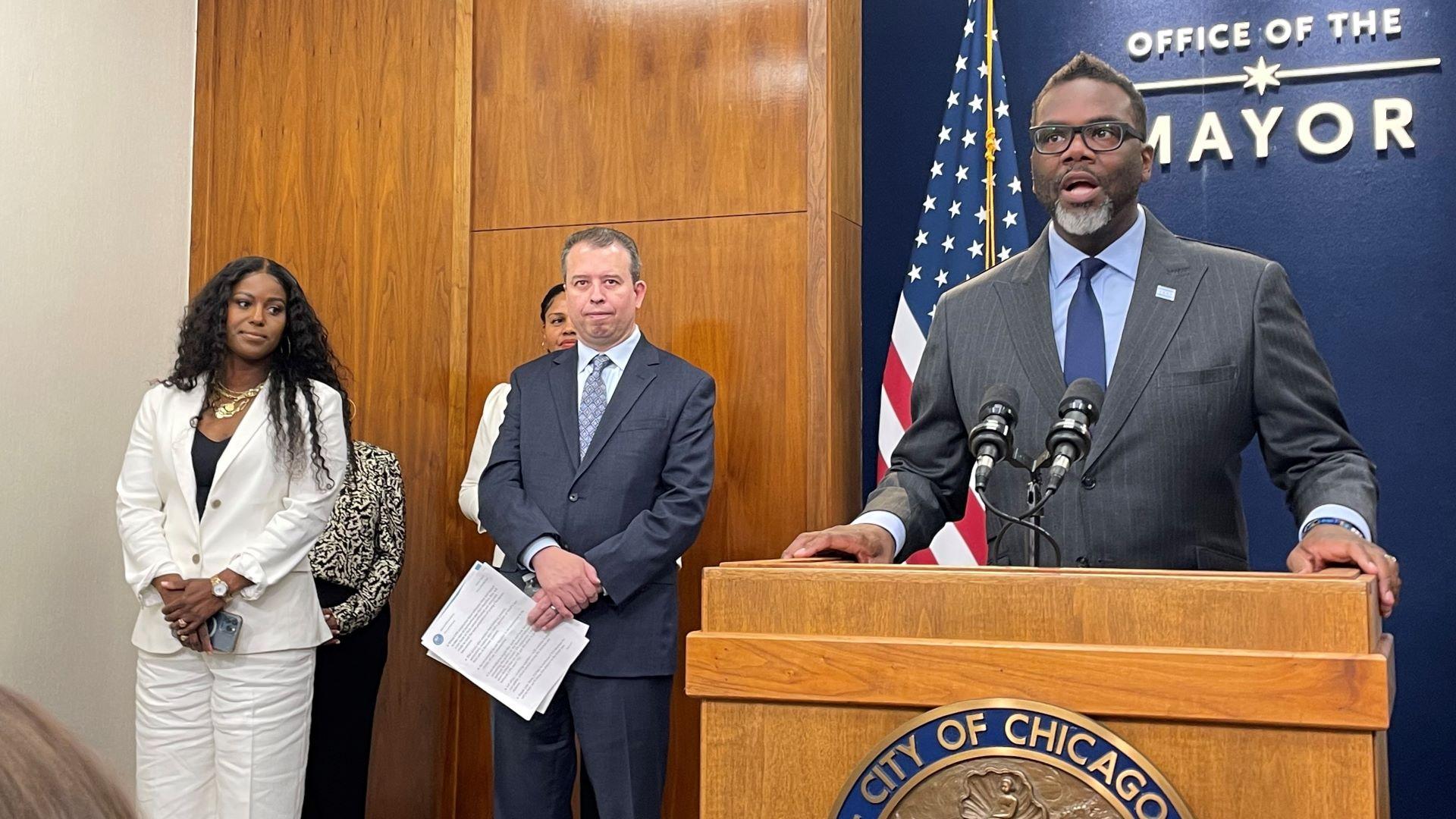 Mayor Brandon Johnson speaks at City Hall alongside Chicago Public Schools CEO Pedro Martinez and Chicago Teachers Union President Stacy Davis Gates on June 8, 2023 (Heather Cherone / WTTW News)
Chicago educators will soon get an increased amount of paid parental leave under a "transformative" change that officials believe will put families first and help better recruit and retain teachers in the city.
Mayor Brandon Johnson, along with Chicago Public Schools CEO Pedro Martinez and Chicago Teachers Union President Stacy Davis Gates, announced that the school district is in the process of expanding its paid parental leave up to 12 weeks for birthing and non-birthing parents.
"With the creation of this policy, teachers and school leaders can not only show up for students, but for their own families during a very critical time in their lives," Johnson said during a City Hall press conference Thursday afternoon. "An investment in our families is an investment in the vitality of all of our communities."
The move will bring CPS district teachers and employees in line with other city workers who already receive 12 weeks of paid leave. Currently, Johnson said birthing parents receive six-to-eight weeks of short-term disability leave, while non-birth parents get two weeks of paid leave.
Surrogates will also be eligible for up to eight weeks of paid leave for recovery purposes.
The policy is not yet finalized, but Johnson expects it to be in place before the start of the 2023-24 school year in the fall. CPS and CTU officials have launched a working group to hammer out the details before presenting the policy to the Board of Education for approval sometime this summer.
Martinez said the change could add some $10 million to the district's budget, but called that a "worthwhile investment."
"The reality is we lose teachers when they start having children, and that creates other challenges for us," he said. "I think we're going to be in a better position to recruit teachers. By having this benefit that is really a leader, not only here in the state, but in the country, I think it's going to send a message to teachers."
Current CPS teachers spoke Thursday about the difficulties they and their colleagues have faced while trying to care for their young children with limited paid time off.
Jimini Ofori, an educator at South Shore International College Prep, said that had this expanded policy been in place when she gave birth, it would have "changed (her) life."
"I had to use all of my sick days … and God forbid if my child ever got sick," she said. "I had to compete with what felt like the whole city to get doctor's appointments and time that wasn't in conflict with work."
Ofori said the time she did take off during that pregnancy was "held against" her when she returned, and she temporarily left the teaching field when she had her second child. She called family leave a "human right and it stabilizes societies."
The joint announcement between city and CTU marks another shift in relations following what some union officials have dubbed a "historic reset" between the sides.
Davis Gates said she was "speechless" following the collaboration that led to this policy change, which she called a "transformative moment" for the entire city.
The CTU spent heavily to back Johnson — a former paid union organizer and teacher — in this year's mayoral race, but Johnson maintained Thursday's announcement is not a "gift" to the CTU.
"This is a policy for the people of Chicago," Johnson said. "So if people are looking at this as a gift, then they're missing the incredible moment that's happening here."
Contact Matt Masterson: @ByMattMasterson | [email protected] | (773) 509-5431
---