Chicago provides the dark setting for an homage to horror films and history in a new novel by Hermosa native Cynthia Pelayo. In "The Shoemaker's Magician," Pelayo blends film history and Chicago history into a genre-crossing journey into the occult. The story opens with the discovery of a gruesome murder in a downtown theater.
"Sebastian Ramos, who is a homicide detective, … discovers a body on stage at the Chicago Theatre one night with a poster of an old 1920s film affixed to the body," Pelayo said. "And his wife, Paloma Ramos, is a horror host on YouTube and she's an expert on all things horror films. Both of them work together to solve increasing … counts of bodies being found throughout various historic Chicago theaters."
"The Shoemaker's Magician" is a follow-up to Pelayo's 2020 novel "Children of Chicago," which the author describes as a Pied Piper fairy tale adaptation. "Magician" delves into some of Chicago's history as an early incubator for movie making.
"I feel like Chicago is this beautiful mix of light and dark and especially in 'The Shoemaker's Magician,' a lot of people don't realize that Chicago was Hollywood before there was Hollywood," Pelayo said. "Chicago was the silent film capital of the world. Charlie Chaplin worked here. He filmed numerous movies here. And so Chicago takes center stage again as we learn about the history of the silent film era in the city of Chicago."
Read an excerpt from the book below. 
---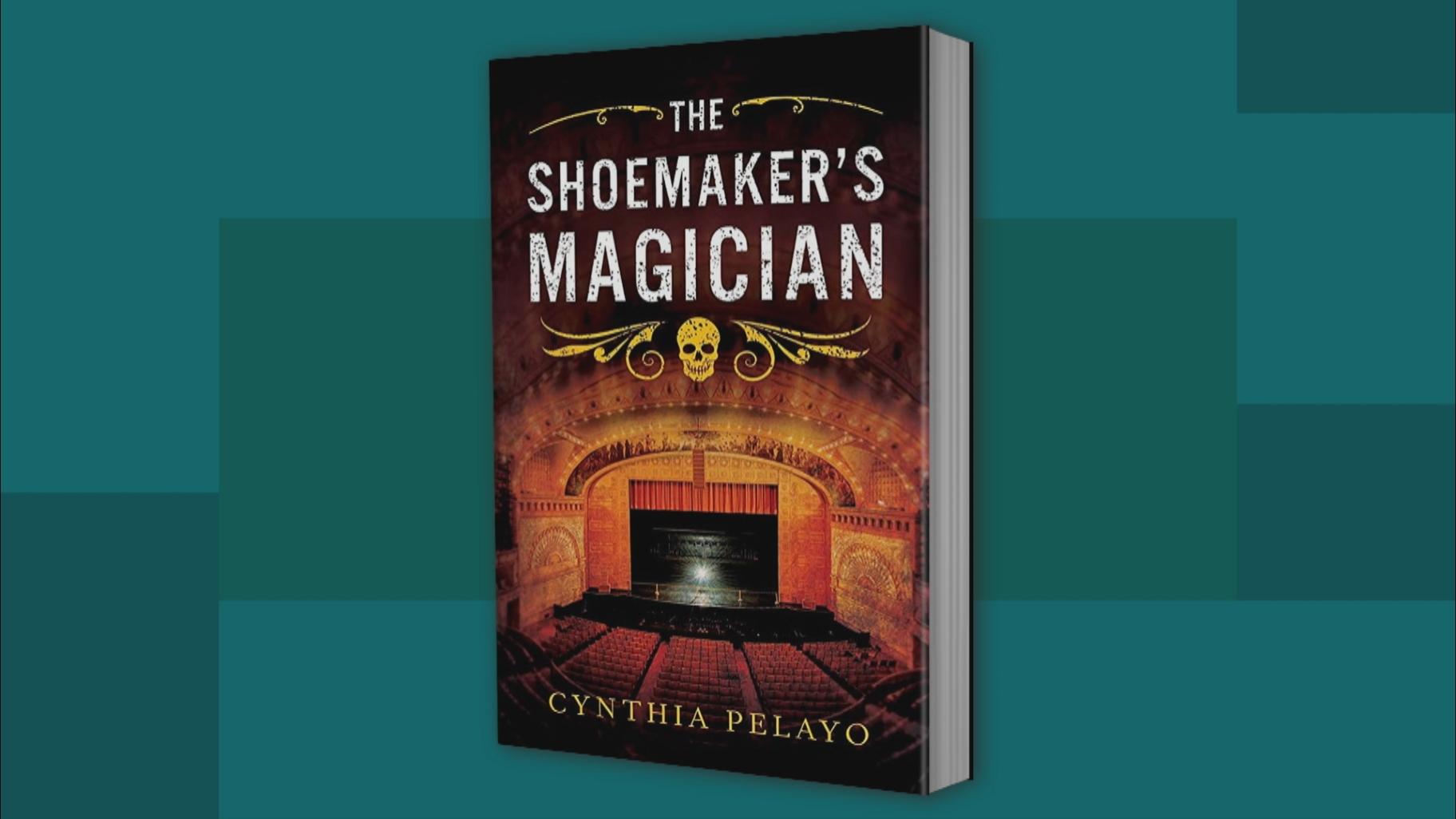 "The Shoemaker's Magician" by Cynthia Pelayo.
He starts flipping through it and stops. "She had tonight blocked off. Chicago Silent Film Society. Portage Theater. Eight o'clock. Nosferatu," he says.
"Alright." I focus on the living notebook of her bedroom walls. "Didn't know we had a silent film society." The writing taped to the wall is full of further dates, titles, and times. All along the room the largest prints are in black and white, the façades of movie theaters, their pictures taken long ago. A name is tacked above each one: Albany Park. Belmont. Berwyn. Biltmore. Central Park. Chicago. Congress. Covent Garden. Crystal. Gateway. Granada. Harding. LaGrange. Manor. Marbro. Maryland. McVickers. Norshore. Norton. Oriental. Pantheon. Paradise. Regal. Riviera. Roosevelt. Senate. Southtown. State. State Lake. Tower. Tivoli. United Artists. Varsity.
"Looks like Chicago neighborhood names."
I shake my head. "Some of these are neighborhood names, but not all of them. Tivoli's not a neighborhood, or Biltmore. Look, the Congress Theater is on here." Handwritten beneath the picture is the address, 2135 N. Milwaukee, of the long-abandoned Congress Theater, a massive building that hasn't put on a performance of any kind in decades. "These are just old movie theaters, most of which no longer exist."
"I've lived here my whole life and I've never read of the Tivoli," Gutierrez says. He moves over to her laptop. "Let's hope this isn't password protected."
I laugh to myself.
"You think this is funny?"
"A little funny. I feel like we stepped into one of Polly's movies. Potential serial killer. A victim with very bizarre interests. This is all above my pay grade."
Excerpted from "The Shoemaker's Magician" by Cynthia Pelayo. Copyright 2023 Cynthia Pelayo. All rights reserved.