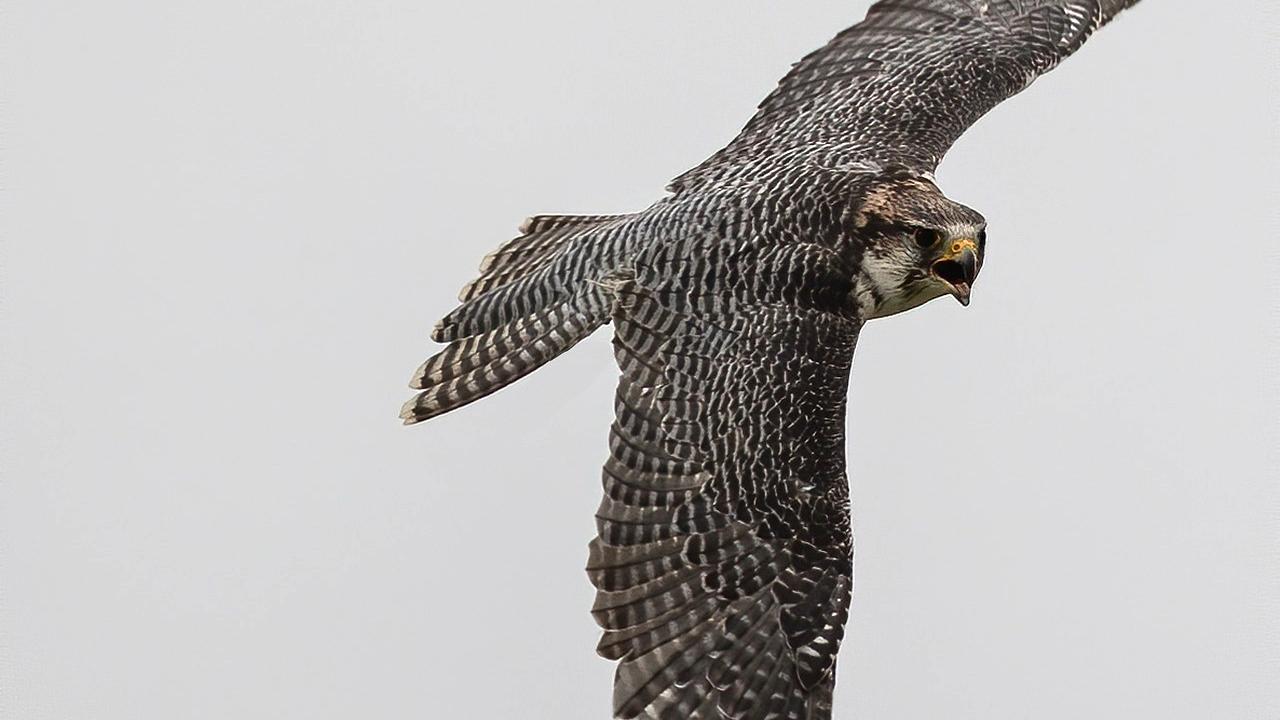 A peregrine falcon in flight. (Kev / Pixabay)
Chicago is turning into Wild Kingdom. Another week, and we have another wildlife sensation.
This time it's a pair of protective peregrine falcon parents who are dive-bombing pedestrians downtown in order to steer them away from their nestlings, perched on a ledge above Wacker Drive.
Mary Hennen, director of the Chicago Peregrine Program at the Field Museum, told the Chicago Tribune that as far as the falcons are concerned, Chicago's skyscrapers are no different from a cliff. The birds have been nesting on Wacker for years, largely unnoticed, but are suddenly causing a stir because their nest is on a lower floor than usual, closer to perceived threats like humans.
Peregrines are one of the nation's great conservation success stories. Once near extinction, the birds rebounded to the point they were removed from the endangered species list back in 1999. The population took a little longer to bounce back in Illinois, but efforts of the Chicago Peregrine Program paid off, with the falcons eventually delisted from Illinois' endangered and threatened list. (They're still protected by the Migratory Bird Act.)
While the downtown falcons are getting all the media attention, there are other peregrine nests in the city. Hennen's team has banded new chicks this year that hatched in Pilsen, across from Millennium Park and even in one of the Lake Michigan water cribs.
Rather than risk a gash to the head, the best way to follow the progress of Chicago's falcon families is via webcam or Facebook, which the Chicago Peregrine Program updates regularly.
Here's what else caught our attention this week. 
Pollution or Protest?
Venetians recently woke up to find a section of their famed Grand Canal had turned an unnatural shade of fluorescent green. It took investigators days to pinpoint the cause as a plumber's dye that any Chicagoan would have instantly recognized as St. Paddy's Day emerald.
Just asking, but are the whereabouts of all members of Chicago Journeymen Plumbers Local Union 130 UA accounted for?
Venice authorities investigate after canal turns fluorescent green https://t.co/J9LsMKHYR7 pic.twitter.com/hWygjcgBVg

— CNN (@CNN) May 28, 2023
---
As the Faucet Turns
Arizona's water bill is coming due. The state is looking to limit permits for new developments that rely on wells for water, a move that would impact the growth of cities including Phoenix.
The New York Times has excellent coverage of this latest twist in the ongoing saga of the West's water woes.
Here are a couple of passages that stunned us:
— 40 million Americans in Arizona and six other states rely on the Colorado River for their water. That's more than the 30 million people (Americans and Canadians) who get their drinking water from the Great Lakes.
— The Phoenix area "uses some 2.2 billion gallons of water a day — more than twice as much as New York City, despite having half as many people."
---
Hip, Hip, No Way
"Invasive 'cocaine hippos'" isn't a phrase we ever thought we'd be typing. But such is the world we live in.
Colombian officials are trying to figure out how to manage a fast-growing population of hippos that are all descendants of a group of four that were illegally imported decades ago by drug kingpin Pablo Escobar. When Escobar died in 1993, the hippos escaped and now there are more than 200 of them.
With no natural predator and a lush climate that could be further boosting their reproductive capabilities, the hippos are living large. They're also eroding riverbanks, outcompeting other animals for resources and have apparently attacked humans. One more reason to "just say no" to drugs.
---
What's Debt Got to Do With It?
Debt ceiling negotiations hinged on a number of environmental issues. Most controversial was a provision to clear the path for a pet pipeline project of Sen. Joe Manchin of West Virginia.
The Associated Press lays out both sides of the argument for and against the 300-mile Mountain Valley Pipeline, which has been held up by a 3.5-mile segment that cuts through the Jefferson National Forest.
Though opponents vow to continue their fight against the pipeline, the debt-ceiling deal contains a bit of political sausage-making that will lessen the likelihood of success for environmental challenges. Manchin successfully finagled to have all future litigation heard by the D.C. Circuit Court rather than Virginia's Circuit Court of Appeals, which has ruled against the pipeline.
---
Tweet of the Week
If you think dive-bombing falcons are scary, meet the Field Museum's newest resident.
Spinosaurus! @FieldMuseum pic.twitter.com/t8yPUj0dkK

— Jaap Hoogstraten (@JaapHoog) June 2, 2023
---
Contact Patty Wetli: @pattywetli | (773) 509-5623 |  [email protected]