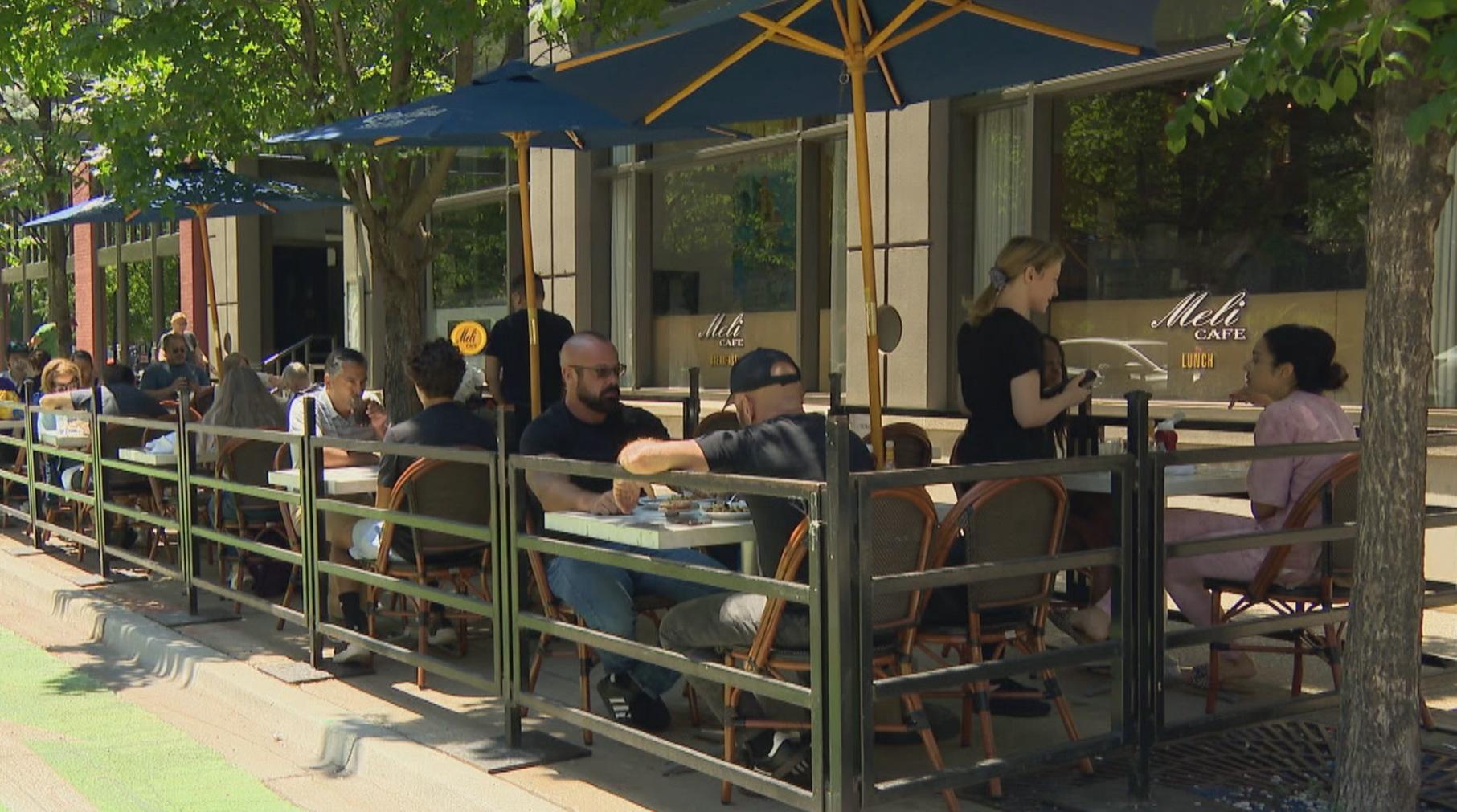 (WTTW News)
The Chicago City Council is poised to allow restaurants, bars and cafes to serve customers outdoors permanently, handing Mayor Brandon Johnson his first significant legislative victory.
The City Council's License and Consumer Protection Committee unanimously endorsed a proposal on Tuesday to make the rules designed to help restaurants stay afloat amid the COVID-19 pandemic an enduring part of Chicago's food scene. The measure is set for a final vote by the full City Council during its meeting Wednesday.
"This was one of the silver linings to come out of the pandemic," Ald. Matt Martin (47th Ward) said.
The program will add approximately $500,000 to the city's bottom line, but cost Chicago approximately $100,000 to compensate the private firm that leases the city's parking meters for spots taken out of commission by the expanded seating, said Chicago Department of Transportation Commissioner Gia Biagi.
Ald. Walter Burnett (27th Ward) said outdoor dining proved to be a "good economic engine" for the city.
Despite the program's popularity with diners wary of catching COVID-19, as well as with alfresco aficionados, efforts to enshrine outdoor dining in Chicago's food scene faltered in the waning days of former Mayor Lori Lightfoot's administration.
Lightfoot rebuffed efforts to give members of the City Council the final sign-off on outdoor dining permits and crafted the plan to automatically review permits issued in 2022, rather than require eatery owners to reapply each year.
Lightfoot left office with the largely unwritten, decades-old practice giving alderpeople a veto over ward issues, known as aldermanic prerogative, still intact. Lightfoot vowed to uproot the practice, which she said allowed corruption to flourish, but faced implacable opposition on the City Council.
One of Johnson's first acts after becoming mayor was drop those demands and reach an agreement to allow restaurants to serve diners in expanded sidewalk cafes as well as in nearby curb lanes and parking lots. The measure backed by the mayor would also allow street closures if three or more eateries join forces. Taverns and bars could also apply for an outdoor dining permit, but only after partnering with a restaurant to feed their patrons, according to the measure.
Johnson's decision was hailed by License Committee members at the first meeting led by Ald. Debra Silverstein (50th Ward), tapped by Johnson to lead the committee.
Several alderpeople praised Johnson for giving them the final say over outdoor dining permits — an indication that he will not wage the same battle against aldermanic prerogative as his predecessor.
"The fact that aldermen now have an equal seat at the table is incredibly important," Ald. Brendan Reilly (42nd Ward) said. "Aldermen need to have a seat at this table."
In other action, the City Council's Budget and Government Operations Committee endorsed a plan to use approximately $800,000 in unspent funds set aside for City Council members to make grants to organizations in their wards to boost the budgets for four committees and to create a new committee.
Nearly half of the funds will be used to give Burnett a budget of more than $407,000 for his work as vice mayor.
Burnett, who supported former Chicago Public Schools CEO Paul Vallas in the April mayoral runoff, lost his position as chair of the Pedestrian and Traffic Safety Committee under the reorganization plan crafted by Johnson and ratified on May 24 by the City Council.
But Johnson wants to add new duties to the job description to what was the purely ceremonial position of vice mayor and give the office a budget of $407,000. Burnett is set to serve as a community liaison for the mayor; his office's new budget means he will not have to fire his committee staff, many of whom have been with him for many years.
The newly created Police and Fire Committee, led by Ald. Chris Taliaferro (29th Ward), is set to get a budget of $261,000, according to the mayor's proposal.
In addition, the measure set for a final vote on Wednesday would also increase the budgets for the Health and Human Relations, the Immigrant and Refugee Rights, and the Workforce Development committees. All are led by allies of Johnson.
Contact Heather Cherone: @HeatherCherone | (773) 569-1863 | [email protected]
---