Chef and restaurant owner Chesa Rollins' recipe for restaurant ownership began with an unusual ingredient — a diagnosis.
"I was diagnosed with celiac disease," Rollins said. "I found out I was when I was three months pregnant, and I went to six or seven different specialists and at that time I started to lose hearing in my right ear. I was losing my hair; my vision was becoming blurry. Once you're pregnant and you have these gluten allergies, the symptoms are escalated, and no one could tell me what was wrong with me."
Rollins said even after the diagnosis, she still didn't get much guidance on how to eat without aggravating her condition.
"In the African American community, [celiac] wasn't a prevalent diagnosis," Rollins said. "So there was no one I could turn to to say, 'Hey, I need help.' And so for me, it was just a journey of exploring, you know, what to do and what not to do."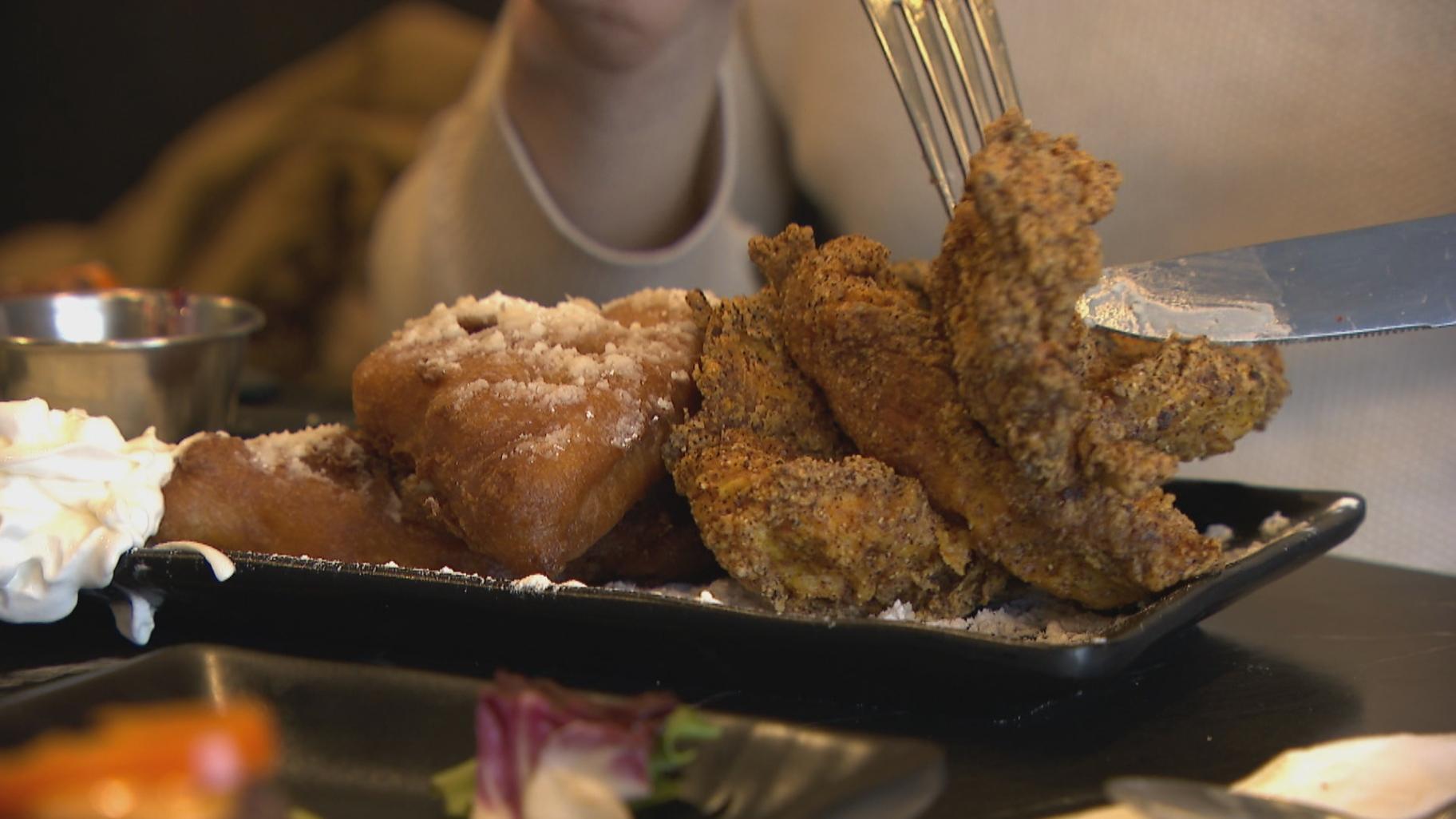 The kitchen at Chesa's Bistro & Bar is entirely gluten-free. (WTTW News)
That's when Rollins said she decided to blaze her own trail and open a gluten-free food truck — even though she was not a trained chef and had never owned a food business.
The menu at Chesa's Gluten-Free Food Truck, which she opened in 2016, leaned toward street food like wings and tacos. When Rollins opened her Avondale dine-in spot earlier this year, she rolled out a new menu that includes foods you might not expect to find gluten-free versions of — a style of food she calls "Southern twang."
"Southern twang is a spin on soul food, Creole-Cajun style food — fried chicken, fried catfish, fried lobster," Rollins said. "So I tried out rice flour, potato flour, anything that you could possibly think of that was gluten-free and [waited] to see how people responded to it."
Because the kitchen at Chesa's Bistro & Bar is entirely gluten-free, Rollins said customers with severe allergies can dine without worrying about cross-contamination.
"When they tell me that they have a gluten allergy or they're celiac, I'm like, 'Welcome home,'" Rollins said. "People are crying, like, 'I haven't had fried chicken, I haven't had mac and cheese in so long.' They're like, 'Oh my God, I can eat anything and not have to worry about if I'm going to have an allergic reaction.' There are a lot of places where they'll have gluten-free options, but they don't have a gluten-free kitchen, so there's still the danger. Here, there's no danger."
---