Most neighborhoods don't eagerly anticipate the weekly arrival of their sanitation engineer, colloquially known as the garbage man. But most neighborhoods don't have a national award-winning sanitation engineer like Felix Martinez taking away their trash.
Every year, the National Waste and Recycling Association selects a driver of the year from 80,000 garbage truck drivers working for member companies. Martinez is the driver who rose to the top of the heap in 2023, thanks in part to nominations from community members along his Mt. Prospect route.
What does it take to be named residential sanitation driver of the year? Safety comes first in what can be a very dangerous job. Martinez said in his 37 years as a driver, the way he does his job has changed tremendously.
"How you lift, how you push, how you pull this stuff. Back in the day, you just grabbed it and threw it," Martinez said.
And of course, punctuality is a virtue. Martinez said he clocks in for his route at around 5:15 a.m.
But where Martinez really cleans up is in customer service. Mt. Prospect resident Jan Stevens first met Martinez when he spotted her dragging waterlogged items out of her flooded basement while on his route.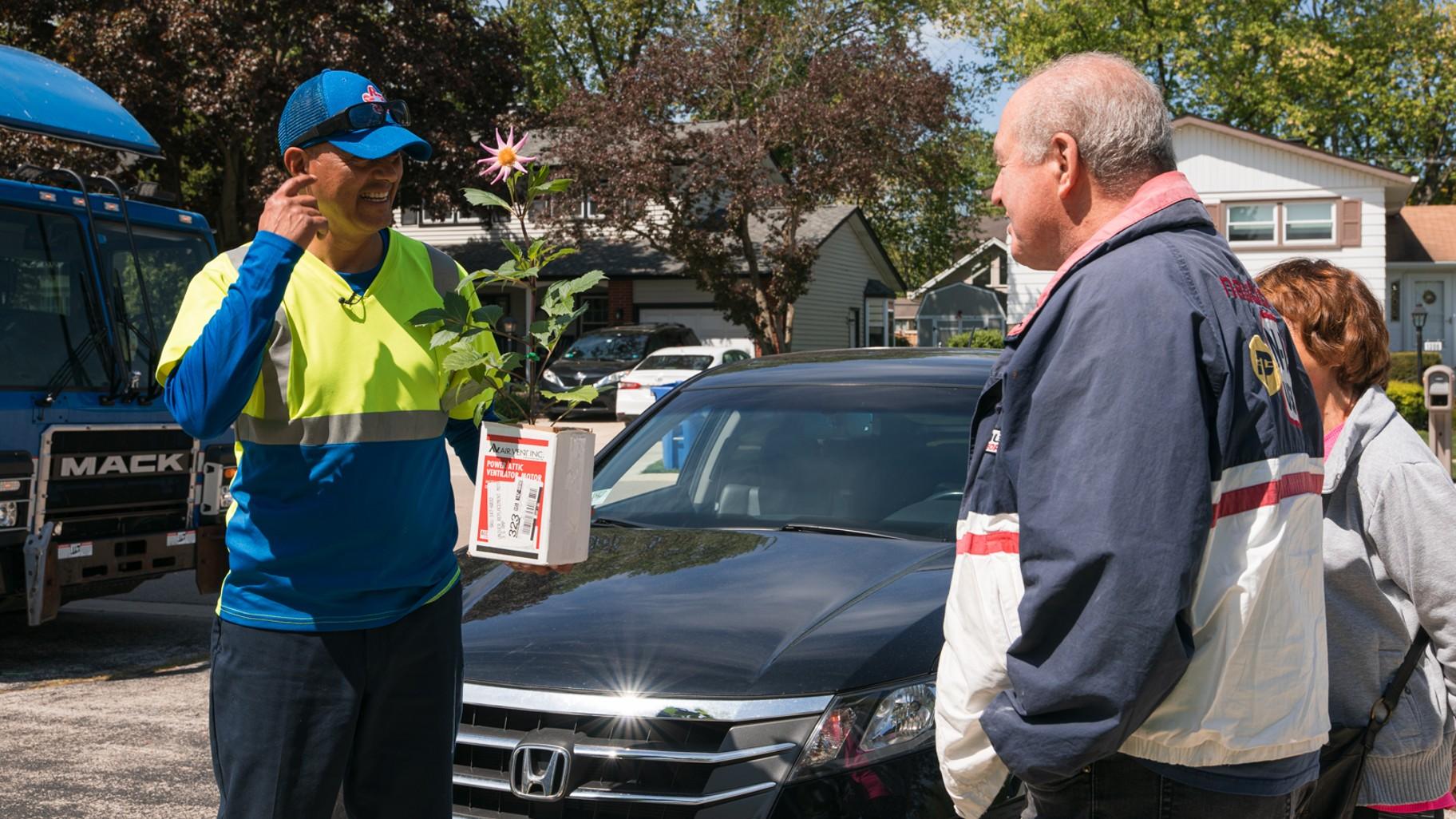 Felix Martinez was named residential sanitation driver of the year. (Michael Izquierdo / WTTW News)
"He jumped right out of the truck and ran to me," Stevens said. "That's somebody that automatically goes out of his way. I wrote a letter to Republic [Services], and I told them how wonderful Felix was and how I hope that they appreciated him. Never would I have dreamed down the road that he would have won the national honor."
When Fred Brill injured his back, he said, Martinez went the extra mile to help get the trash out — and now, they're good friends.
"That's a hard job to do," Brill said. "It's a benefit to our whole neighborhood that, that he's here. So we really appreciate him. It's taken a lot of years to really get to know each other, considering that our relationship is about three minutes once a week, you know."
"But normally if he doesn't come out, I'm calling him," Martinez added.
Martinez said he began working in trash collection right out of high school.
"I got into business because of my uncle Jose Martinez," Martinez said. "He told my mom he needed my help, had a big day, and so I got out of bed, 3 a.m., and went with him."
Martinez said he stuck with it because he enjoyed the work and the pay was good.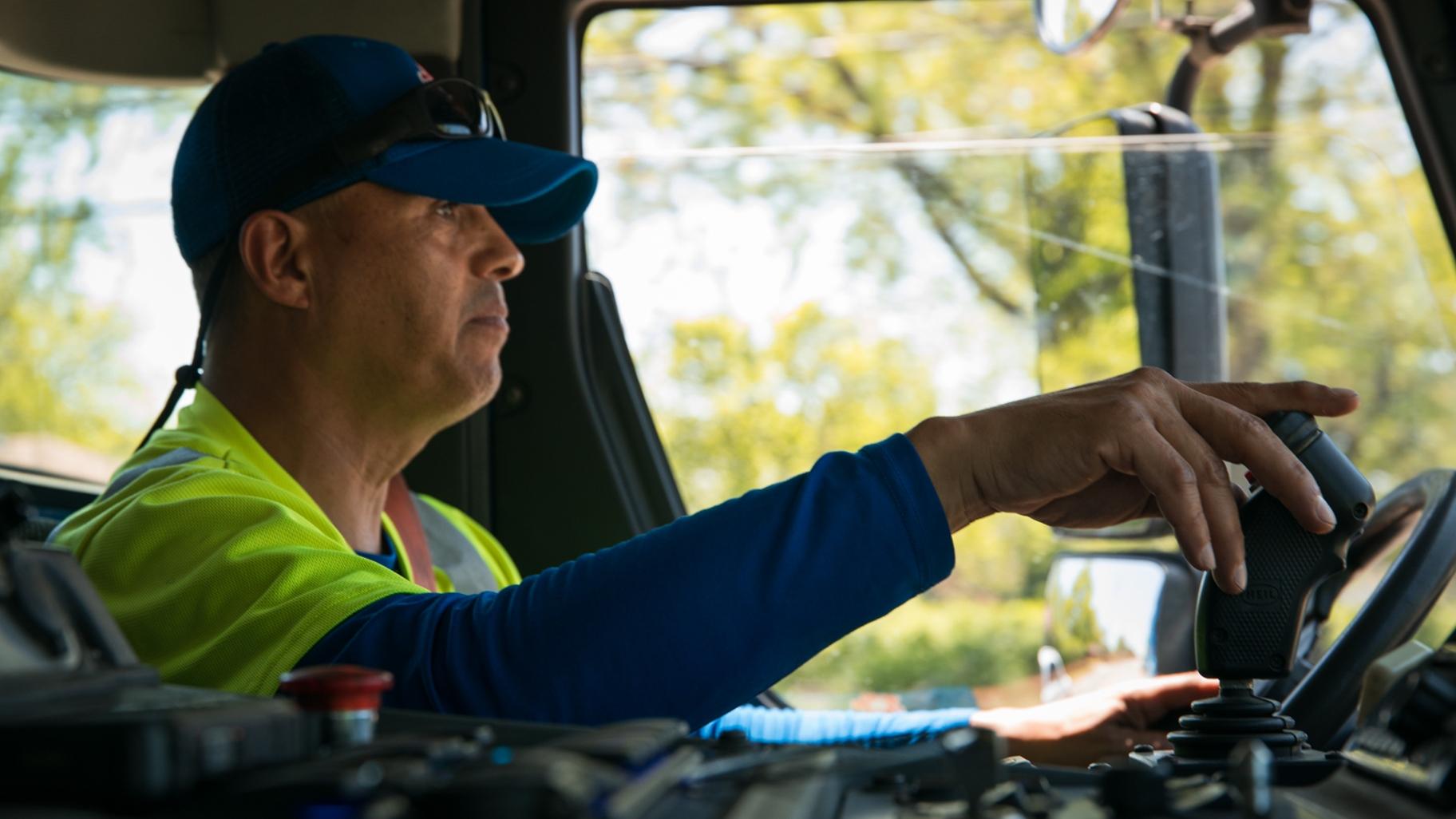 Felix Martinez was named residential sanitation driver of the year. (Michael Izquierdo / WTTW News)
"It was outdoors, and I was good at it," Martinez said. "You know what I mean? I was just fast."
But he said later on, a gregarious co-worker named Leroy helped him understand his job in a new way — he could collect friendships along with the trash.
"He didn't know he was probably being a mentor to me at the time," Martinez said. "He talked to people like I talk to people. And then [I] realize it now that [I'm] a lot like him, you know. It kind of makes me feel proud."
In his 26 years working for Republic Services, Martinez said he's found all kinds of ways to connect with and often help people on his route — and he said that's why for him, taking a moment to make a new friend is never a waste of time.
"I'll tell this elderly lady, 'It seems like you're moving too fast. You're making me look slow!'" Martinez said. "So I'll grab it from her and I'm like, 'I can do it faster.' So I'll walk the can down, and they get a chuckle out of it. Or if they're wearing a brace or using a walker, I'll tell them, 'I assume that's for fashion.' People don't take the time to talk to people. … I just need a little minute out of your day to talk to you."
---