Memories of a fifth-grade field trip to Gettysburg are at the heart of the subversive — but comedic — play "Underground Railroad Game," running at the Wirtz Center for Performing and Media Arts Chicago from May 18-20.
The play touches on heavy themes like race, power, sex and the American psyche, but its creators say it'll also make you laugh.
"I grew up in central Pennsylvania. It's a small town called Hanover, Pennsylvania," said co-creator Scott Sheppard. "We would take field trips to Gettysburg, where there was lots of reenactment and games, and one of the games we played was this game called the Underground Railroad game, which they set up and they basically had us sneaking these dolls around and the Confederate soldiers had to capture the dolls and the Union soldiers had to sneak the dolls in their backpacks and under their shirts to the different safe houses in the classrooms. It is pretty much an all-white school, and so I told this story to Jen in 2012 or 2013."
"I remember saying, I was like, 'I think that's the craziest sh-- I've ever heard.' Like that is just wild. And so I was floored," co-creator and actor Jennifer Kidwell said. "But we came up with these teacher characters and so from a place of, like, kind of craven pedagogy. What else might these people do? And like, how else might they be treating history from … an inability to actually really contend with it?"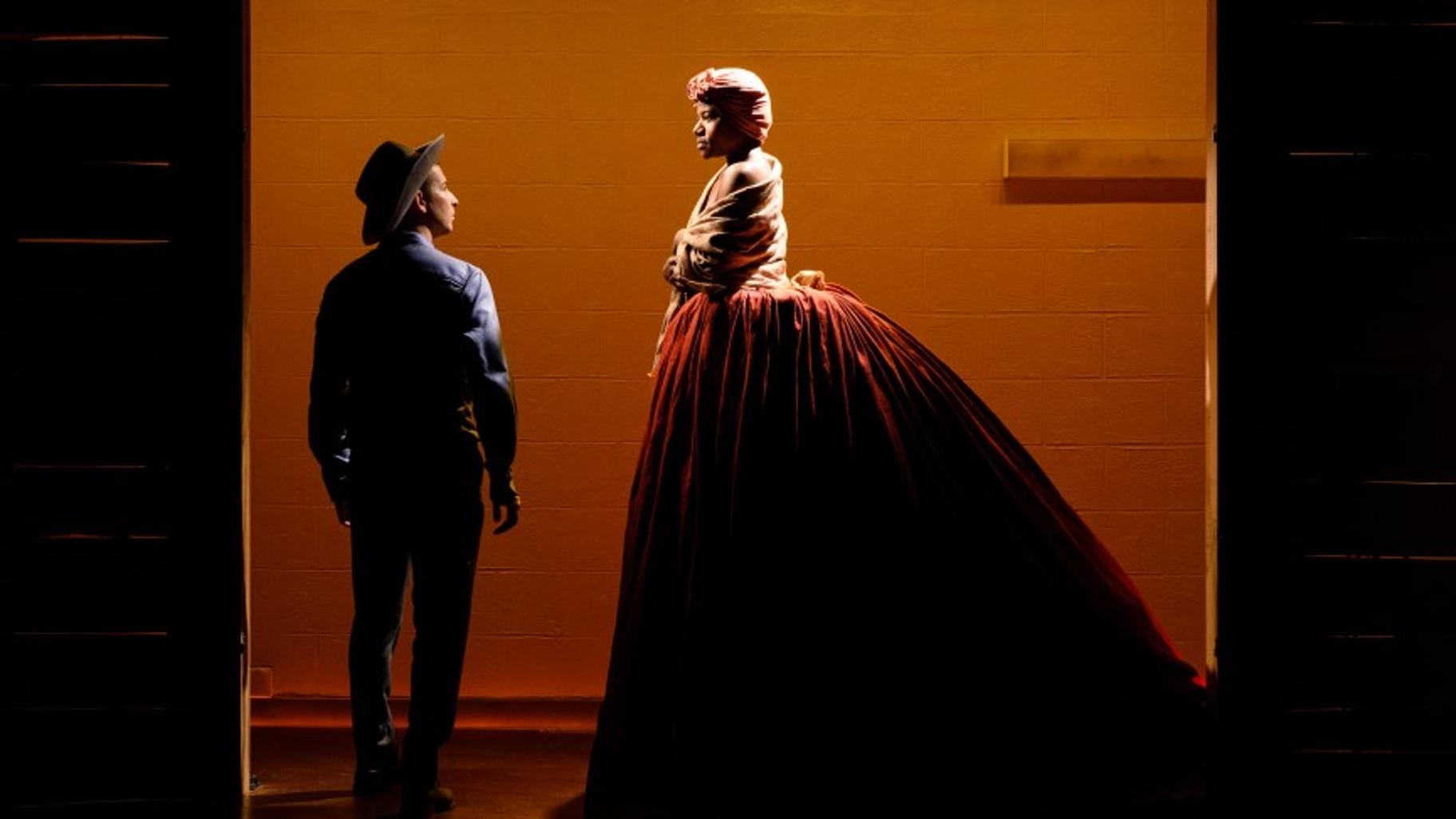 "Underground Railroad Game" is playing at the Wirtz Center for the Performing Arts May 18-20. (Ars Nova)
As a fledgling romance develops between the teacher characters, "there's drama at school and then there's also drama between their blossoming romance and then it kind of starts to go into more psychic spaces, perhaps, where we're asking … what is real and what's happening in the room versus what's happening outside of the room," Sheppard said.
"I think the running theme is competition," Kidwell said. "There's a competition between the students and there's, I would say a competition between, or a competitive edge between the teachers as well. That's part of the larger critique."
Sheppard and Kidwell first staged the play in 2016, and the last production was in 2019. They said that while the play has not changed, enough has happened since 2019 that this staging is taking on new meanings.
"There's a way that the world is shifting more than the art object," Kidwell said. "So, I'm looking at these plastic pieces and I'm like, they're fixed in their form, but the context of them is going to shift over time. We're going to encounter them differently over time. And so that's the same thing with performance."
"Underground Railroad Game" is playing in a limited run at the Wirtz Center for the Performing and Media Arts Chicago at Northwestern University. Tickets are available online or by calling the box office at 847-491-7282.
Note: This article has been updated with the full name of the Wirtz Center for the Performing and Media Arts Chicago.
---