For nearly two decades, Chicago Police Detective Reynaldo Guevara was an infamous presence on the city's Northwest Side. More than 50 people have accused Guevara of framing them for murders, coercing false confessions and engaging in other misconduct from the 1980s to the early 2000s. So far, 39 of those people have had their convictions thrown out.
In March 2023, 11 wrongfully convicted men filed a lawsuit against Guevara, the city of Chicago and other officers. Today, Guevara is in his 70s, retired and living out of state.
Johnny Flores was exonerated in 2022 and is one of the 11 who filed this new lawsuit against the city. Flores said his hopes for the lawsuit's outcome are simple.
"That this never happens again. That the system is corrected to where it is more transparent and no other citizen has to go through this," Flores said.
Demetrius Johnson was exonerated in 2019 after serving more than 20 years for a murder he did not commit. Johnson was arrested and charged when he was 15.
"I remember being a cry in the dark in the cell because of the way he was allowed to use his power," Johnson said. "I just remember those days being a cry in the dark in the cell wondering why and how could this happen, knowing that I was innocent. So I just know that there could be someone else that's going through that same thing right now because [Guevara] is not the first person that did something like this. So we have to bring light to situations like this."
Jacques Rivera was exonerated of his conviction for murder in 2011. After gaining his certificate of innocence, Rivera filed a civil lawsuit against Guevara in 2018. Rivera won.
"I had three kids at the time and during my incarceration who were 5, 7 and 6 months old," Rivera said. "Now that they're grown, I could also provide for them, give to them what I, what they, missed out on. I can't give them back me, per se, all those years that they missed out on, but I can help them financially."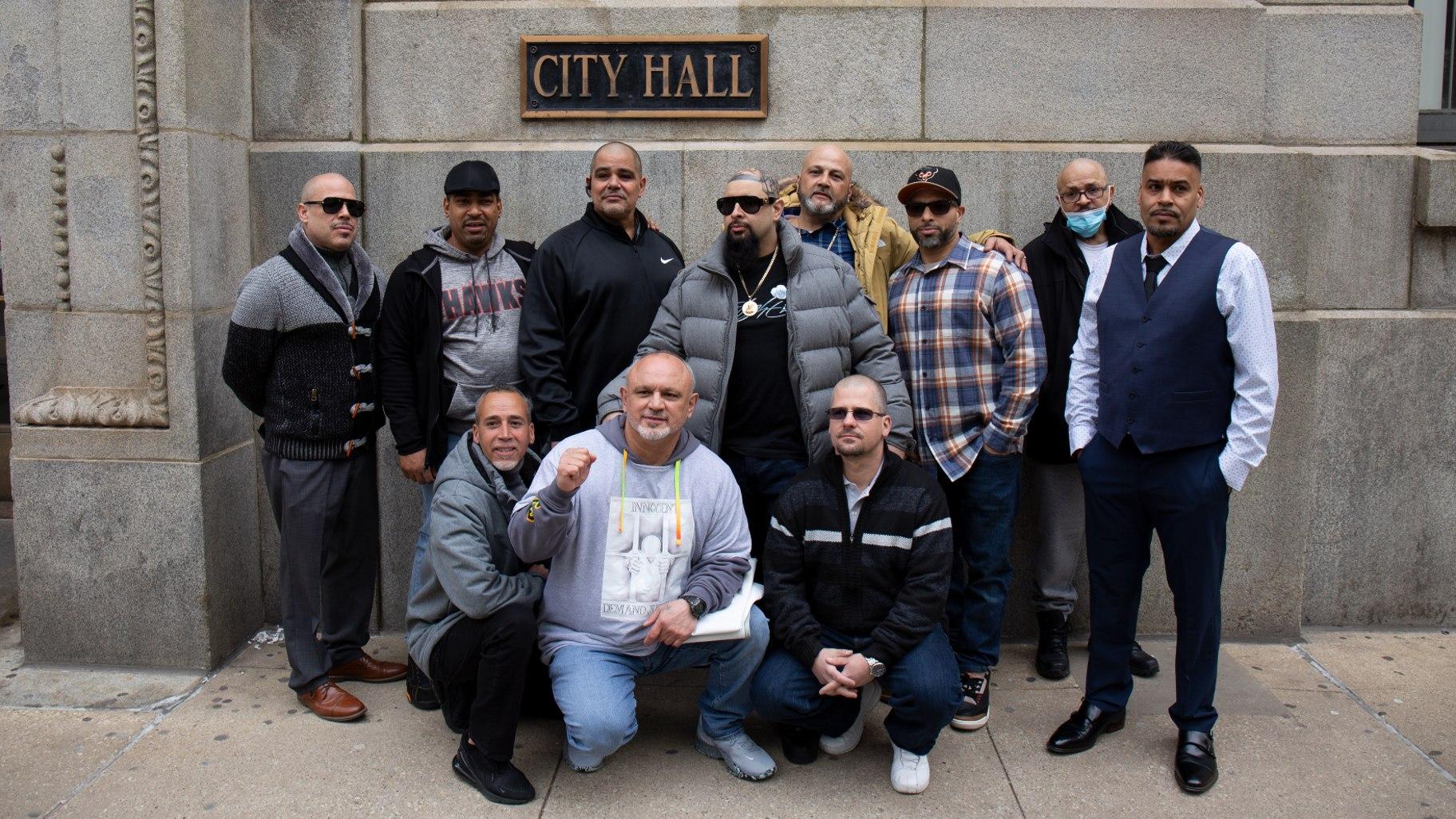 In March 2023, 11 wrongfully convicted men filed a lawsuit against former Chicago Police Detective Reynaldo Guevara, the city of Chicago and other officers. (Courtesy of Matt Thibodeau / Loevy and Loevy)
Anand Swaminathan, a partner at the Chicago-based civil rights law firm Loevy and Loevy, said the certificate of innocence is crucial to allowing the exonerees to move forward in their lives.
"For each of these men, they're only here today because they were able to convince the criminal justice system that it had made a mistake and that they need to be exonerated, and so their convictions were thrown out," Swaminathan said. "But the next steps for these guys is they've got to go get a certificate of innocence to show that this wasn't just some mistake that was made, it wasn't an accident. It was because these men were truly innocent. They didn't come home based on a technicality. It's important to these men because … it's the closest the state will ever come to admitting that it did something wrong. … The civil rights lawsuit that these men filed is their opportunity to say on offense, wait a minute, I'm no longer a defendant. I'm the person who gets to prove what these officers did, like Rey Guevara, what they did to me to frame me for this crime."
Flores said the years lost to incarceration were devastating for his family.
"They send you to different prisons throughout the state, further away from where you live. … The travel expenses and the phone expenses … for the family it's just very hard," Flores said. "Knowing that some of my loved ones had passed while I was in there and I would never see their eyes again or their smile. So that was pretty devastating."
Johnson said his understanding of the justice system is forever altered by his experience, and that is why he feels the need to speak out.
"I could see it just didn't happen because of one person, you know, it took more than one person to make that system work against me and other people like me," Johnson said. "So my view of it is, I appreciate the people, like, doing the work to bring justice to the situation … to bring light to the situation. We're able to expose this situation like we're supposed to and speak on it so that everyone can know that this situation is not the first and it happened before. … We lose a lot. It's very traumatizing in there during the time and coming out. It's like doing a whole another sentence because you're like in a box, can't spread your wings still, even after you're out of prison because of it."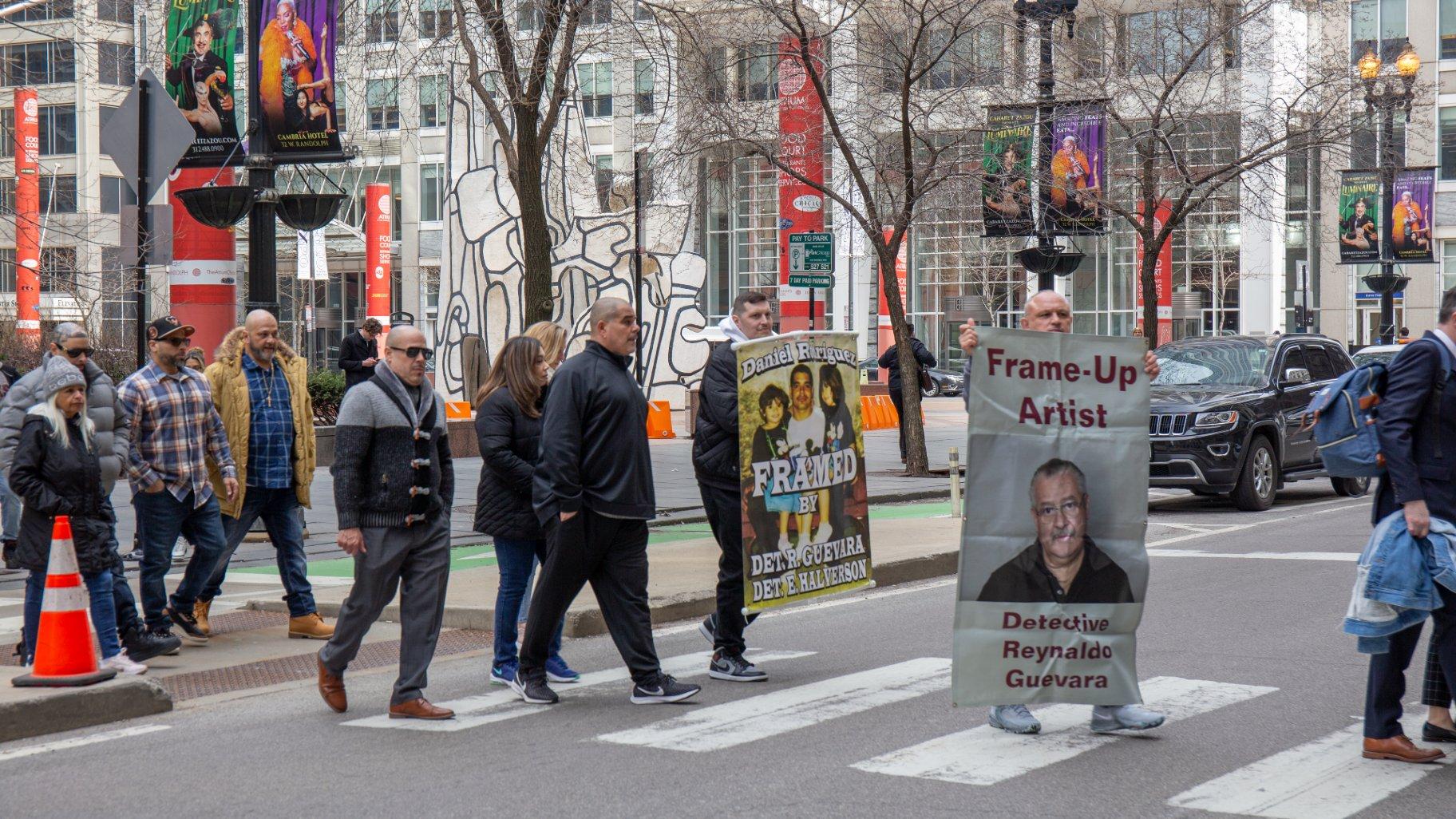 In March 2023, 11 wrongfully convicted men filed a lawsuit against former Chicago Police Detective Reynaldo Guevara, the city of Chicago and other officers. (Courtesy of Matt Thibodeau / Loevy and Loevy)
Swaminathan said the civil lawsuits are the only method that currently works to force the city to acknowledge police misconduct like Guevara's.
"There can be no accountability, there can be no change, unless there's acceptance first," Swaminathan said, "and there's got to be an acceptance that something wrong was done here. Everybody in the criminal justice system, the Illinois courts, the appellate courts, the state's attorney's office, have all acknowledged that Detective Guevara is a bad man and he did some very bad things and he wrongfully convicted a lot of people. The only person who still fights that and fights every one of these men when they file their lawsuits is the city of Chicago, and if the city of Chicago will not admit that this misconduct occurred, then how is it ever going to ensure that it doesn't happen again?"
Asked what he would say to Guevara given the opportunity, Rivera said he's thought about it often.
"I would definitely tell him I forgive him," Rivera said. "Part of my faith is to forgive others who had wronged me. But also I'd like to tell him that don't just carry that Bible that he carries around with him every time he goes to court — start reading it."
---