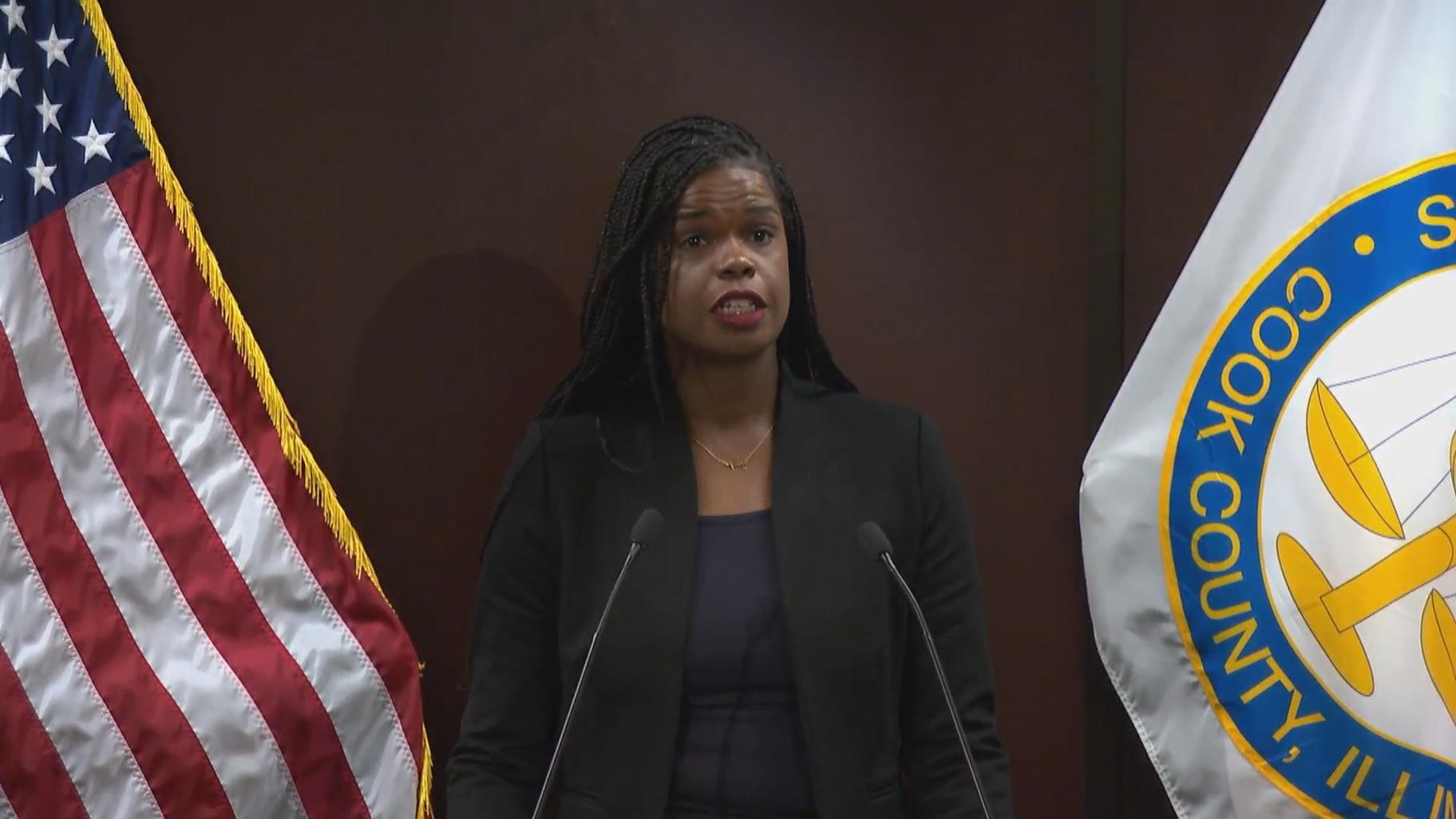 Cook County State's Attorney Kim Foxx speaks during a press conference on Aug. 9, 2022. (WTTW News)
Cook County State's Attorney Kim Foxx said her office no longer stands behind the murder convictions of eight people with cases tied to a disgraced former Chicago police detective who for years allegedly engaged in a "pattern and practice" of framing suspects and manipulating evidence.
Foxx on Tuesday said her office will not oppose post-conviction litigation for the seven men and one woman with murder convictions tied to ex-Detective Reynaldo Guevara because the state's attorney "no longer believes in the validity of these convictions or the credibility of the evidence."
"We can no longer stand by these convictions," Foxx said during a press conference at her Loop office.
Attorneys for the group believe this is the first mass exoneration involving homicide convictions in the history of Cook County, and possibly the country.
Five of the people convicted— David Colon, Johnny Flores, Nelson Gonzalez, Marilyn Mulero and Jaime Rios — were previously released after serving prison sentences ranging from 18 to 28 years. The three others — Carlos Andino, Alfredo Gonzalez and Louis Robinson — remain incarcerated.
Aside from this group, at least 24 others have already had convictions tied to Guevara thrown out. Foxx on Tuesday said she expects a similar outcome in at least three more cases in the coming weeks.
The convictions stemmed from murders that occurred between 1989 and 1996. Guevara, who was involved in each case, has repeatedly been accused of misconduct. Foxx on Tuesday accused the former detective of manipulating photo arrays and lineups, withholding evidence from prosecutors and using "coercive" interrogation tactics.
She also cited a judge's 2017 ruling in which he accused Guevara of telling "bald-faced lies" under oath. Guevara retired from the CPD in 2005 and has never been charged with a crime. He has since moved to Texas and continues to receive a police pension, Foxx said.
Guevara has declined to answer questions about allegations of misconduct in cases that have been overturned, citing his Fifth Amendment right against self-incrimination.
"I'm asking Kim Foxx to press charges, to pursue the prosecution of not only Guevara, but the other CPD agents that helped him convict these individuals," Nelson Gonzalez, who spent 22 years in prison, told reporters inside the Leighton Criminal Court Building Tuesday. "They created chaos within many families and we're not going to stop. We're going to keep going, we're going to keep pushing."
Despite Tuesday's actions, Foxx said her office is not taking a stand on whether any of those involved in these exonerations is actually innocent. Rather, she said she does not believe they could not re-try these cases based on the available evidence.
These murder cases will be re-opened, and its possible additional investigations are undertaken.
Foxx said that Guevara's actions, like those of Jon Burge and Ronald Watts, have left a "significant stain on the justice system that we can no longer afford to ignore."
"This is just the beginning," said attorney Russell Ainsworth, who represents Colon and Flores. "There is a community of people who have gathered and they will not stop until every single Guevara victim has been released."
Heather Cherone contributed to this report.
This is a devloping story. Check back for updates.
Contact Matt Masterson: @ByMattMasterson | [email protected] | (773) 509-5431
---