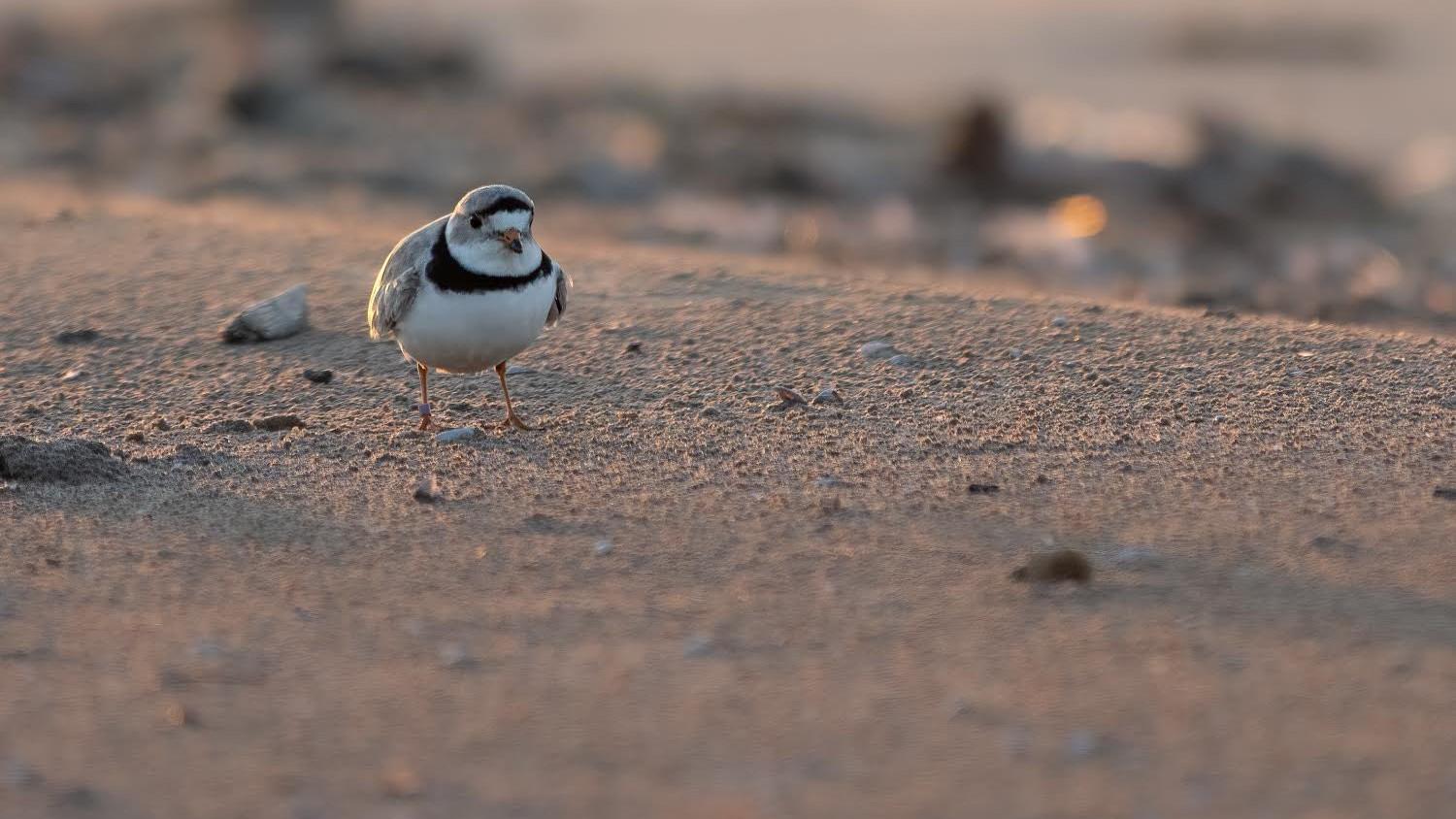 Imani at Montrose Beach, April 2023. (Courtesy of Matthew Dolkart)
There's a love triangle brewing at Montrose Beach. Imani the piping plover has been joined by a hoped-for female, but in an unexpected plot twist, he has competition in the form of a mystery bachelor. 
Let the dating games begin.
Imani may have the edge, what with Montrose being his home turf. He's already spent a couple of days at the beach establishing his territory, versus the other male, who birders suspect wandered over from 57th Street Beach.
Chicagoans may be pulling for Imani, but any pair of nesting plovers would be a win for these endangered birds, which have dwindled in numbers due to loss of shoreline habitat.
For those wondering how to tell one plover from another, here's how the experts do it: First they look for ID bands on the plover's legs, which wildlife officials place on chicks like Imani that have hatched from known nests. The mystery bachelor and bachelorette are unbanded.
To tell a male Great Lakes piping plover from a female, birders pay close attention to plumage. Males tend to have a black "unibrow" that stretches eye to eye, while females' brow stops short of the eye.
BREAKING: Unbanded female Piping Plover joins Imani and unbanded male on Montrose Beach.

: Kevin Lin (unbanded female, Montrose Beach, Chicago, April 27, 2023) pic.twitter.com/ArmIz2q2so

— Chicago Piping Plovers (@ChicagoPiping) April 27, 2023
---
The Montrose Beach Bachelors

: Doug Boehm (Imani and unbanded Piping Plover, Montrose Beach, Chicago, April 26, 2023) #chicago #plover #bird #birds #birdwatching #birdphotography pic.twitter.com/0zgR1ueqXH

— Chicago Piping Plovers (@ChicagoPiping) April 27, 2023
---
Contact Patty Wetli: @pattywetli | (773) 509-5623 |  [email protected]