It's officially piping plover season in Chicago.
Imani, a 2021 chick of beloved lovebirds Monty and Rose, has been confirmed at Montrose Beach by plover monitors, who recognized the unique bands on his legs. Word flew fast among birders, and Imani is already drawing an adoring crowd.
Toting binoculars, scopes and high-powered camera lenses, a cluster of "piperazzi" responded to the breaking Imani news by gathering on the Montrose pier Wednesday morning, not minding one bit a frigid wind whipping off Lake Michigan.
"There's nowhere I'd rather be than here," said Ani Chandler, a plover monitor whose acquaintance with Imani goes back to his fledgling days.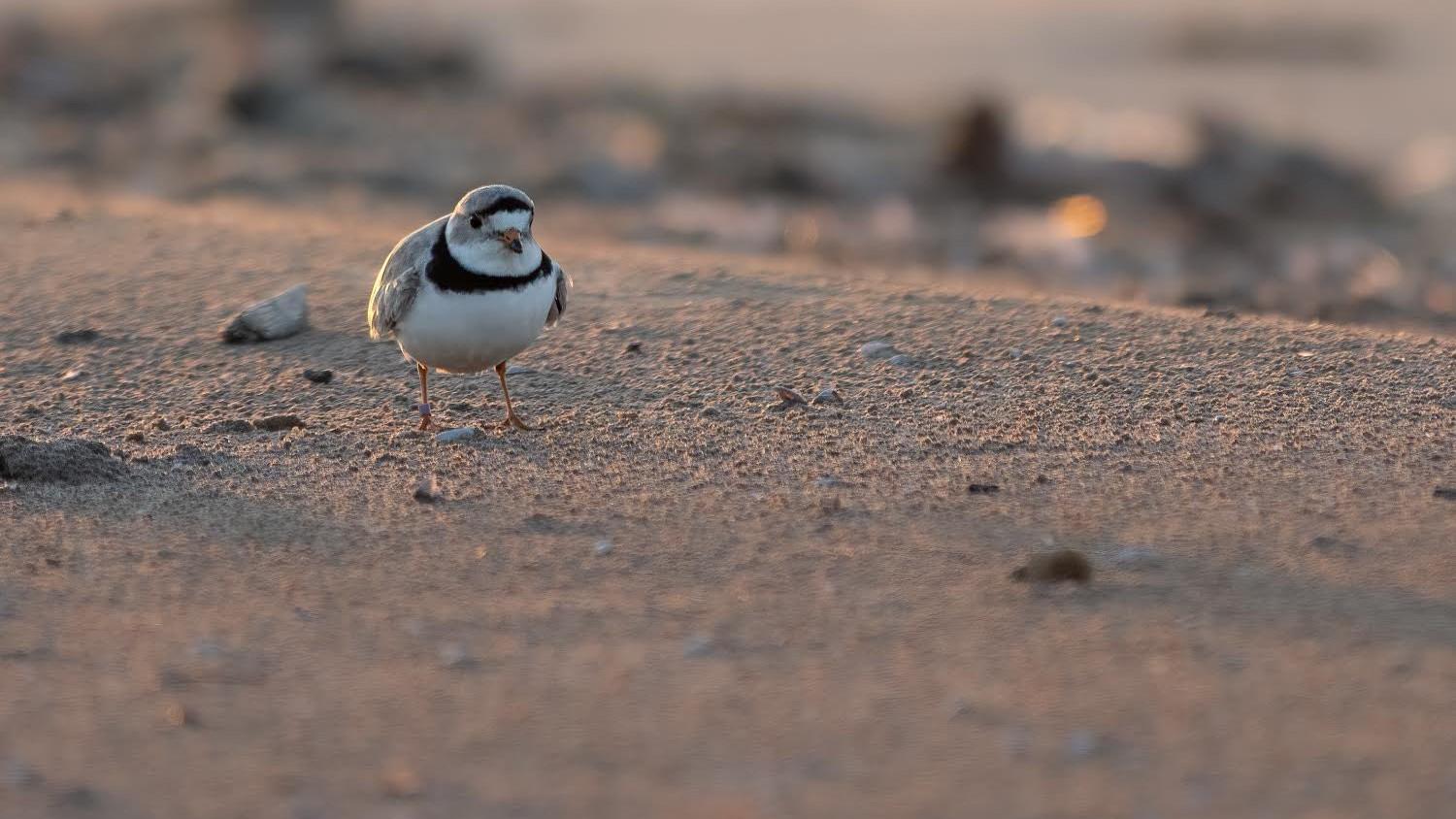 Imani at Montrose Beach, April 2023. (Matthew Dolkart)
As the piperazzi scanned the beach — already fenced off by the Chicago Park District — every sighting of Imani sent a ripple of excitement up and down the pier. "Where?" "There, behind the log on the beach ... to the left of the gulls ... look for the orange ball."
The big question on everyone's mind is whether Imani will spend the summer in Chicago — which he did in 2022 — or whether he's just making a pit stop on his way further north. Hopes are high he'll settle down and maybe attract a mate.
"Imani is signaling, he's piping," and if that piping catches the attention of a female plover as she just happens to be flying over Montrose, Chicago may have another love match, explained Tamima Itani, affectionately known as "plover mother." 
"The challenge is: There's very few of them. You're hoping one will come through," she said, and added jokingly that a mail-order catalog for plover brides would come in handy.
Birders use binoculars to scan for Imani from a safe, non-intrusive distance. (Patty Wetli / WTTW News)
In all seriousness, in terms of wooing a partner, two things are working in Imani's favor, Itani said. For starters, piping plovers are still in migrating mode, unlike 2022, when Imani made a late arrival at Montrose after first detouring to Minnesota.
And second, 2022 saw a record number of piping plover fledglings, meaning there's a host of plovers looking for their first nesting site. "They're open-minded, they're not wedded to a location," said Itani. 
Stranger things have happened, as Chicago can attest.
A scene like Wednesday's would have been unthinkable five years ago. Back then, piping plovers hadn't nested in Chicago since the 1940s. The bird's Great Lakes population, never particularly large, had dwindled to endangered status, with Sleeping Bear Dunes in Michigan a rare stronghold.
So when Monty and Rose independently turned up at Montrose Beach in 2019, birders and conservationists were excited, but there was no realistic expectation the pair would successfully breed.
Watch: Monty & Rose 2: The World of Monty & Rose
"When we saw Monty scraping nests and saw them mating, even when the first egg was laid, we were dubious," Itani said.
Yet Monty and Rose defied the odds, scrappily rearing three successive broods of chicks on a Chicago beach and capturing a city's heart in the process.
That heart collectively broke, twice, in 2022. First when Rose failed to appear for the couple's annual spring reunion, and again when the ever-faithful Monty suddenly died at Montrose in May of what was later determined to be a fungal infection.
"I have to say, it was just crushing when Monty died," said Janet Pellegrini, a devoted plover monitor who had burned vacation days in order to keep tabs on Monty and Rose.
Enter Imani, a name that means "faith" in Swahili, who landed at Montrose days after Monty died.
"(Monty) was so cosmic, Imani showed up for his father's funeral," Pellegrini said.
And yes, Pellegrini, who has a degree in biology, knows from a scientific perspective that assigning emotions to animals is typically frowned upon, but when it comes to the plovers, it's difficult to take emotion out of the equation — especially because it does so much good.
Just giving Monty and Rose names, much less anthropomorphizing their fairytale love story, brought Chicago-sized attention to the plight of a species of endangered birds.
"We can't chide ourselves, especially if it garners support from the community," Pellegrini said.
It's important for that support to extend to the beach itself, she added. During an Earth Day cleanup at Montrose, Pellegrini helped pick up glass not far from where Imani was foraging for food. The total haul weighed 42 pounds.
The dunes at Montrose are a relatively recent phenomenon — or, more accurately, a recent return to pre-settlement form — tended to for 20 years by dedicated stewards led by Leslie Borns.
"This is a testament to what can happen when you restore habitat," said Jeff Skrentny, a Chicago Ornithological Society board member. "No dunes, no plovers. We won't see birds if we don't have habitat."
Plover monitors and birders turned out to catch a glimpse of Imani the piping plover, April 26, 2023. (Patty Wetli / WTTW News)
Here's where Itani makes her pitch for people to respect the dunes and beach, and the Park District's fencing, as Imani's home.
He'll stay, she said, if he's given space to rest, bulk up to breeding weight and set up a territory. If people and/or dogs interrupt or threaten Imani, he's going to question whether this is the best place for him. "He still can leave," Itani said.
As Imani took a bath, preened and ate, Itani marveled at the long distance he had traveled and all the risks he faced en route. Plovers are so vulnerable, she said as she eyeballed a hawk circling the beach.
But if Imani is anything like his parents, "He's going to have what it takes to make it here," said Ani Chandler.
Last year, she watched him defend his stretch of Montrose Beach like a pro. "He's got a little bit of spicy in him," she said. 
Now he just needs to meet his match.
UPDATE: A second unbanded male plover has also turned up at Montrose, as of Wednesday afternoon. It's thought to be the same bird spotted earlier in the week at 57th Street Beach. "Now we only need two little gals," Itani said.
The pier at Montrose is a popular spot for plover-watching. (Patty Wetli / WTTW News)
BREAKING: Imani has returned to Montrose Beach! #chicago #plover

— Chicago Piping Plovers (@ChicagoPiping) April 26, 2023
---
Imani, one of Monty and Rose's 2021 chicks who returned to Montrose in 2022, is back! We are thrilled!

: Matthew Dolkart (Imani, Montrose Beach, Chicago, April 25, 2023) #plover #chicago #bird #endangeredspecies pic.twitter.com/78Gnd0eOF1

— Chicago Piping Plovers (@ChicagoPiping) April 26, 2023
---
For folks following Piping Plovers - the return of Imani - baby of Monty & Rose - is a tremendously wonderful thing https://t.co/uzj9O8hobj

— NYC Plover Project (@NycPlover) April 26, 2023
---
Contact Patty Wetli: @pattywetli | (773) 509-5623 |  [email protected]