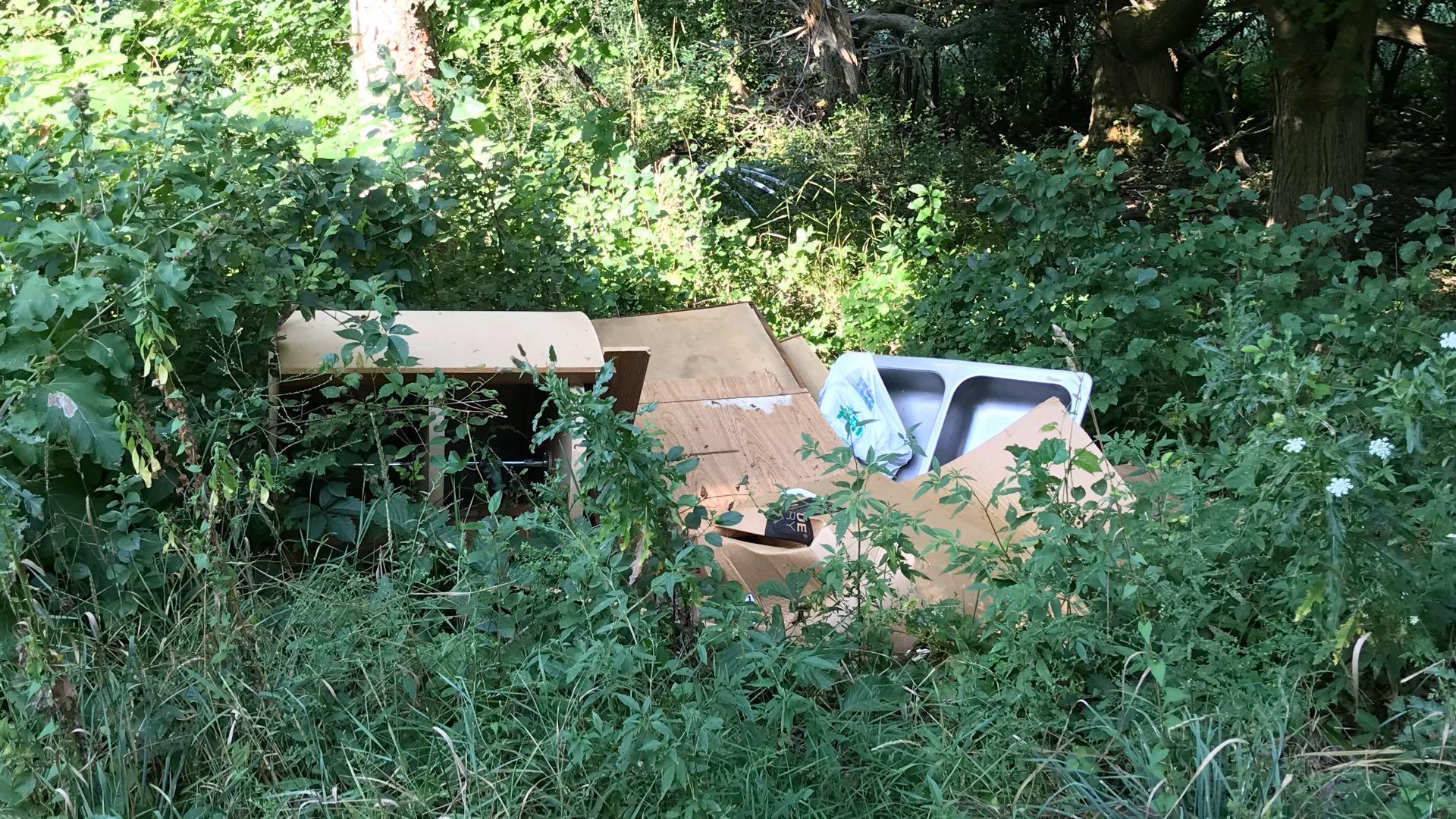 People dump everything, including the kitchen sink, in Cook County's forest preserves. (Courtesy of the Forest Preserve District of Cook County)
Cook County officials are hoping to curb the illegal practice of fly dumping by offering people a legitimate alternative in the form of a new, permanent drop-off site for items including electronics, furniture and Styrofoam. 
The Center for Hard to Recycle Materials (or CHARM Center) will open at 8 a.m. Saturday in South Holland on the campus of South Suburban College, a first of its kind for Cook County, said Cook County Board President Toni Preckwinkle at the center's ribbon-cutting Thursday.
"It's free, it's free, it's free — to all residents of Cook County," Preckwinkle emphasized, adding that $1 million in American Rescue Plan Act funds were used to establish the center.
To help process items brought to the center, the county has teamed up with a number of partners, including Helping Hands Recycling to oversee textiles and PCs for People to handle computer equipment.
Along with hard-to-recycle items, the center will also accept common recyclables such as cardboard, plastic bottles and aluminum cans, providing a much-needed service for residents of surrounding communities where municipal recycling isn't available.
"It's expensive for some of us, so we go without," said Terry Wells, mayor of the village of Phoenix. "Whenever there's a recycling event, we rush out and get in line."
"This project checks all the boxes," said James Jennings of the Illinois EPA. It addresses Styrofoam, which is of the biggest contaminants in curbside recycling, he said, and it also tackles the challenge posed by items for which there isn't a simple "end of life" recycling solution. 
With landfill capacity growing scarce in the region, reducing waste is more important than ever, he said.
Hours for the CHARM Center, at 15800 State St., South Holland, will be: Tuesdays, 7 a.m. to noon; Thursdays, 2-7 p.m.; and the second Saturday of every month, 9 a.m. to 3 p.m. 
Contact Patty Wetli: @pattywetli | (773) 509-5623 |  [email protected]
---