"Chicago Tonight" is hitting the streets to speak with your neighbors, local businesses, agencies and leaders.
As part of a special edition of this week's In Your Neighborhood series, "Chicago Tonight" took a trip to Mayor-elect Brandon Johnson's Austin neighborhood. He's the first mayor in nearly a century to call the West Side home.
First on his list: Michele Clark High School.
Students at Michele Clark High School are no strangers to gun violence — experiencing two nearby shootings last year, including one in December that killed a 15-year-old.
"I know what you all have been through because it's just down the street from me," Johnson told a group of students. "When my 15-year-old son rides his bike in the neighborhood, you think about his safety. When these corporate leaders and these CEOs — because I'm bringing them to the neighborhood — they're not just meeting me, they're going to meet you all as well. I want you to begin to tell these leaders exactly what your peers need to help find their purpose, to find fulfillment so that you can be your very best."
Interactive map: More from our community reporting series
Meanwhile, BUILD Chicago, located right across the street from the school, has played a key role in trying to counter violence with youth empowerment.
"What BUILD has done," Johnson said, "it has demonstrated the very best of community organizations because they provide that additional support not just during the day but after school. Mental health services, the violence interrupters, but also the arts, the ability for students to find purpose. It's not just about finding a safe haven, a drop-off center. We're better than that. It's about organizations helping students discover who they are and then in the midst of that discovery, they find out their talents and they figure out that they can contribute."
Less than 10 minutes away is the Green Line, which Johnson used to get downtown for his work as a Cook County commissioner. Often he used the Central or Austin stops.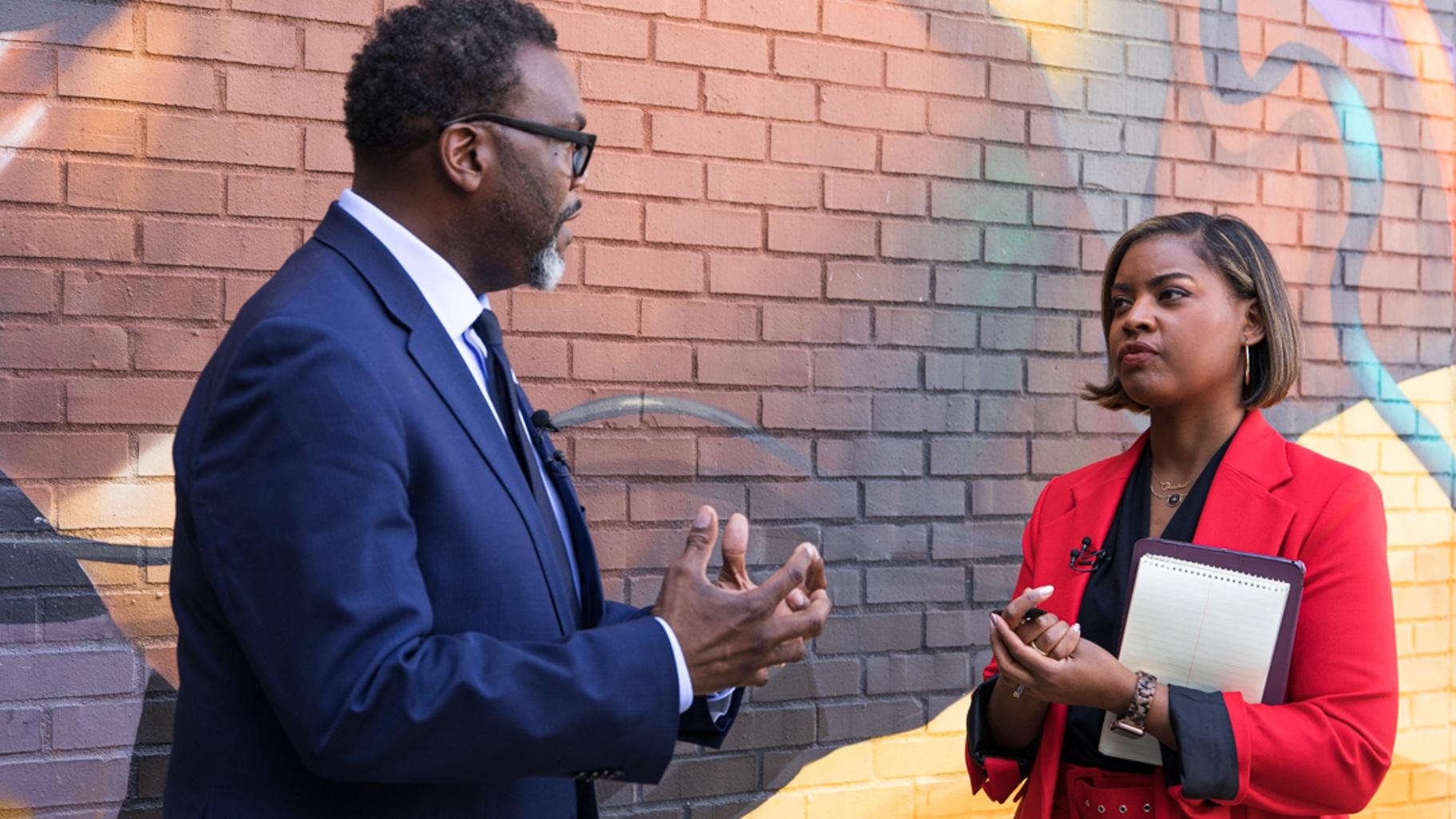 Mayor-elect Brandon Johnson takes "Chicago Tonight" co-anchor Brandis Friedman on a tour of the Austin neighborhood on April 13, 2023. (Michael Izquierdo / WTTW News)
"Once upon a time, I'd spend more time reading," Johnson said, "but a lot of times, when taking the train, [I'm] taking kids to summer camp at Garfield Park or heading downtown for board meetings. So usually, I'm looking at the board agenda, whatever item numbers we have to address. Once upon a time, you'd take that time for leisure."
Down the track, Johnson will have to help CTA make its services more accessible to all residents.
"Having regular bus-only lanes to traffic signals that give preference or deference to our buses, that will help allow for our transportation to move more fluidly," Johnson said. "But we also have to recognize that for many of our stops, particularly the Green Line, it's the one line in Chicago that services the West and South Side of Chicago. ... I think about accessibility, particularly with those individuals with disabilities, but also individuals who rely on lines for housing."
Another one of Johnson's Austin favorites? Columbus Park. It's one of few parks to be designated a National Historic Landmark in its entirety.
"Chicago Tonight" ended the day at one of Johnson's go-to restaurants. It's a place that gets a lot of love for its Southern cuisine: MacArthur's Restaurant.
"When I do come here, to me if you're gonna come here, get the thing! You know what I'm saying? … Be healthy the next day," Johnson said. "Of course, the greens are great, but you know the sweet potatoes and macaroni and cheese, you can never go wrong."
Read More: Brandon Johnson on Raising a Family in Austin, Choosing the Next Top Cop
---
Community Reporting Series
"Chicago Tonight" is expanding its community reporting. We're hitting the streets to speak with your neighbors, local businesses, agencies and leaders about COVID-19, the economy, racial justice, education and more. See where we've been and what we've learned by using the map below. Or select a community using the drop-down menu. Points in red represent our series COVID-19 Across Chicago; blue marks our series "Chicago Tonight" in Your Neighborhood.
---