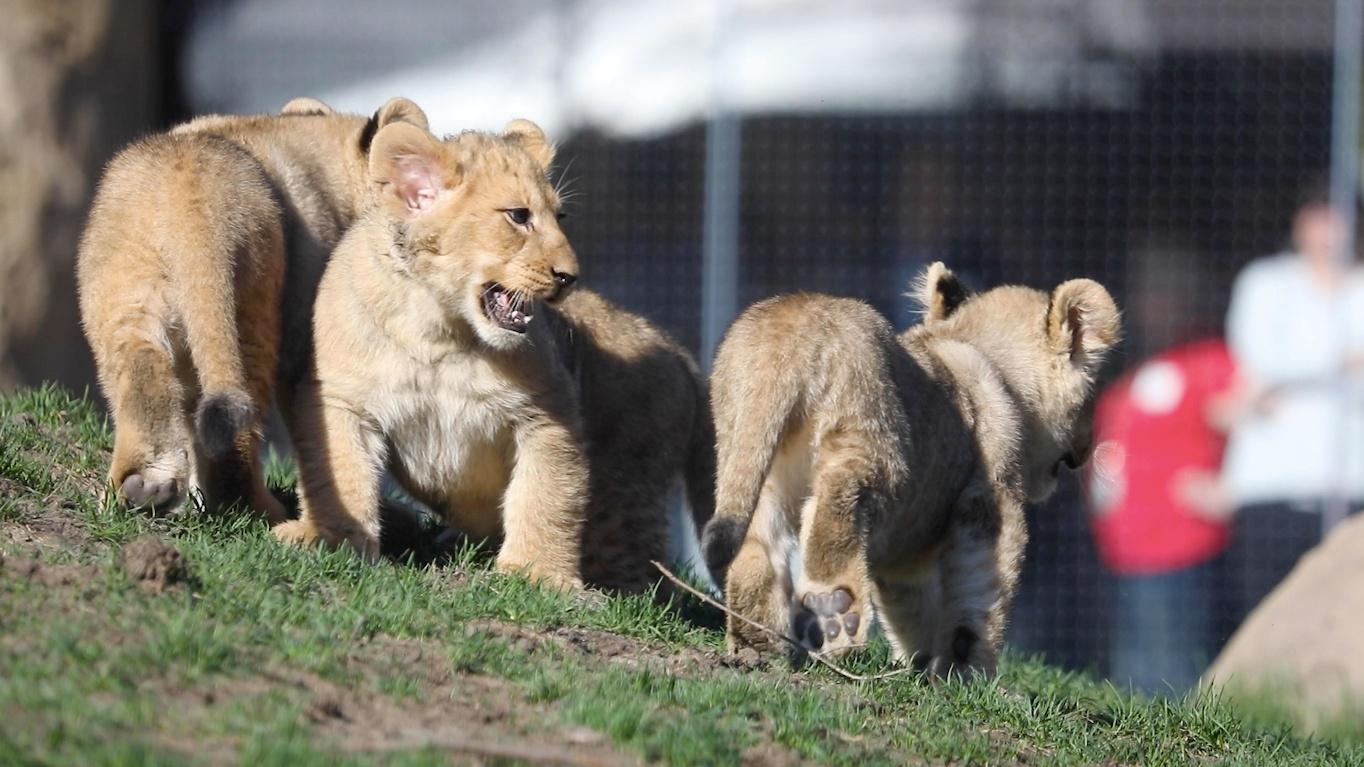 Lincoln Park Zoo's new lion cubs make their public debut, April 14, 2023. (Courtesy Lincoln Park Zoo)
These cubs sure know how to make an entrance.
On Friday, Lincoln Park Zoo's three new male African lion cubs greeted the public in their outdoor habitat for the first time since they were born Jan. 9. The energetic trio scampered, nuzzled, frolicked and at times tested the patience of mom Zari just like all youngsters.
The debut took place during a special event for zoo members and the press, with the cubs expected to have regular access to the exhibit if they choose beginning April 15.  Members of the lion pride make their own decisions about where to spend their time, zoo officials said.
Up to this point, the cubs — Pesho (pe-sho), Sidai (see-dye) and Lomelok (low-mey-lock) — have been bonding behind the scenes with Zari.
The three "have surpassed many critical milestones including nursing, opening their eyes, their first vet exam and meeting the rest of the lion pride, to name a few," Maureen Leahy, vice president of animal care and horticulture at the zoo, said in a statement. "We are so excited to watch them continue to grow, discover the habitat and see their individual personalities shine through."
The new cubs join big brother Pilipili, who was born to Zari and partner Jabari in March 2022 (gestation for lions is roughly 110 days). 
Lion populations have declined for the past 100 years, with fewer than 20,000 remaining. Lincoln Park Zoo is a partner of the KopeLion Project based in the Ngorongoro Conservation Area in northern Tanzania.
Contact Patty Wetli: @pattywetli | (773) 509-5623 |  [email protected]
---