A Chicago firefighter who was critically injured while fighting a Gold Coast blaze Wednesday morning has died, one day after another firefighter was killed battling a multi-home fire in West Pullman.
The Chicago Fire Department responded after flames broke out on the 27th floor of a high-rise building at 1212 North Lake Shore Drive Wednesday morning. While there, the CFD called for a mayday and an emergency medical response after Lt. Jan Tchoryk, 55, suffered critical injuries.
Crews began performing CPR on Tchoryk immediately, but despite those measures, he died, Fire Commissioner Annette Nance-Holt said.
"This has been a tragic week for us. Unprecedented," she said at a news conference Wednesday.
Three other firefighters were also hospitalized in fair to serious condition, Nance-Holt said, and two civilians were treated and are in good condition.
Tchoryk was removed from the building by 8:30 a.m. and was taken to Northwestern Hospital.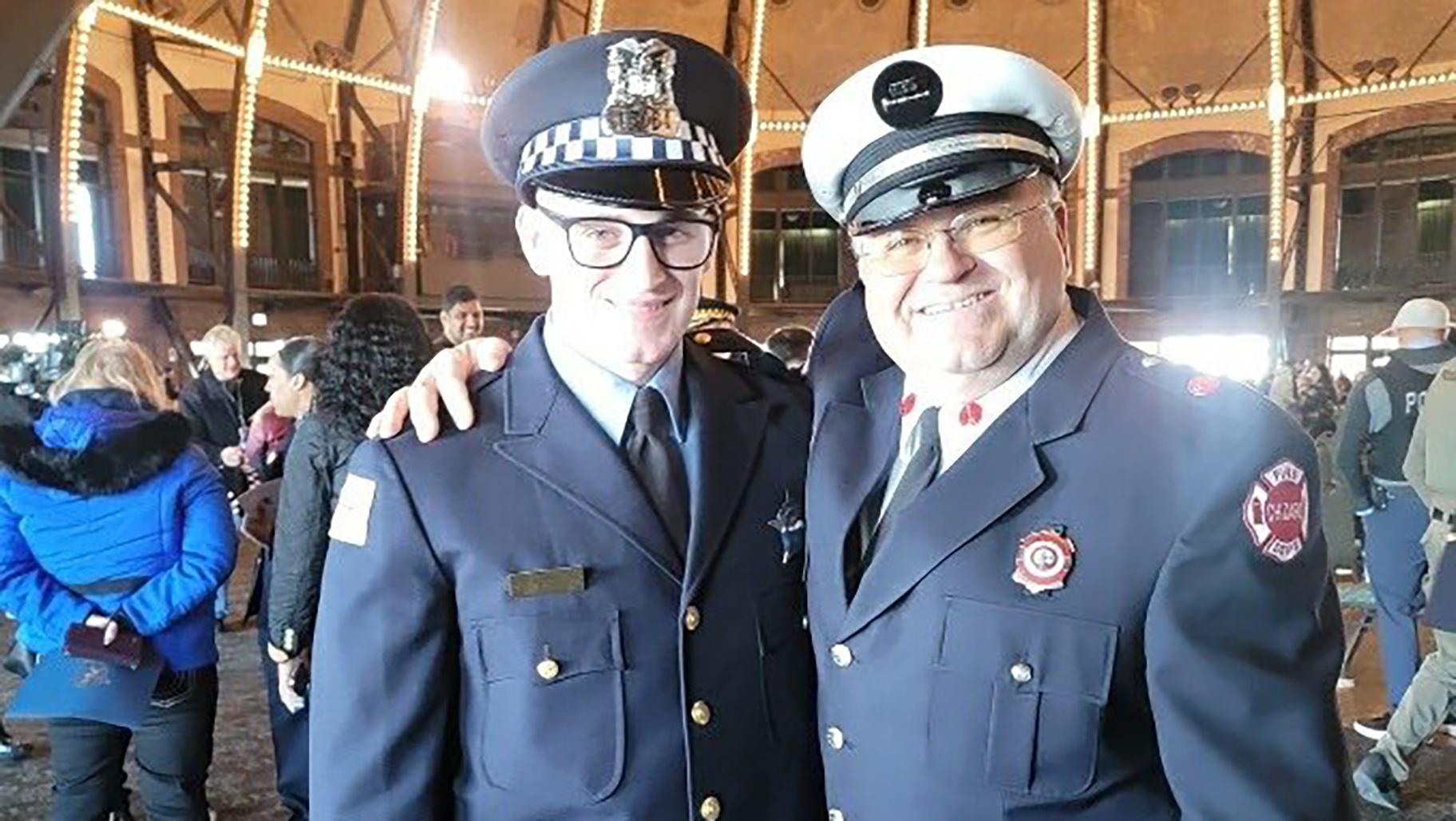 Lt. Jan Tchoryk, right, died while responding to a fire on April 5, 2023. He is pictured with his son Chicago police Officer Dylan Tchoryk. (Provided by Chicago Fire Department)
As of 9:35 a.m., firefighters had put out the main body of the fire, which had been confined to one large apartment on the 27th floor. According to the CFD, the building does not have sprinklers on the 27th floor and elevators are out of service, meaning firefighters must climb dozens of flights of stairs to battle the blaze. 
Tchoryk was on his way to the fire when he collapsed.
"He was making his way up to the fire floor, they had to take the stairs because the elevators were out," Nance-Holt said. "And then he went down."
Tchoryk joined the department in 1997. According to Nance-Holt, he was a Navy veteran who served in Operation Desert Storm and was a bicycling and motorcycle enthusiast. 
Tchoryk's death comes one day after 49-year-old Jermaine Pelt died while battling a fire at a home near 120th and Wallace streets.
"I can't tell you how this impacts us losing two members in two days," Nance-Holt said. "This job is dangerous and you never know if you're coming home despite the best training and equipment that we can provide."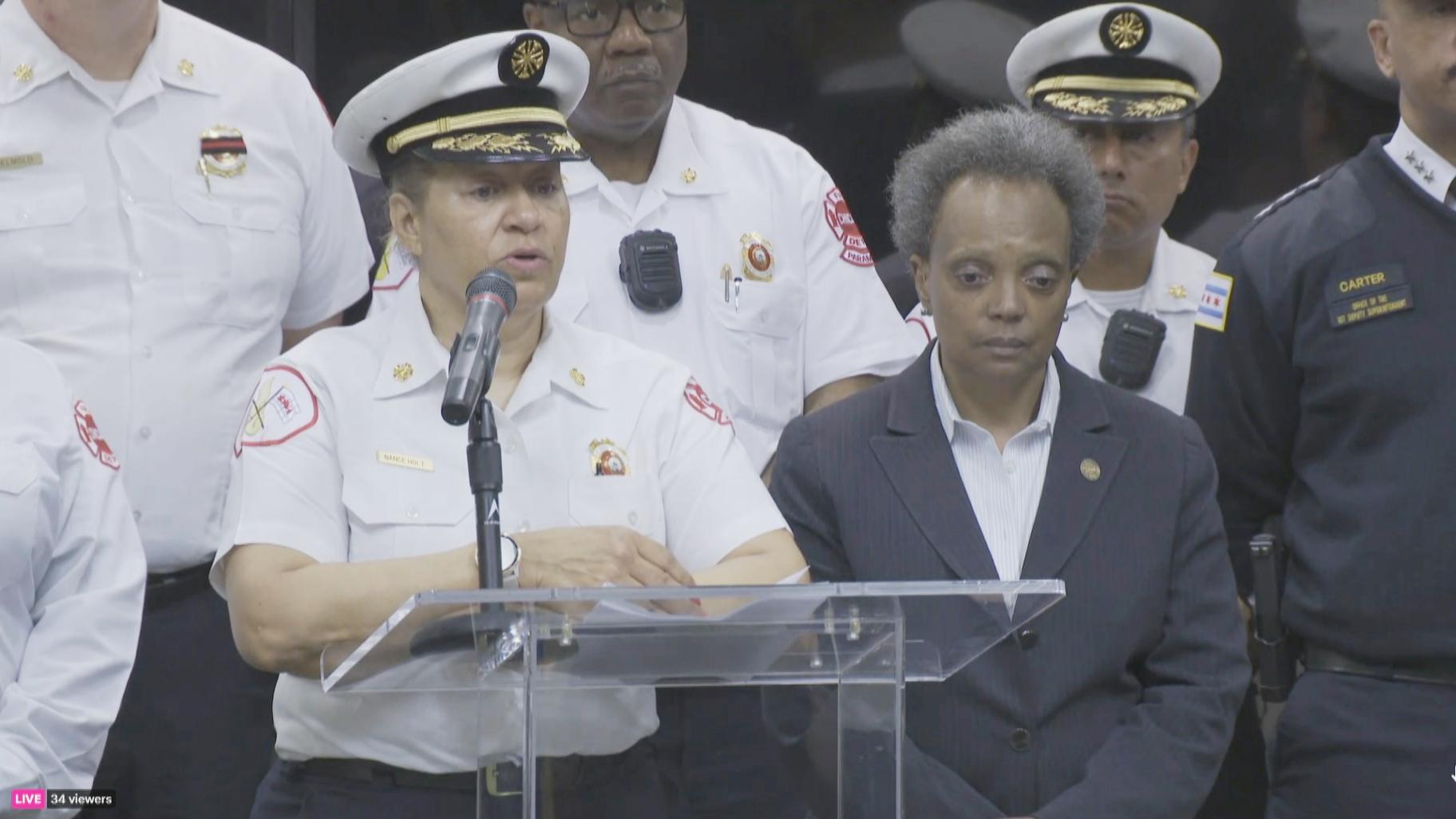 Fire Commissioner Annette Nance-Holt and Mayor Lori Lightfoot announce the death of Chicago Fire Lt. Jan Tchoryk on April 5, 2023. (Chicago Mayor's Office)
Pelt was on a hose line fighting the fire and "went down" as crews were being ordered out of the building, Nance-Holt said during a news conference Tuesday.
Asked if she believed the deaths of Tchoryk and Pelt should prompt any policy changes for the department, Nance-Holt said now is not the time to "Monday morning quarterback."
"I think we need to get through this," she said. "Right now I have two funerals to prepare for. Two grieving families and a huge department that's broken, including command staff."
Contact Matt Masterson: @ByMattMasterson | [email protected] | (773) 509-5431
---