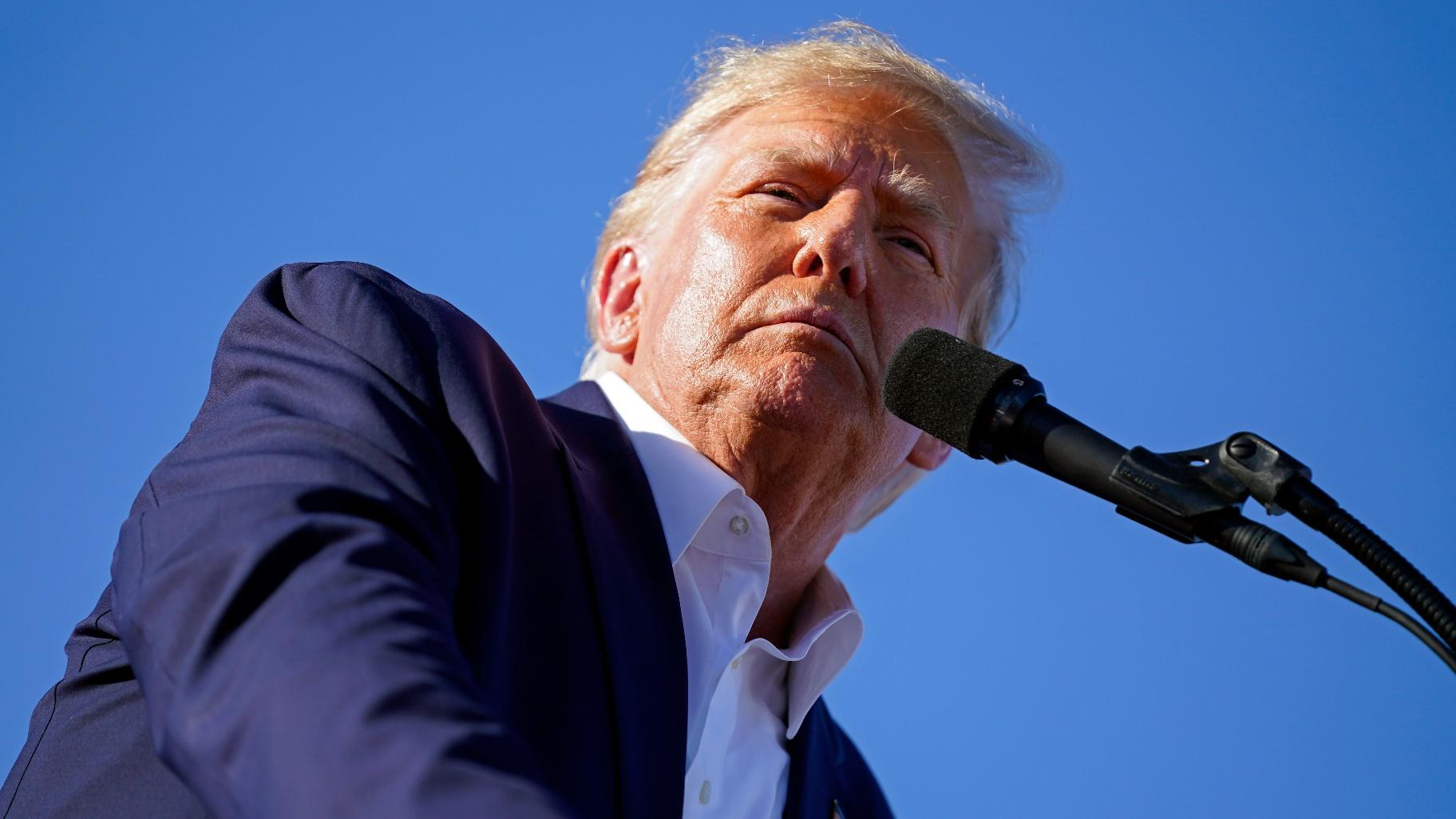 Former President Donald Trump speaks at a campaign rally at Waco Regional Airport, Saturday, March 25, 2023, in Waco, Texas. (AP Photo / Evan Vucci)
NEW YORK (AP) — Former President Donald Trump will be arraigned Tuesday after his indictment in New York City, court officials said Friday, his formal surrender and arrest presenting the historic, shocking scene of a former U.S. commander in chief forced to stand before a judge.
While Trump and his lawyers prepared for his defense, the prosecutor in his hush money case defended the grand jury investigation that propelled him toward trial, while congressional Republicans painted it all as politically motivated.
In a letter obtained by The Associated Press, Manhattan District Attorney Alvin Bragg told three Republican House committee chairs Friday that such claims are "misleading and meritless" and rebuffed congressional probing into the grand jury process — by law, a confidential one.
"We urge you to refrain from these inflammatory accusations, withdraw your demand for information, and let the criminal justice process proceed without unlawful political interference," Bragg wrote to Reps. James Comer, Jim Jordan and Bryan Steil.
House Speaker Kevin McCarthy has vowed to use congressional oversight to probe Bragg. Steil, Jordan and Comer have asked Bragg's office for grand jury testimony, documents and copies of any communications with the Justice Department.
Trump's indictment, announced Thursday, came after a grand jury probe into hush money paid during the 2016 presidential campaign to squelch allegations of an extramarital sexual encounter. The indictment itself has remained sealed, as is standard in New York before an arraignment.
Trump, a Republican, has denied any wrongdoing and denounced the investigation as a "scam," a "persecution," an injustice and a political low blow aimed at damaging his 2024 presidential run.
Trump lawyer Joseph Tacopina said during TV interviews Friday he would "very aggressively" challenge the legal validity of the Manhattan grand jury indictment. Trump himself, on his social media platform, trained his ire about what he calls a "political persecution" on a new target: the judge expected to handle the case.
No ex-president has ever been charged with a crime before, so there's no rulebook for booking one. Trump has Secret Service protection, so agents would need to be by his side at all times.
Indeed, Trump was asked to surrender Friday, but his lawyers said the Secret Service needed more time to make security preparations, two people familiar with the matter told The Associated Press.
Even for defendants who turn themselves in, answering criminal charges in New York generally entails at least several hours of detention while being fingerprinted, photographed, and going through other procedures.
Bragg's office said Thursday it had contacted Trump's lawyer to coordinate a surrender. Ahead of the court's announcement of the arraignment date, Trump's attorney, Joseph Tacopina, said that Tuesday was the likely date for Trump to turn himself in.
The investigation dug into six-figure payments made to porn actor Stormy Daniels and former Playboy model Karen McDougal. Both claim to have had sexual encounters with the married Trump years before he got into politics; he denies having sexual liaisons with either woman.
As Trump ran for president in 2016, his allies paid the women to bury their allegations. The publisher of the supermarket tabloid the National Enquirer paid McDougal $150,000 for rights to her story and sat on it, in an arrangement brokered by former Trump lawyer Michael Cohen.
After Cohen himself paid Daniels $130,000, Trump's company reimbursed him, added bonuses and logged the payments to Cohen as legal expenses.
Federal prosecutors argued — in a 2018 criminal case against Cohen — that the payments equated to illegal aid to Trump's campaign. Cohen pleaded guilty to campaign finance violation charges, but federal prosecutors didn't go after Trump, who was then in the White House. However, some of their court filings obliquely implicated him as someone who knew about the payment arrangements.
The New York indictment came as Trump contends with other investigations that could have grave legal consequences.
In Atlanta, prosecutors are considering whether he committed any crimes when trying to get Georgia officials to overturn his narrow 2020 election loss there to Joe Biden.
At the federal level, a Justice Department-appointed special counsel also is investigating Trump's efforts to unravel the national election results. Additionally, the special counsel is examining how and why Trump held onto a cache of top secret government documents at his Florida club and residence, Mar-a-Lago, and whether the ex-president or his representatives tried to obstruct the probe into those documents.
---