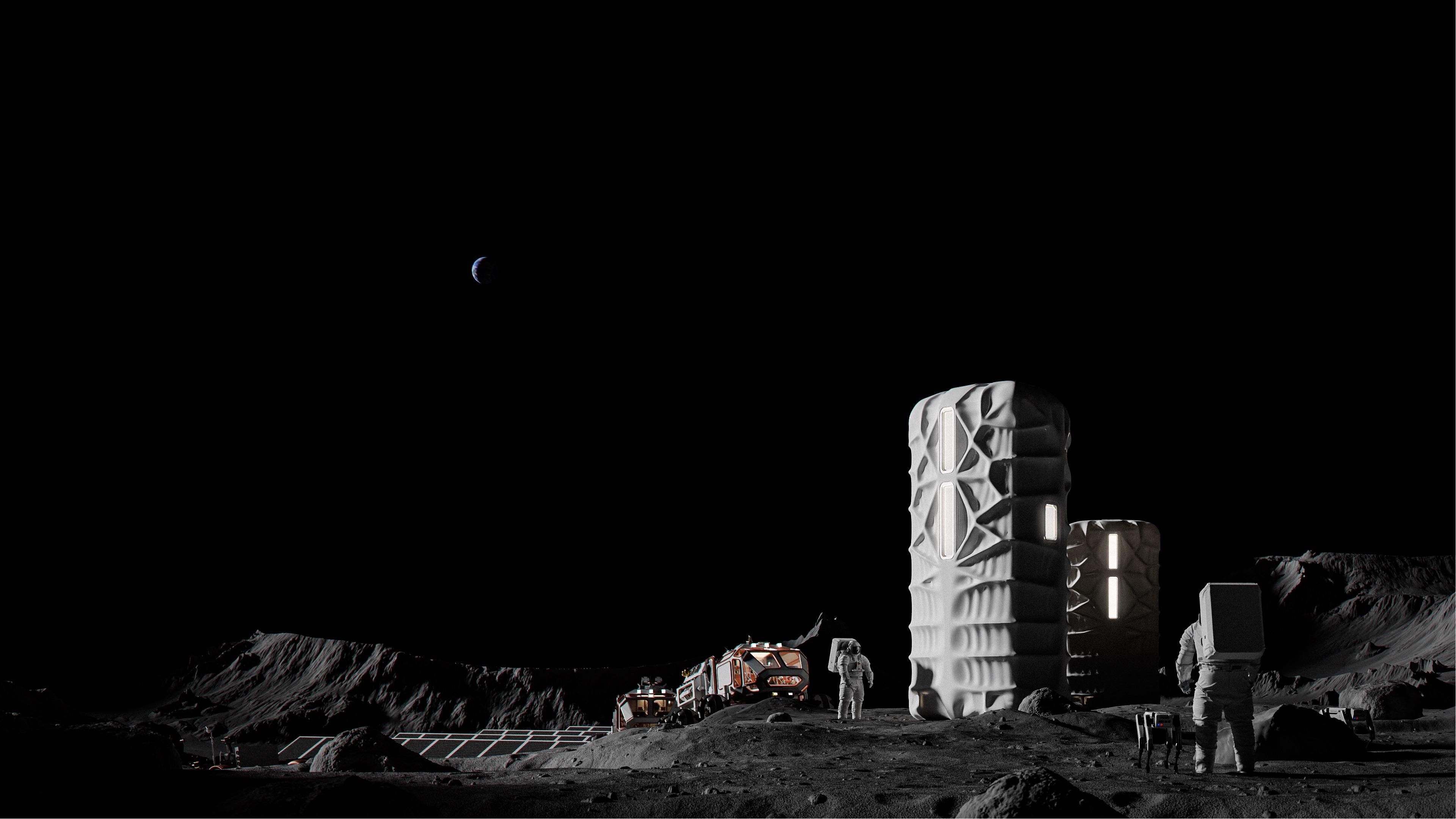 A rendering of the Rosenberg Moon Habitat (aka, Rosie). (Courtesy of SAGA Space Architects)
Illinois is winning the space race, at least when it comes to housing. 
On Wednesday, Gov. J.B. Pritzker crowned the champion of the state's 2023 Makers Madness contest — hereby known as the "coolest thing made in Illinois" contest — and congrats to the folks whose bracket had the Rosenberg Moon Habitat going all the way.
This 2.5-story live/work module, designed by SAGA Space Architects of Denmark and nicknamed "Rosie," is the tallest 3D-printed polymer structure in the world — probably even the galaxy. Rockford-headquartered Ingersoll Machine Tools provided the printer.
The space habitat's specs were developed to fit inside the SpaceX Starship rocket for transport to the moon, where each habitat could house two crew members for 90 days (or four people in an emergency).
"Illinois is a state built around innovation — from the Ferris Wheel to the dishwasher to the zipper," Pritzker said in a statement. "This team quite literally reached for the stars and imagined a future of space travel and habitation that inspires us all."
The Makers Madness contest, hosted by the Illinois Manufacturing Association, winnowed down an initial field of 250 contenders to the final four: the Rosenberg Moon Habitat; the Drug Terminator, a portable drug incinerator intended to help health care officials and law enforcement safely destroy prescription drugs or confiscated narcotics; the self-explanatory 17th Street Barbecue Sauces; and the 77GHz Radar for Driver's Assistance and Automated Driving, a compact sensor that gives drivers early warning of dangerous situations.
More than 300,000 votes were cast over the course of the eight-week competition, officials said.
Contact Patty Wetli: @pattywetli | (773) 509-5623 |  [email protected]
---