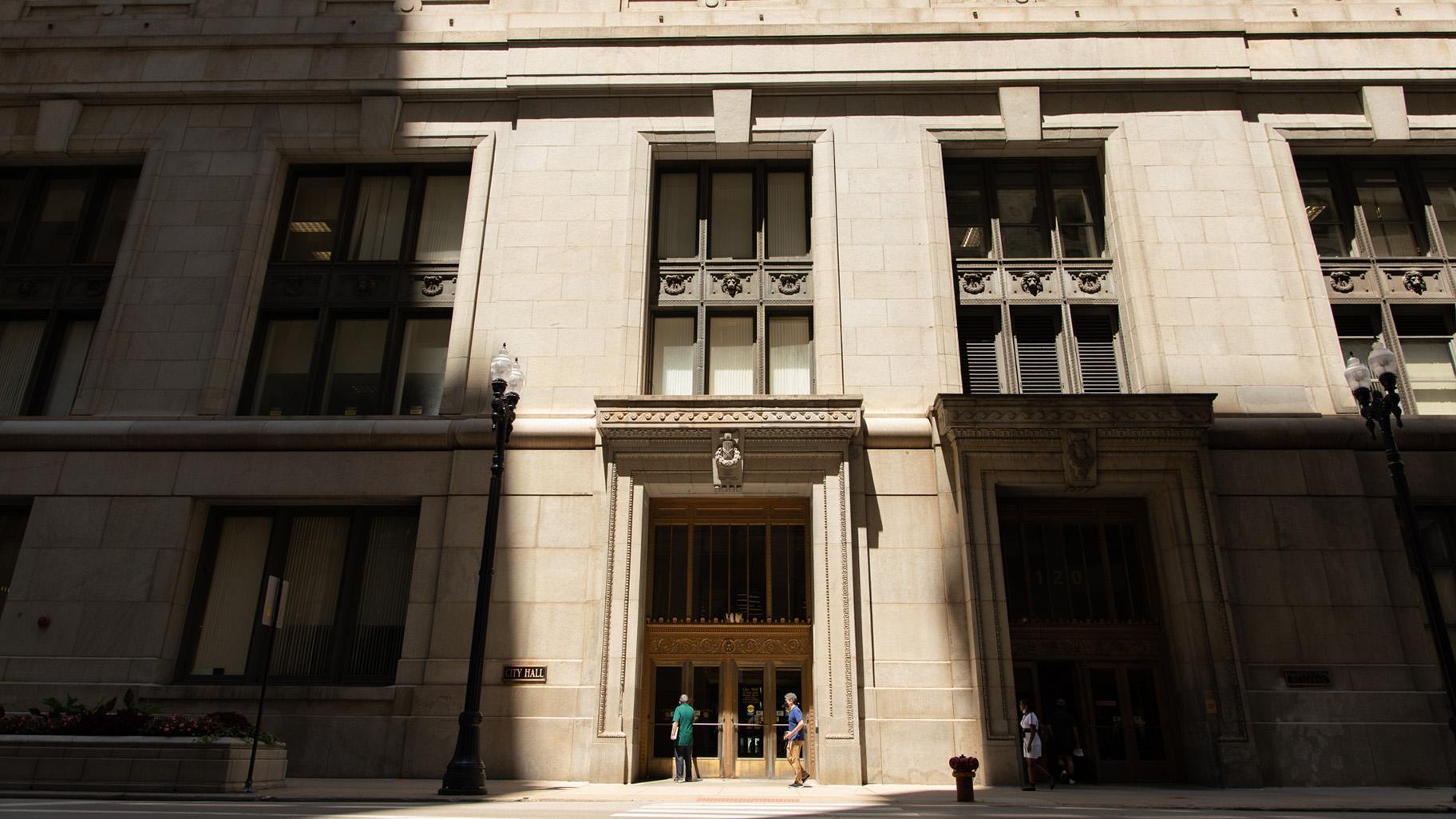 Chicago City Hall. (Michael Izquierdo / WTTW News)
A measure designed to make it easier for workers at Chicago nonprofit organizations to unionize is set for a key vote Tuesday amid a concerted effort by leaders of those groups — as well as Cardinal Blase Cupich — to defeat the proposal.
After languishing in limbo for more than three years, the proposal — dubbed the Human Service Workforce Advancement Ordinance — could head to the Chicago City Council for a final vote on Wednesday, if a joint body made up of the committees on Health and Human Relations and Workforce Development endorse the plan on Tuesday.
The proposal would require human service organizations that contract with the city to agree not to disrupt efforts by their employees to unionize as long as workers agree not disrupt the company's operations while they organize.
Federal and state laws protect employees' ability to unionize, but managers and owners can push back against those efforts and urge their employees not to join a union.
City officials unanimously demanded that a similar pact, known as a labor peace agreement, be in place before it approved Bally's plan to build a casino in River West on land now occupied by the Chicago Tribune. In 2017, the City Council approved a measure requiring firms doing business at O'Hare and Midway airports to allow their employees to join a union and pay them more than the city's minimum wage at the time.
The measure gained momentum in the weeks before the Feb. 28 election amid the continuing debate over Mayor Lori Lightfoot's decision to break her 2019 campaign promise to reopen the mental health clinics closed by former Mayor Rahm Emanuel in 2011. Instead, Lightfoot worked to fill "significant gaps" in Chicago's mental health care system by turning to nonprofit organizations to deliver needed care.
Lightfoot finished third in the first round of voting in the race for Chicago mayor. The April 4 runoff will pit Cook County Commissioner Brandon Johnson against former Chicago Public Schools CEO Paul Vallas. 
As part of what city officials call the city's network of Trauma-Informed Centers of Care, 44 organizations got tens of millions of dollars to treat 28,875 Chicagoans in the first nine months of 2022, according to Chicago Department of Public Health data provided to WTTW News. Each organization gets at least $250,000 to become part of the network, officials said.
While Lightfoot and Chicago Department of Public Health Commissioner Dr. Alison Arwady said nonprofit organizations provided the same quality mental health care to Chicagoans as publicly run clinics, progressive members of the City Council strenuously objected.
"The approach of this administration has been to double down on this harmful neoliberal model where we provide urgent mental health services through mental health professionals who are exhausted, exploited and have little agency over how services are delivered," said Ald. Rossana Rodriguez Sanchez (33rd Ward). "We should care way more about how we provide services."
Rodriguez Sanchez said the labor dispute involving Howard Brown Health Center, one of the city's largest trauma-informed centers of care, put those concerns in stark relief. Howard Brown gets $350,000 in city funds annually to provide mental health care, officials said.
But representatives of the nonprofit groups said the measure would hurt their ability to stretch their limited budgets to meet the growing need for social services in the aftermath of the COVID-19 pandemic and at a time of high inflation.
"It is simply a misguided, expensive mandate that diverts funding away from essential, life-saving programs and treats nonprofits the same as multibillion-dollar, shareholder-paying, for-profit companies involved in gaming and cannabis sales," wrote Dara Munson and Dan Kotowski of the Chicago Alliance for Collaborative Effort in an opinion column for the Chicago Sun-Times.
The alliance is a coalition of 44 of the city's largest human service providers.
Cupich, the head of the Archdiocese of Chicago and its social service arm Catholic Charities, urged the City Council to reject the measure, telling them it "not only will hamper the ability of Catholic Charities and our peers to fulfill our shared mission to our neighborhoods in need, but may threaten the continued existence of many of our partners."
The measure exempts religious organizations.
Contact Heather Cherone: @HeatherCherone | (773) 569-1863 | [email protected]
---